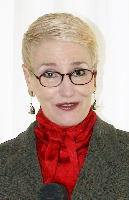 Helen Wilkie, Communication, Writing, Publishing
Travel From: Toronto, Ontairo
Helen Wilkie, Communication, Writing, Publishing – Biography
Helen Wilkie is passionate about communication. When she speaks—in a keynote, concurrent session, in-house workshop or one-on-one consulting or coaching—her audience is captivated by that passion. She strongly believes that in business, communication directly affects the bottom line, and her mission is to help business people get their message across, so that the effect will be positive.
A graduate of the University of Strathclyde and Jordanhill College of Education, both in Glasgow, Helen taught commerce and economics in Scotland for two years. When she moved to Canada, Helen Wilkie moved away from education and into the world of business, where her career has encompassed marketing, human resources, international, shareholder relations and corporate development.
Blending her teaching skills with her business knowledge and communication talents, Helen speaks on all aspects of communication. Her content-rich programs are presented with humour and knowledge, offering a lively, enjoyable learning experience. Her unique Communication Contract™ is the core from which all her messages spring.
Helen Wilkie is the author of "Message Received and Understood!" and "The Hidden Profit Center",  as well as many articles on communication. She is an active member of the Canadian Association of Professional Speakers.
Communication! What the heck is it? Well, that depends who you ask and that's the problem.
One of the most common complaints in today's workplace is, "There's no communication around here!" But ask ten people what they mean by that and you'll get ten different answers.
As a communication specialist, Helen Wilkie will make sure she understands your communication issue before she begins to speak or work with your people. Whether you need a keynote or workshop session for your conference, an in-house seminar or coaching for your people, if it has anything to do with communication, you need Helen Wilkie. And by the way, according to Helen it's all about communication!
Helen Wilkie
Applied communication
The Hidden Profit Center—keynote and workshops based on Helen Wilkie's book of the same name. Poor communication across an organization is extremely expensive—reduce your costs by improving your "applied communication".
How to Get People to Do What You Want without Bribery, Blackmail or a Magic Wand!—Available as a keynote or workshop, this program takes a quirky but practical look at persuasive communication skills.
Now Go DO It!—End your conference with a rousing keynote that will remind participants of what a great event it has been, give them a practical tool to make real-world use of what they've learned, and inspire them to take action!
Sowing and Growing Your Network—how to network effectively at the current event while still being able to enjoy it, and then grow and make use of your network in all areas of your life, for your entire life.
Yin and Yang at Work—helping men and women work together without killing each other!
The "Helen's 9 Rules" series of 60-90 minute programs are equally effective as conference workshops or in-house lunch and learn events:
Helen Wilkie's 9 Rules for Better Business Writing Helen's 9 Rules for Pithy Presentations Helen's 9 Rules for Meaningful Meetings Helen's 9 Rules for Publishable Prose Helen's 9 Rules for Excellent E-mail
Helen also conducts full-length in-house workshops on business writing and presentation skills. She has tailored, customized programs for accountants, engineers, lawyers and IT professionals. Ask her about tailoring her content to your specific needs.
If you want to tap the latent wisdom of everyone in your organization, at all levels, talk to Helen about leading The World Cafe at your event. This fascinating, fun, enlightening process can uncover solutions to real issues from unexpected sources.