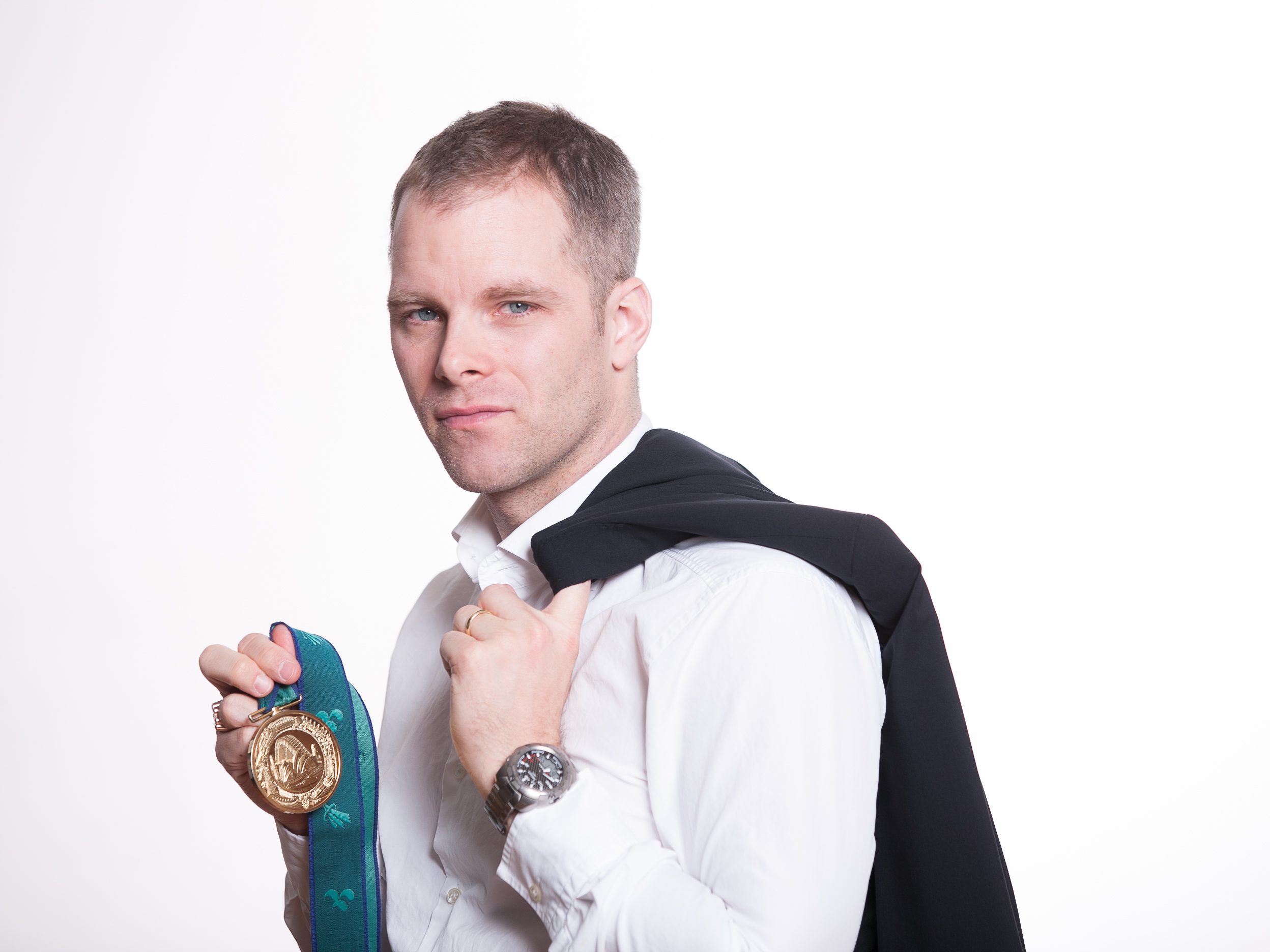 Synopsis
Speaker:  Andrew Haley, Paralympic Champion, Cancer Survivor                 
Topic Title:              
Andrew Haley, Paralympic Champion, Cancer Survivor
    Professional Fees subject to change without notice
Expenses:    As incurred                

Travels from:    Toronto, ON     
Expenses for Travel, (air and ground) Accommodations, Meals, Traveling Companion, and Incidentals are not included in the above fees.

Discounted Fees:  Under rare and special circumstances speakers may discount their fees at their discretion. i.e., booking multiple events with the same client.  Non profit organizations may also qualify for a discount.
Motivational Speaker, Three Time World Champion, Paralympic Champion, Cancer Survivor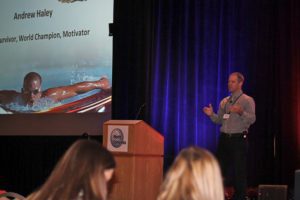 Inducted into "Swimming Canada's Circle of Excellence"


Inducted into the "The Nova Scotia Sport Hall of Fame" in 2015
PARALYMPIC & WORLD  CHAMPION
Biography
Andrew Haley is a two-time cancer survivor that has overcome insurmountable odds to become a Hall of Fame, Paralympic Champion swimmer and peak performance expert.
By sharing his lessons of mindset and resilience from on top of the podium, Andrew has worked with companies such as HSBC, RBC, Salesforce, Airbnb, Danfoss, and Amazon to accelerate the creation of a high-performance mindset for their employees personal and professional life.
In his always customized and inspirational performances, Andrew enables his audiences to be the best they can be by achieving peak performance, mastering what is in the realm of their control, and developing world-class resilience.
Topics
Mastering Your Mindset for Peak Performance
Top performers have learned to adapt their mindsets to prepare and execute on all levels and especially in high pressure situations. There is an extra level of dedication and commitment to qualify for the Olympics and beat out the nation's top athletes. There is an even higher level required to make it to the podium.
Preparation, taking constructive criticism, accountability, determination, dedication, process management and strategic goal setting all played a key role in Andrew Haley's success. Andrew's high performance mindset was constantly evolving so he could commit to days and nights in and out of the pool. Over time, his elite mindset became a natural process of his everyday work. Repetition and focus enabled him to master himself and his craft which led to his Hall of Fame swimming career and multiple Gold Medals and World Records.
Our minds are the key to unlocking our abilities and unleashing us to our full potential. The road to Gold is not for everyone and is not an easy feat, however we can all learn from the mental state of mind an athlete curates and maintains to bring them to each step on a path to reach the top.
This talk shows your team that no matter the circumstances we can be prepared and ready for action. You will learn to banish self-doubt and fear and tap into that extra level needed at work or at home. You will learn to create a mindset that can take you to new heights, set realistic and achievable goals to achieve dreams, meet expectations and realize there are no limits to your capabilities.
In this tailored presentation, we will explore:
Positivity is always a choice
We are always better as part of a T.E.A.M. with support
Leading oneself to understand your "why" to find your purpose in everything you do
Prevent burnout through managing your time, healthy living, and relationships effectively.
Trust the process and remain confident in the systems
Manage change and make small tweaks when required on the fly
Set realistic short-term goals that paint the larger picture for dreams and success
Be accountable to yourself in a positive way, to align your habits, daily routine to include what it takes to get you where you need to be
Self acknowledgement and celebration of your success while enjoying the benefits of achieving new heights
New approaches that will set you on your own "Personal Excellence" journey
Don't Resist: Resilience Restoration
We all seem to be managing more with less these days with so much uncertainty around us. We have less time to do things and face daily challenges in our personal and work lives that sometimes we lose focus, hope, or process in the face of adversity. One thing that all athletes, leaders, and top performers have in common is an incredible sense of self awareness that helps in controlling themselves to effectively manage setbacks. The ability to recognize challenging situations that can come up from afar, prepares these individuals to be more resilient, agile and creates a foundation to bounce back with certainty in hardships.
It has become mission critical for us to be able to lead ourselves and our peers through a compassionate lens. Through a compassionate approach, we can keep an open mind to new perspectives, new opportunities and can support each other to maintain strong relationships.  We are all called upon to be leaders in one shape or form throughout our lives. We are also all forced to go through hardships in our lives while managing change and challenges that come in so many different forms.
Andrew Haley is a two-time cancer survivor that has overcome insurmountable odds to become a Hall of Fame, Paralympic Champion swimmer. Having lived through many chemotherapy treatments that didn't react well to light, Andrew developed a framework to increase his resilience – one that got him out of the dark and to the top of the podium. He has been able to apply the same principals to not only lead teams, drive himself to new heights but to create success in the business world.
In this fully customized, highly engaging, and emotional keynote, audiences will learn:
The Andrew Haley Story – From Cancer to the podium
What common 4 attributes top performers share to enhance their resilience
How team support is the biggest asset to overcome challenges and driving a resilient team for performance
An Olympic approach to setting and conquering goals
Reinventing ourselves when required to create a fresh path
Come out of a crisis stronger through adapting to what we can control vs what we cannot control
How to increase personal control and thrive when things aren't going your way
 Surface Pressure: Leading in Turbulent Times
The Olympic Games mark the pinnacle of many elite athletes' careers. But with the promise of glory comes tremendous pressure. Between keeping a positive mindset, strict safety protocols, the media and the rapid spread of Omicron, Team Canada still needs to perform at its peak on the international stage. It takes a certain person to manage themselves, support their teams and perform at their best under pressure. Many athletes will rise to the occasion and thrive while others will fall short of expectations. So, what can business leaders learn from our Olympians?
Just as a coach leads athletes to the podium, business leaders guide their teams to deliver when the stakes are high. Andrew developed a 7-step plan that helped him achieve world class results. There was a single moment where Andrew was able to tap into a new level under pressure to become a Champion. Andrew will share his experience with High Performance sport to teach how pressure can create more energy if your mindset is focused. He will teach how preparation, hard work and giving everything you do, to be the best, plays a key role in creating confidence in high pressure situations with the purpose, the solutions and the outcomes in focus.
In this presentation, Andrew will teach:
How Leaders will learn how to channel pressure to make it work for them
Using pressure to your advantage
Take a breath! Know when to step back, listen and analyze without action
Mastermind with your team to audit and come up with different solutions
Prepare, practice, test and measure
Reflect, debrief, and be accountable to what went right and what could have gone better
Creating next time situations through an agile mindset to predict and prevent similar situations
Making process a natural reaction through a new mindset
Testimonials
Thank you again for your extraordinary delivery. I really appreciate the effort you took to ensure it was relevant, and the value you provided to us. You have a real talent, and an amazing story. (sent from the main contact that hired me). She is also willing to chat on phone to provide a personal reference if needed. Angie Specic Director, Marketing Communications Allstream
I was very fortunate to see Andrew speak recently. I run a telecom sales team and found that Andrew's story of both hardship and success was a lesson for all of us. The overwhelming feedback I heard from my team was that Andrew made them really think about how they approach the daily challenges they face and were inspired to set aside any of the typical excuses we use as a barrier to success. Thank you for being an inspiration to all of us, Andrew! Joseph Quaresima, Allstream
I heard Andrew Speak at Allstreams's annual sales kickoff. Andrew is a very personable speaker with a big inspiring story to tell. He delivers his highly inspirational message in a way that that we can all relate to and see how we ourselves can focus on what we want to achieve in our lives: so that we "Normal People" can also do great things ourselves. I have let go of a limiting belief I didn't even know I had around competitiveness, and am more focused with clarity on what's important to me, and feel better as a human being. Robert Sinkus Owner, RSC Telecom Solutions Inc.
Video