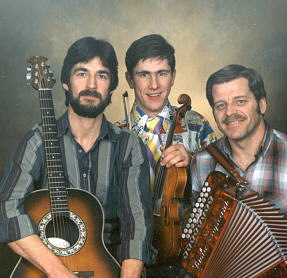 Synopsis
Entertainer:    Buddy Wasisname and the Other Fellers                 
Topic Title:              
Music, Comedy
    Professional Fees subject to change without notice
$ = under $10,000
$$ = between $10,000 – $15,000
$$$ = between $15,000-$25,000
$$$$ = $25,000 -50,000
$$$$$ = – $50,000+
Expenses: As incurred                
Travels from:

Expenses for Travel, (air and ground) Accommodations, Meals, Traveling Companion, and Incidentals are not included in the above fees.
Discounted Fees:  Under rare and special circumstances speakers may discount their fees at their discretion. i.e., booking multiple events with the same client.
 Non profit organizations may also qualify for a discount.
Buddy Wasisname and the Other Fellers, Music, Comedy
About the Band: Buddy Wasisname and the Other Fellers
Buddy Wasisname and the Other Fellers …… who and what are they?
This is Buddy Wasisname and the Other Fellers as they were in the early days of their career, circa 1985.
They are Newfoundlanders and they are (left to right)
Important Things to Note: Buddy Wasisname and the Other Fellers
These guys change their stage show for every major tour keeping it fresh, fresh, fresh as fish just pulled from the ocean.
You can bring your kids to the show – they won't hear anything they shouldn't.
You can also bring your grandparents to the show – they won't hear anything they're not supposed to.
You can bring non-Newfoundlanders to the show – a translation service is provided.
For Wayne Chaulk, becoming a writer and singer of songs that celebrate Newfoundland has been a lifelong journey. He was born in Charlottetown, a fishing and logging community in Bonavista Bay. Like most youngsters who grew up in such outports, his childhood was filled with the exploration and enjoyment of the place itself, and its people. Catching conners off the wharf, copying pans out in the cove. Going trouting with Dad. Watching Uncle Elias Penney crack up a packed Orange Hall.After saving for and buying a $35 Roy Smeck guitar, and teaching himself C,F,and G, Wayne fulfilled the dream of every teenage boy: playing in a band. Throughout high school, Wayne and various members of numerous bands rocked the Saturday night dances in towns all around Bonavista Bay.It wasn't by accident that he showed up at Memorial University's student residences in 1967 with the battered black Roy Smeck guitar among the luggage. Through the five years that he toiled at getting two degrees, complaining all the while about the scarceness of partridgeberry jam in St. John's, at least there was the odd strum on the guitar to keep up the connection to music. A qualified (and married) teacher by 1972, Wayne returned to his beloved Bonavista Bay to teach, hunt moose, build a cabin up Terra Nova Road with his father, Hector, and Grandfather Dwight. And play in bands some more. Charlottetown, Bonavista Bay, in Winter – Photo by C. Falk FotoFor the next fifteen years, he devoted himself to his teaching career. When it came to building a house, he pickeda spot high on a hillside overlooking Clode Sound right there in Charlottetown. Platters Island off in the distance. Family and friends began to see a pattern emerging: while many contemporaries would leave to 'make it' in St. John's or on the mainland, Wayne would return to the bay, the only place he felt at home.By the mid-80′s, the rigours of Special Ed teaching were beginning to take their toll on Wayne. But it wasn't just that. He had always chafed at the notion of working indoors all day every day. The skidoo and canoe had no place in the

hallways and staff rooms; you couldn't catch a salmon at the water fountain. He'd always had to be careful of looking out the classroom window, lest he lose himself in the shimmer of the sun on the snow or the sight of a soaring eagle.

When Ray Johnson came to teach art at Wayne's school in Glovertown, an interest in music and all things traditional led to friendship, jamming, rehearsal, and finally performance. When Kevin Blackmore moved to Glovertown, the die was cast.

It wasn't long before Wayne and Ray applied for a leave of absence from their teaching positions. The boys wanted to bring the act to stages all over, see what happens.

Some said, "They'll be back." They couldn't have been more wrong.

In the twenty years since then, the act has prospered, in large measure because Wayne turned his affe

ction for rural Newfoundland and its people to the craft of song writing. As many have observed, he has the knack, and the result has been a collection of lyrical gems, many of which seem destined to join the handful of best-loved songs of Newfoundland.

They're not all serious songs. 'The Pits' has become the theme song for that great Newfoundland tradition: the May 24th weekend camping trip. 'The Chocolate Song', 'Mr. Home Hardware', 'Thank God For Drugs', and 'Chain Saw Earl', to name just a few, have come from the same fertile mind that brought you 'Saltwater Joys' and 'Song for Newfoundland'.
Written by Bruce Bourque

Kevin Blackmore

On stage Kevin is fond of playing the clever fool, delivering his lines in classic Newfoundland dialect.

Kevin Blackmore, aka Buddy Wasisname, is a madman on stage and according to Billboard Magazine writer Larry LeBlanc is famous for "leaving audiences breathless with laughter". This, would you believe, is an entertainer who was too shy to join his high school drama club.

Kevin grew up in a place known as the crossroads of the world – Gander, Newfoundland – a community built in the war time years of the 1940's. His parents and his neighbours were from the small coastal communities of Newfoundland and spoke many different dialects, depending on which bay they had emerged from.

Entertaining for a living was the most unlikely profession for this young lad who began his musical career as a member of a Catholic choir, where the penalty for going off key was a swift twist of the ear by the closest Nun.

Kevin's musical roots came from his mother who loved to sing old Irish songs. By the time Kevin was eight he had memorized many famous Newfoundland traditional songs by scouring the Gerald S. Doyle Songbook.

Glovertown in Summer Splendor – Photo by C. Falk

The first evidence of his comedic abilities was his propensity for making faces to draw laughter from family members.

When he finished high school Kevin met an entertainer named Chris Lorne Elliot and they formed a musical/comedy duo known as Free Beer. At this time the inner madman in Kevin began to emerge and complemented by the Lorne Elliot brand of comedy, the Free Beer act made a great name for itself playing bars from Newfoundland to Montreal. Their stock-in-trade was novelty songs and routines laced with sarcastic and witty dialogue.

From his days in Gander, Kevin would pull the Newfoundland dialects he learned from his neighbors and use them in his stage act. Coincidentally his body language also took a turn for the better and his animation on stage developed into something like a cross between Elvis Presley, Jerry Lewis and Jim Carey. In the early eighties Kevin gave up the Free Beer gig, got married and settled into Glovertown. Shortly after this he met the two Other Fellers, Ray and Wayne, and they formed the Buddy Wasisname and The Other Fellers Act.

Kevin is now known as the funniest man in Newfoundland and his portrayal of cultural caricatures regularly reduces his audiences to tears, literally cracking them up. His weapons are song, dialogue and facial contortion. He is as hilarious in his singing mode as he is in his stand-up routine. His banter with The Other Fellers on stage has developed into the style of an old fashioned concert that has authenticity and brilliant acting from all three players, who interact with professionalism and ease.

Although still reserved in his own personal life, Kevin has well and truly converted to the art of comedic exhibitionism. Living in an outport community (Glovertown), he regularly steals characters off the street and places them on stage, transforming them into exaggerations that are totally hysterical. With his amazing abilities, Kevin can erase any thought of worldly woes from the minds of his audience and beam them into comedic Shangri-la.

Kevin and his stage partners continue to delight audiences with their mixture of song and buffoonery, flavoured with themes that are unique to Newfoundland and at the same time possessing universal appeal.  Carry on Kevin and the Other Fellers!!

Ray Johnson

Whether it's on the national stage or in a kitchen in Jobs Cove, Ray loves the act of playing his accordion and singing.

Raymond John Johnson is a truly unique artist with a very interesting story. He is a gentle soul who started life as an orphan. At age five he was adopted by his foster parents, Johnny and Bridget Johnson, of Jobs Cove, Conception Bay, and grew up in that small outport where the dialect is never quite sure what to do with "r"s.

Who knows why the hand of fate sent Ray to Jobs Cove, but one thing is for sure, it was the start of his love affair with the accordion. Beginning with his father's musical influence, Ray learned to play an accordion that cost just $24.00 way back in the pot auger days. Continuing with the opportunities of the Jobs Cove social scene, Ray persevered until, at the age of eight, he had mastered the instrument.

His first official gig came when he played for a square dance, replacing the original player who had found too much weather to perform. In those days the square dance player was known as the "fiddler", regardless of what instrument he played. Thus Ray became the official square dance "fiddler" while still playing his accordion.

From there his fledgling career started to take off. He enthusiastically learned more tunes and would routinely be called on to play for marathon soup, supper and dance events, which started at eight in the evening and went on until four or five in the morning.

A Scene Near Jobs Cove – Photo by C. Falk

As he got better, Ray recalls, people would pass the hat at the end of the dance and he earned enough money to keep himself in books and clothes.

At the grand old age of twelve, Ray had started his professional career, influenced by locals and the music he experienced from a new medium called television. He was so taken by Don Messer that he took up fiddle playing and wrote directly to Don Messer asking him to send a supply of Rosin for his bow. Never really expecting to hear anything, he put the matter out of his mind but, low and behold, after three weeks he received not only the Rosin package, but a signed photo of Don Messer, a book from Messer's private collection on how to play the fiddle and a bridge for his fiddle.

Ray continued his playing in Jobs Cove until he graduated from high school and left to study art at St. John's and Halifax, ultimately graduating with a degree in Fine Arts and Education. While in Halifax, Ray continued performing at the university and other coffee houses, as well as the Newfoundland club and, of course, house parties. He also recorded six albums at the old Audat recording studio in Halifax.

In 1976 Ray's homesickness got the better of him and he returned home to teach in Glovertown, a move that proved fate was with Ray.

Another teacher, Wayne Chaulk, was working in Glovertown and they began jamming. Soon after they joined Kevin Blackmore, a.k.a. Buddy Wasisname, and together the trio formed a musical/comedy act with the unlikely name of Buddy Wasisname and The Other Fellers. That was eighteen years ago.

Today the Buddy Wasisname trio is still going strong. Ray has developed into the ultimate accordion player and singer and is also now a reluctant comedian of considerable ability. Give him a set of lines and he turns into the consummate performer.

Ray's unique love of all things traditional is beautifully displayed in his reciting abilities. Perhaps the only professional entertainer to currently use this art form, Ray is nothing short of brilliant as he infuses each passage with the vigor and drama of a Shakespearean actor. His latest recitation, a poem by Ena Constance Barrett entitled "Newfoundland " highlights Ray's talents and his passion for his homeland.

Another talent Ray displays is his ability to compose both music and lyric. His unusual singing voice adds a distinct flavour to his songs about the Newfoundland way of life which is facing the challenge of change and even extinction.

Ray takes his life as a performing artist very seriously, and so he should because his fans love him and endorse his allegiance to tradition.

Ray Johnson, a unique performer, a unique person.