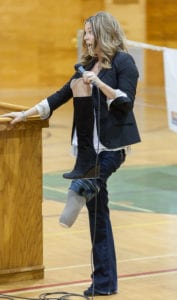 Synopsis
Speaker:      Candace Carnahan         
Topic Title:    Candace Carnahan, Workplace Safety Advocate          
Workplace Safety Advocate
    Professional Fees subject to change without notice
$ = under $10,000
Expenses:    As incurred                
Travels from:        Nova Scotia, Canada
Expenses for Travel, (air and ground) Accommodations, Meals, Traveling Companion, and Incidentals are not included in the above fees.
Discounted Fees:  Under rare and special circumstances speakers may discount their fees at their discretion. i.e., booking multiple events with the same client.  Non profit organizations may also qualify for a discount.
Biography
Candace Carnahan believes sharing stories saves lives. Lauded as one of the "faces of the future" by Maclean's magazine, Carnahan relates her unique life lessons to the challenges, obstacles, and goals of the organizations she works with to inspire audiences to put caring into action. She helps people understand that they can and should take the lead with their own well-being, and challenges people to think about safety as an opportunity, not an obligation. With irrepressible energy, her transformational talks leave audiences motivated and poised for change.
Carnahan's path as a speaker resulted from a devastating workplace incident in which she lost her leg at the age of 21. It was an incident that could have taken her life, and it was completely preventable. Since that day more than 20 years ago, Carnahan has continually challenged herself, both personally and professionally. Outside of her work she has taken the road less-travelled — literally — including trekking the 500-mile Camino de Santiago.
With nothing more than a microphone and a breadth of stories, Carnahan captivates. She is just as at home on conference stages as she is on offshore rigs, or production facilities — anywhere employees are making decisions about their safety. More than half a million people worldwide have already experienced Carnahan's keynotes and sessions, and she is constantly finding ways to connect and provoke real change in attitudes. Her mantra "See Something. Say Something" ends each of her talks, leaving her audiences ready to ignite the "courage to care", to act, and to be safe.
Bringing a unique approach to companies tackling their biggest challenges around safety, Carnahan changes the way people and companies think. She has shared her message with companies across the world, including Weyerhaeuser, ExxonMobil, and BASF.
Candace believes that the best way for companies to maintain or improve their safety culture is through stories. From keynotes to customized sessions in the workplace, Candace inspires teams to find their voice, and to look at everyday decisions as directly related to the potential impact on workers and their families.
Candace has worked with multi-national corporations across a number of industries including manufacturing, healthcare, oil and gas, transportation, and has trained CEOs, government departments, and employees to think about safety differently.
Relating her stories and experiences to the challenges, obstacles and goals of the organizations she works with, Candace moves her audience to put caring into action.  Her mantra "See Something. Say Something™" concludes every time she speaks and leaves all in attendance motivated and poised for change. Igniting the Courage To Care.  To Act.  To Be Safe.
She has had the pleasure to share the stage with other well-known speakers including Peter Mansbridge, Buzz Aldrin, Chris Hadfield, and Theo Fleury.
When not at work, Candace lives in Halifax, Nova Scotia, and enjoys time with her family, friends, partner Sean, and bulldogs, Mabel and Gus.
Topics

"Bridging the Gap" been evolving for a long time and has now been officially added to my platform.  Through "Bridging the Gap" we explore how:
…The relationship between our psychological and physical safety is being addressed, recognized, and appreciated now more than ever before.
…Mental health challenges have always existed, however we are living and working in a world where discussions around these issues are being released from the shackles of stigma.
…We understand now that tending to our state of mind to protect our state of being is no longer a "nice idea for some" –  it's imperative to all.
Consider this:
How will we find the courage to exercise our rights in the workplace if we arrive feeling mentally defeated?  We won't.
How can we be expected to speak up when something is happening that doesn't feel right or safe, when we don't feel respected or included in our workplace?  We can't.
How do we identify physical hazards in our workplace when our heads are swimming with thoughts that are distracting us from being present and maintaining the focus required to work safely?  We don't.
In my new presentation "Bridging the Gap", I share my story, shining a light on the non-physical elements that are essential to a safe and healthy workplace.
Topics include:
Mental health
Respect
Invisible injuries
Empowerment
Video "Bridging the Gap"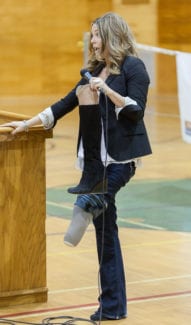 It Could Happen to You
Candace uses her personal story of the loss of her left leg below the knee to address the details surrounding what went wrong in her situation…with the hope of making it right in yours.
With her ever-present sense of humour and passion for her message, she discusses how roles played by the education system, the company she worked for, it's employees and management team, resulted in her injury. She discusses the importance in recognizing the opportunities that are constantly presented to us, in our day-to-day lives, to make a choice; safe… or sorry.
Candace recalls the details of her incident, as well as the many contributing factors, i.e. poor leadership, lack of training, and unsafe work environment – an unguarded conveyor belt system in her case. However, Candace places great emphasis on her own role and responsibility in what happened in an effort to encourage people to "own" their right to a safe workplace. The absence of Candace's left foot is an ever-present reminder to her and her audiences that pointing fingers and placing blame will not make your limbs grow back. This truth causes Candace to place great emphasis on the importance in landing the leading role in ensuring your own health and safety.
Holding strong in the belief that "no man is an island", Candace explores how we as individuals can begin fostering positive attitudes and changing cultures within the realm of health and safety that can collectively contribute to injury reduction within our workplaces.
EXPECTED OUTCOMES
Reduction in recordable injuries, enriched safety awareness, accountability, an empowered and cohesive student body and or workforce.
The First Step
Candace has learned what she believes to be an important life lesson the hard way; 'the first step in not getting hurt is knowing that you could be'.
Needless injuries can be avoided by simply being aware and realizing that the potential for injury exists. In her one hour presentation, Candace speaks about her typical life as a university student, working summers to pay for school in the fall, and how one step in the wrong direction changed the course of her life… forever.
Candace's presentation explores the details surrounding the loss of her left leg below the knee, while at the same time offers education and awareness in preventing needless workplace injuries and fatalities to her audience.
Candace's energy and enthusiasm is contagious, and through her many stories, she sends a message far beyond that of workplace health and safety. Candace encourages her audience to use their education, knowledge, experience, and awareness to expand and focus on the importance of workplace health and safety within their own workplaces, homes and public places.
EXPECTED OUTCOMES
Reduction in recordable injuries, an empowered student body/workplace that is inspired to keep themselves and their loved ones/colleagues safe.
SEE SOMETHING. SAY SOMETHING!
We all know the right things to do to keep safe, so why aren't we doing them?
Candace has developed a plethora of mantras throughout her 17 years in the safety industry – but none are as powerful, effective, or as energizing as her call to action for her audience to 'SEE SOMETHING. SAY SOMETHING!'
By referencing the many contributing factors that led to her workplace incident, she ignites a desire in her audience to answer this call.
Candace uses her own experiences, and encourages her audience to join her by 'logging into life' and actively seek out situations where speaking up changes a life for the better.
Perhaps this is reminding someone to buckle up, or simply asking someone how they are doing.
Candace believes that it's the little things done on a day to day basis that facilitate huge changes. By reminding people that until we achieve ZERO injuries, we can each do 'one thing safer' – a challenge accepted by audiences around the world.
It takes 'Courage to care!' Speaking up isn't easy, and peer pressure isn't something we leave behind when we finish high school – it's a reality in our workplaces and can cause us to remain silent when our voices need to be heard. Candace encourages her audience to tap in to their "courage to care," and to act on it, with the realization that each and every day, we all have the capacity to change a life – or maybe even save one.
EXPECTED OUTCOMES
Reduction in recordable injuries, a safety-focused, empowered, cohesive and engaged student body/workforce.
Testimonials
Candace's message of safety, not only in workplace but in life generally, was both powerful and inspiring. She has a wonderful way of engaging with her audience that empowers them to take her call to action, 'See Something. Say Something' and truly make a difference. An hour with Candace has the ability to change an organisation's safety culture in a way that no safety campaign could ever do. Definitely the best investment any organisation can make.
J.V, HEALTHSHARE NSW
Candace is a natural speaker that had the audience absolutely captivated with her amazing story. It was a delight to meet her and our pleasure to have her as our International Keynote speaker at our Safety in Action Conference. Her message of "See something, Say something" really hit home with attendees. Thank you Candace for bringing your story to us.
D.C., INFORMA AUSTRALIA
Thank you Candace for sharing your story at our conference last week.  You brought LIFE, ENERGY and a powerful story.   A ton of our participants were inspired and are already making plans to use your message "SEE SOMETHING, SAY SOMETHING" back at their respective facilities.
It was a pleasure and an honor to meet you. Safe travels and keep sharing your message to one person at a time! It makes a difference.
~ J.H.,COMMITTEE PRESIDENT, SOUTHEAST MINE CONFERENCE
Video