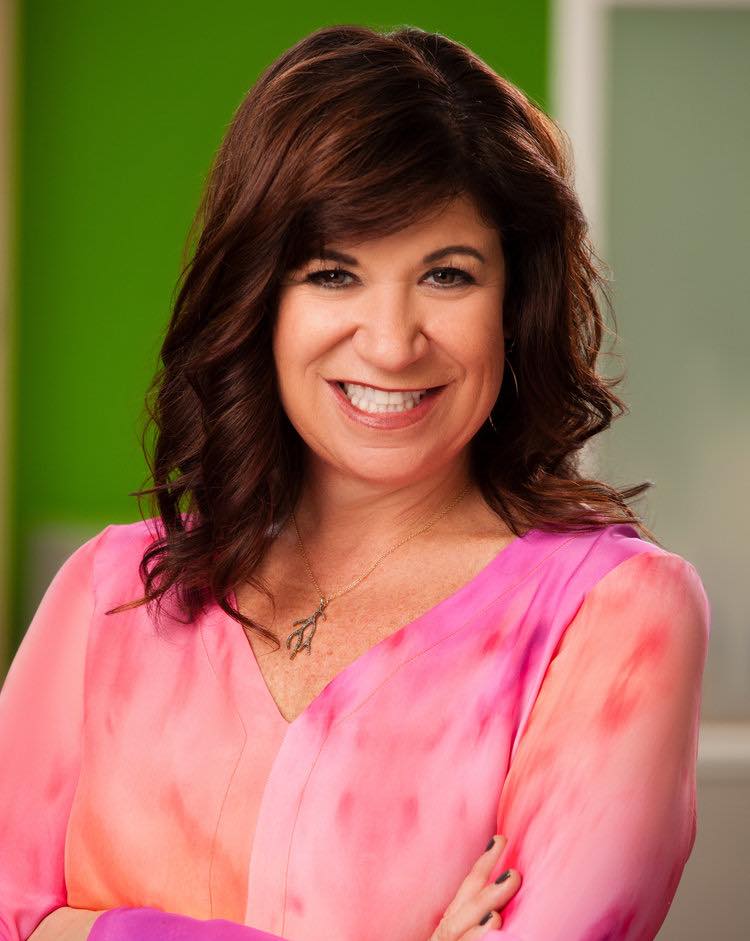 Synopsis
Speaker:      Deb Gabor
Topic Title:
Branding
Professional Fees subject to change without notice
$$ = between $10,000 – $15,000

Expenses:    As incurred

Travels from: USA – Texas
Expenses for Travel, (air and ground) Accommodations, Meals, Traveling Companion, and Incidentals are not included in the above fees.

Discounted Fees:  Under rare and special circumstances speakers may discount their fees at their discretion. i.e., booking multiple events with the same client.  Non profit organizations may also qualify for a discount.
Biography – Deb Gabor, Branding
A leading expert on brand strategy and brand disasters, Deb Gabor is the author of the bestselling books, Irrational Loyalty and Branding is Sex and founder and CEO of Sol Marketing, a brand strategy consultancy obsessed with solving major business and marketing problems for clients in every industry.
Companies throughout the world use Deb's Brand Values Pyramid, Ideal Customer Archetype, and "Brand Swagger Questions" to align their teams and articulate their brands to audiences.
Deb and her team at Sol Marketing have led brand strategy engagements for organizations ranging from international household names like Allrecipes, The Associated Press, Dell, Microsoft, NBC Universal, NPR, NTT Data and Siemens to exciting emerging brands like hint water and Indagare. Deb is also a frequent contributor and expert commentator in major news outlets such as Entrepreneur, Forbes, FORTUNE, Inc., MediaPost, New York Times, NPR, USA Today, Wall Street Journal, and The Washington Post. Business and marketing organizations alike frequently call on Deb as a keynote speaker and workshop leader to inspire their executives to embrace the power of branding for creating customer and shareholder value.
Deb's Philosophy
Deb Gabor was born to brand. And so were you.
Whether your customers are consumers or other businesses, your brand has the power to create the condition of Irrational Loyalty, a bond so strong that an organization's customers would feel they were CHEATING were they to choose a competitor.
She's on a mission to create more than $1 Billion of financial value for other people's businesses through the practice of branding. Most branding experts are either academic or theoretical. Deb uses plain English and actionable techniques to empower any executive, entrepreneur or individual to build a bullet-proof brand that drives growth. She is compelled to share with entrepreneurially-spirited leaders with a "grow or die" mindset what she's proven in her work with the biggest brands in the world.
Deb feels that your brand should elevate your customers' self-concepts. Your brand should be meaningfully different. And overall, your brand should make your customer the HERO in his or her own life. Deb enables organizations to win with branding by driving them to uncover the "ah-hahs" that open up new conceptual and financial territory for their businesses. Her energetic, interactive keynotes and workshops give audiences the kick in the pants they need to achieve relentless focus and alignment.
Keynotes and Workshops – Deb Gabor, Branding
Deb Gabor is an energetic, enthusiastic speaker, who keeps audiences on the edge of their seats. Her highly interactive style challenges every participant to find themselves in her content and begin the process of transforming their own brands and strategies.
Through a combination of thought-provoking keynote style presentation and hands-on workshop activities, every speaking engagement delivers actionable results that audience members can take away and use the very next day on the job.
KEYNOTE: The Branding Masterclass…Uncensored
In this engaging and action-packed keynote, Deb Gabor works with audiences to help them understand how to make their customers the heroes of their own stories.
Remember the last time you felt like you wanted to take a roll in the hay?
The best brands in the world can give their customers that same kind of feeling. Strong brands help their customers solve problems, present a positive image to the world, feel empowered, feel accomplished, and feel like the hero in their own personal stories. Think about what happens when you're feeling like you're on top of the world and everything is working out the way you hoped it would. No matter which cliché you use to describe it—the feeling of having the wind in your sails or the world on a string—that feeling connects deeply with your emotions. Sol Marketing CEO and Brand Dominatrix Deb Gabor puts you in the mood to create a powerful brand that connects with your most important customers – the ones most highly predictive of your success.
TAKEAWAYS:
• Define what is a "brand" and how branding is "like sex"
• Understand the importance of branding for informing business strategies
• Learn the foundations of brand strategy
• Gain insight into why even B2B and hard-core technology companies need brands
• Assess the timing for engaging in branding activities
• How-to: get tactical takeaways that audiences can use to create the foundation their companies' or their own personal brands
KEYNOTE: Irrational Loyalty: Building a Brand That Thrives in Turbulent Times
Eventually, every organization faces a serious branding disaster. Think of United Airlines, Wells Fargo, Uber, and other companies whose tribulations made front-page news. Poor business decisions, corrupt cultures, or just plain bad luck can lead to major PR meltdowns, sending once-loyal consumers fleeing in droves. But there's a right way to handle controversy and come out stronger on the other side.
Don't leave your brand's fate up to guesswork. Take control today.
Using recent high-profile brand implosions as prime examples, Deb Gabor demonstrates how top companies that break their promises inevitably suffer, and she explores the routes the more agile ones have taken to full recovery after letting their customers down.
One of the world's premier branding experts, Gabor provides invaluable insights that will help your own enterprise build positive brand equity, goodwill, and the "irrational loyalty" that will support your brand long-term through the best and worst of times.
TAKEAWAYS:
• What every company can learn from a small Ice Cream factory that literally killed customers and is more profitable and successful than ever
• How the world of branding and marketing changed forever when Donald Trump became President of the United States
• How the Amazonification of the world has made branding an imperative for companies of any size in any industry
• Why the best brands in the world use their value and beliefs as a magnet to attract their most ideal, most profitable customers
• How to build a strong brand foundation that propels organizations to be able to charge premiums for their products and services and become more sustainable
• Ripped-from-the-headlines stories of brands that endured a Crisis of Culture, Crisis of Leadership, Crisis of Ignorance and how they did – and didn't – recover
• The real inside scoop on brand disasters from companies like Uber, Starbucks, Southwest Airlines, CBS Television, United Airlines and others.
WORKSHOP: Your Brain on Stories: Harnessing the Power Of Storytelling To Connect With Customers
Humans have always told stories to understand, share and recall knowledge and culture.
Deb Gabor shows us how your brain reacts to information and how you can use that knowledge to connect emotionally with people to influence, inform, or sell anyone anything. Emotional connections are what stimulate the irrational, unconscious brain, giving you access to the power of storytelling to connect, persuade and build strong relationships. Learn about the neuroscience of storytelling and how to use storytelling as an advantage to inform, persuade and sell more effectively.
This hands-on session will have you on your feet actively learning how to harness the power of what your brain does with stories to get what you want out of your interactions with others.
The session will include both presented content and hand-on exercises.
TAKEAWAYS:
• Understand why the brain NEEDS stories
• Learn how the brain processes storytelling
• Experience in real-time how selling and persuading with stories ignites relationships and expands business
• Practice storytelling techniques with partners and groups to gain comfort with the process
WORKSHOP: Craft Your Brand. Learn What Big Brands Know to Craft Your Own Brand
You have – and are – a brand whether you like it or not. It's time to grab ahold of your brand and dial it in so that everyone knows what you stand for. Whether you're an executive looking to build a thought leadership platform, an up-and-coming corporate employee, a consultant or a "creative," your personal brand is what makes you stand out. Understanding and articulating what sets you apart can propel your career and your life forward rapidly and empower you to achieve your wildest, most audacious goals. Using what she has learned and proven with some of the best-known brands in the world, Deb Gabor shares a philosophy and easy-to-follow process for building the foundation of your personal brand.
TAKEAWAYS:
• The concept of "irrational loyalty" and how a brand that killed 11 of its customers is still a fan-favorite
• How to aim your personal brand at an Ideal Archetypal Customer
• The three magic brand questions that unlock all your personal brand potential
• How to create a head-turning personal brand that makes your audience the hero
• The process of leveraging the power of classic character archetypes to anchor your brand and define the role you play in your audience's hero story.
Most personal branding talks are either very academic or theoretical. Deb believes you shouldn't need a Ph.D. to understand branding. This fast-paced, highly interactive master class based upon the branding methodologies Deb and her company have employed for decades to create some of the best-known brands in the world. This session isn't just educational, it's a hands-on, how-to workshop– in plain English– for building or reigniting your personal brand so you can achieve your personal and professional goals.
WORKSHOP: Branding to Unicorns: The Ideal Customer Archetype
Do you ever wonder how top brands create irrational loyalty among their users?
The world's most profitable and well-known brands bond in highly emotional and compelling ways with the customers who are most likely to spend the most money with them. Deb Gabor leads this highly interactive workshop guiding attendees through identifying and profiling the customer who is most highly predictive of a startup's success using the "Ideal Customer Archetype" methodology. Through the use of hands-on exercises, audiences learn to use this method to go beyond traditional demographic and firmographic profiles to hone in on behavioral and attitudinal attributes that enhance the climate of consideration for their brands and products.
TAKEAWAYS:
• Understanding the ideal customer archetype methodology
• Getting inside your customer's head
• Segmenting and targeting customers
• Bonding emotionally with customers
• Becoming part of customers' self-concepts
During the session, Deb will guide audiences through the development of their company's own ideal customer profile, which they can take with them to continue the customer targeting process for their companies.
WORKSHOP: Hacking the "Elevator Pitch"
Whether you are out at a conference, mingling with friends, or you just so happen to know somebody who knows somebody who's able to help you take your company to the next level, you'll get this question: "What do you do for a living?" Or, "What is your company about?" This is the perfect opportunity, not to necessarily "sell" your business, but to make people want to know more about you and your company. The infamous "Elevator Pitch" was created for just such an occasion.
An elevator pitch is a conversation or an ice breaker, that will (hopefully) lead to a deeper dialogue about the functionality, and specialty, of what you and your company can offer. In practice you typically have just 60 seconds to leave an exciting, impactful, and meaningful impression with whomever you come in contact with. So make them count. This highly-interactive, hands-on session will provide you with the building blocks for an exceptional pitch that raises your audience's eyebrows and leaves them wanting to learn more.
TAKEAWAYS
• Be exposed to the Anti-Elevator Pitch and how it serves as an invitation for further conversation
• Start to think of yourself as a "brand" and leverage that to your advantage
• Learn everything that needs to be in your elevator pitch and everything that doesn't
• Create the building blocks of your own pitch – starting with communicating from a place of "WHY" and culminating in the unique qualities that can make you stand out
• "Hack" the elevator pitch at critical points to create a cohesive story about you and how you make a client or a hiring manager the hero in his or her own story
Testimonials
"I produced two sessions with Deb Gabor for her debut at SXSW 2019 and was thoroughly impressed with her every step of the way. She is a consummate branding professional and brought her larger than life personality and expertise to the stage. Deb captivated her audiences from the moment she began speaking and proved to be a powerhouse of knowledge and advice. After both sessions, there was a large crowd of attendees waiting to ask her advice on their businesses and strategies, and we sold out of her books in a few short hours. I look forward to my next opportunity to collaborate with her."
— HENRY HEUCK, CONFERENCE PROGRAMMER, SXSW
"I had a lot riding on my speaker selection for a 500 person conference with an extremely sophisticated and demanding audience of entrepreneurs and Deb absolutely nailed it. She challenged us to think about branding in a completely new (and unforgettable) way. Beyond that, she made me feel like a hero for including her in the lineup. Even though she packed a punch on stage, Deb was unassuming and flexible making her a delight to work with. I can't recommend her highly enough.
— TIM HAMILTON, CEO PRAXENT AND CHAIRPERSON FOR
EO XCENTRIC
"I hired Deb Gabor for an event for CEOs and business leaders, and she totally delivered. I've seen and hired countless speakers, her energy is amazing and I dare say off the charts. Her presentation was more than a keynote; it was an interactive masterclass that kept this hard-to-please crowd riveted for a full 90 minutes."
— CARMEN FIORILLI, CEO FIORILLI CONSTRUCTION
"Deb is my go-to branding and marketing guru. I've booked her for events and classes of such a wide range and am never disappointed by the strength of content and engaging exercises she's brought to each one. Her speaking style can't be described as anything less than captivating. Her energy, raw humor, and dynamic presentations have helped further our business goals and drive our creative programming."
— CANDACE DIGBY, CONFERENCE PLANNER SOCIAL MEDIA WEEK, GENERAL ASSEMBLY
"Given her accolades as a dynamic speaker, business visionary and exceptional marketing consultant, it should be no surprise that Deb Gabor delivers much more with "Branding is Sex" than a clever title. Her insight provides a compelling resource to a broad range of professionals and executives, and she delivers it in a style that makes it enjoyable AND informative."
— BRAD MIXNER, CEO YOTTA DATA TECHNOLOGIES
"I thought I knew branding and positioning, and I did…but not like Deb Gabor and her team at Sol. They took our existing brand and totally reframed it. It was impressive (and lucrative). If you have the chance to work with her, take it."
— TUCKER MAX, FOUR-TIME NEW YORK TIMES BESTSELLING AUTHOR AND FOUNDER OF SCRIBE MEDIA
"Deb's formula is precise and very thoughtful. Deb has deep experience in helping companies face reality and find brands that open territory that can build businesses."
— JODI KAHN, CHIEF REVENUE OFFICER, FRESHDIRECT
"Deb believes that getting the customer laid is the ultimate goal of every brand. Because of your brand, the customer feels they can accomplish more! She's right."
— LISA SHARPLES, CO-FOUNDER AND CEO, FEXY MEDIA
"Deb's methodology leads you to understand how your brand can bond indelibly with the customers most highly predictive of your company's success."
— KRISTEN MULLIGAN, FIRST LADY OF MIDDLETOWN, MIDDLETOWN COMMUNITY FOUNDATION
Video