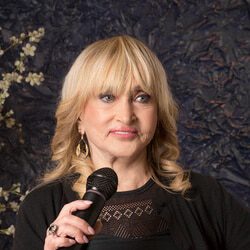 Synopsis
Speaker:  Dr Erica Miller                  
Topic Areas
Keynote Speaker: Holocaust Survivor, International Award-Winning Author & Entrepreneur
    Professional Fees subject to change without notice:
$5,000 – $10,000 plus expenses for two.
Expenses:    As incurred                
Expenses for Travel, (air and ground) Accommodations, Meals, Traveling Companion, and Incidentals are not included in the above fees.
Travels from:  Los Angeles, CA, USA
Discounted Fees:  Under rare and special circumstances speakers may discount their fees at their discretion. i.e., booking multiple events with the same client.
 Non profit organizations may also qualify for a discount.

Biography
Dr. Erica Miller was born on November 10, 1933 in Tshernovitz, Romania. For seven years, Erica and her family lived a "normal" life. At the tender age of seven, Erica and her family were among thousands of Jews herded into cattle cars and imprisoned in a Nazi holding camp in Mogilev, Ukraine.
After four years of indescribable oppression and deprivation, Erica, her parents, and her sister were liberated by the Russians. Erica had no formal education while in the concentration camp. Entering school for first time at age 11 (or fifth grade), she quickly learned the basics of reading, writing and math. Much to the surprise, and in some cases chagrin, of her teachers and classmates, she excelled at all three.
Her family emigrated to Israel in 1949, when she was 15. Erica attended high school at night while working during the day. Since education was not a priority at that time, receiving her high school diploma was an unusual accomplishment.
After high school, Erica, unlike other young girls, pursued her dream to join the Israeli Air Force. Committed to defending her country, she served proudly from 1954-1956, committed to defending her country. After her military service, she landed a prestigious job at the Israeli Government Tourist Information Office in Tel Aviv where she worked from 1956-1958.
Next, fate and opportunity took her life's journey to Los Angeles, California, where she attended the University of Judaism (now American Jewish University) to pursue a degree in Hebrew education. While in Los Angeles, she met her future husband, Jerry Miller. Together they built a nest and filled it with two children.
In 1970, Erica returned to school and eight years later, graduated with a Ph.D. in clinical psychology. Shortly afterwards, leveraging her unparalleled drive and her husband's keen marketing skills, they opened a chain of mental health clinics throughout Los Angeles and Orange County. In addition, they ran California Diversion Intervention Foundation, a non-profit organization, offering programs to serve the needs of the substance abuse and domestic violence population referred by the Courts.
Today, in addition to public speaking, Dr. Miller oversees her family's real estate business in Austin, Texas. She's written three books, "The Dr. Erica Miller Story: From Trauma to Triumph,""Don't Tell Me I Can't Do It: Living Audaciously in the Here and Now" and the international best-seller,  "Chronologically Gifted: Aging with Gusto!"
Topics
Age Is Just a Number: How to




Live Long and Well
Having experienced her share of blessings as well as having witnessed unfathomable suffering, Dr. Miller is a natural spokesperson for positivity, vitality and longevity. With insights revealed from her third book, Chronologically Gifted—Aging with Gusto, an international best seller, Dr. Miller advocates for a life where age doesn't come with limits. Instead, Dr. Miller demonstrates how to grow, evolve and rejoice in the excitement of life at any age.
Audience Takeaways:
The importance of attitude
What living with gusto means
Finding passion and purpose at any age
Experiencing the value of community
Ways to overcome actual or self-imposed limits
Don't Tell Me I Can't Do It!
A presentation with the same name as her 2015 book, Dr. Erica Miller shares her unique philosophy that inspires people to abandon the limitations expressed by nay-sayers and proactively pursue the lives they desire. By sharing the five core beliefs that have guided her life, Dr. Miller shows audiences how to navigate challenges and seize opportunities as they seek to realize their dreams.
Audience Takeaways:
How to tap into five life affirming principles
How to turn challenges into opportunities
How to get rid of the negative messages with which we were raised
How to proactively create your life's journey
Guts, Grit and Gusto: Finding Your Strength
Dr. Miller believes that throughout our lives we are on a journey of continuous evolvement. In an interactive, informative and engaging way, she teaches audiences the importance of having a vision and how to turn that vision into reality by reprogramming one's mindset and adopting a take-charge attitude. With her trademark guts, grit and gusto, she delivers practical advice about tapping into your hidden courage, strength, determination and commitment to live a meaningful life.
Audience Takeaways:
How to identify your passion
How to fulfill your life's purpose
How to stay the course—even with little or no support from significant others
How to get creative when you're told, "No"
How to embrace life's joys and challenges
Testimonials
Many people experience challenges in life, but I have never met a more inspiring, fearless woman than Dr. Erica Miller.
Mary Ann Halpin
Founder and CEO
Fearless Women Global
Dr. Erica Miller is such an engaging and inspirational speaker. Only she can deliver such an authentic perspective of history, trauma and living beyond the Holocaust from both a clinical and personal perspective. She had us all laughing and crying!
RENEE HANSON MALONE
Video