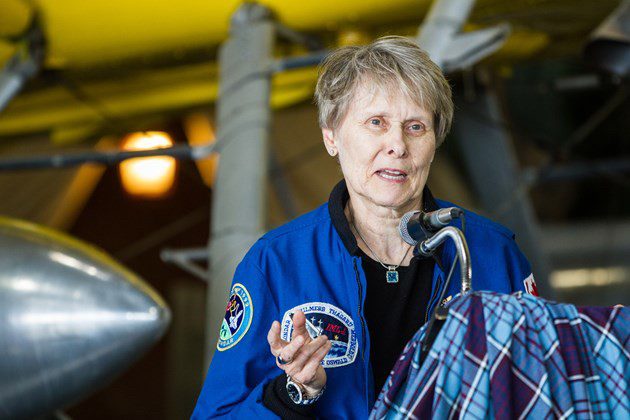 Synopsis
Speaker:  Dr. Roberta Lynn Bondar                 
Topic Title:    Dr. Roberta Bondar, Canada's First Female Astronaut, Acclaimed Nature Photographer, Physician, Author. 
    Professional Fees subject to change without notice
$$$$ = $35,000 -50,000

Expenses:    As incurred                

Travels from:    Toronto, Ontario     
Expenses for Travel, (air and ground) Accommodations, Meals, Traveling Companion, and Incidentals are not included in the above fees.

Discounted Fees:  Under rare and special circumstances speakers may discount their fees at their discretion. i.e., booking multiple events with the same client.  Non profit organizations may also qualify for a discount.
Biography
Roberta Bondar C.C. O.Ont. MD PhD FRCP FRSC
Dr. Roberta Lynn Bondar, Adventure, Environment, Astronaut, the world's first neurologist in space, Dr. Roberta Bondar is globally recognized for her pioneering contributions to space medicine research, fine art photography and environment education. Aboard the Space Shuttle Discovery mission STS-42 in 1992, she conducted experiments for 18 countries in the first International Microgravity Laboratory, a precursor to the International Space Station.
For over a decade after her spaceflight, she headed an international research team working with NASA on neurological symptoms seen after spaceflight, and their connections to neurological diseases on Earth.
Trained as a member of NASA's Earth Observation Team, Dr. Bondar expanded her professional photographic expertise as an honors student in Professional Nature Photography. Her fine art photographic works are held in private, corporate and institutional collections in Canada, the U.S. and England. She is the author of four best selling books featuring her writing and photography.
Dr. Bondar continues to use fine art photography to explore and reveal Earth's natural environment from the surface, seeing the world through the creative lenses of medical doctor, scientist, photographer, astronaut and writer. In her current project Protecting Space for Birds, Dr. Bondar is integrating three views of migratory bird corridors in the Americas and Asia-Europe-Africa—space, surface and aerial— to give us insight into the habitats needed by and to protect endangered and threatened birds.
Dr. Bondar's distinctions are diverse and include: Companion of the Order of Canada, the Order of Ontario, the NASA Space Medal, induction into the Canadian Medical Hall of Fame and into the International Women's Forum's Hall of Fame, 28 honorary doctorates from Canadian and American Universities, Chancellor of Trent University 2003-2009, six Canadian schools in her name, a Specially Elected Fellow of the Royal Society of Canada, an Honorary Fellow and Honorary Vice-president of the Royal Canadian Geographical Society, and her own star on Canada's Walk of Fame.
Experience:
Dr. Bondar is a neurologist and researcher. After internship in internal medicine at Toronto General Hospital, she completed post-graduate medical training in neurology at the University of Western Ontario; neuro-ophthalmology at Tuft's New England Medical Centre (Boston) and at the Playfair Neuroscience Unit of Toronto Western Hospital; Carotid Doppler and Transcranial Doppler at the Pacific Vascular Institute, in Seattle, Washington, 1988. Appointed assistant professor of medicine (neurology), McMaster University, 1982-84; Scientific staff, Sunnybrook Medical Centre, Toronto, 1988-present; Visiting Research Scholar, Department of Neurology, University of New Mexico, 1993-94, Adjunct Professor, Department of Biology, University of New Mexico, 1992-1994; Distinguished Professor, CATE, Ryerson, 1992-present; Visiting Distinguished Fellow, Department Of Medicine, Faculty of Health Sciences, McMaster University, 1993-94; Visiting Distinguished Professor, Faculty of Kinesiology, The University of Western Ontario, 1994-1996. CIBC Distinguished Professor, Faculty of Kinesiology, University of Western Ontario, 1996-1998.
Astronaut
She was one of the six original Canadian astronauts selected in December, 1983 and began astronaut training in February, 1984. She served as chairperson of the Canadian Life Sciences Subcommittee for Space Station from 1985 to 1989, and as a member of the Ontario Premier's Council on Science and Technology from 1988 to 1989. In early 1990, she was designated a prime Payload Specialist for the first International Microgravity Laboratory Mission (IML-1). Dr. Bondar flew on the space shuttle Discovery during Mission STS-42, January 22-30, 1992 where she performed life science and material science experiments in the Spacelab and on the middeck.
Education:
Attended elementary and secondary school in Sault Ste. Marie, Ontario. Received a Bachelor of Science degree in zoology and agriculture from the University of Guelph in 1968, a Master of Science degree in experimental pathology from the University of Western Ontario in 1971, a doctorate in neurobiology from the University of Toronto in 1974, a Doctor of Medicine degree from McMaster University in 1977 and was admitted as a Fellow of the Royal College of Physicians and Surgeons of Canada as a specialist in neurology in 1981. She has certification in scuba diving, parachuting, and holds a private pilot's license. Honors student in professional nature photography (Brooks Institute of Photography, Santa Barbara, California).
Honours:
She has been awarded honorary degree of: D.Sc., Mount Allison University, Sackville, New Brunswick, 1989; D.Hum.L., Mount St. Vincent University, Halifax, Nova Scotia, 1990; Senior Fellowship from Ryerson Polytechnic Institute, Toronto, Ontario, 1990; D.Sc., University of Guelph, 1990; D.Sc., Lakehead University, Thunder Bay, Ontario, 1991; D.Sc., Algoma College, Laurentian University, Sault Ste. Marie, Ontario, 1991; D.Sc., Saint Mary's University, Halifax, 1992; D.Sc., McMaster University, Hamilton, 1992; L.L.D. University of Regina, Regina, 1992; L.L.D., University of Calgary, Calgary; D.U., University of Ottawa, 1992; D.Sc., University of Toronto, Toronto, 1992; D.Sc., McGill University, Montreal, 1992; D.Sc., York University, Toronto, 1992; D.Sc., Carleton University, Ottawa, 1993; D.S.L., Wycliffe College, University of Toronto, Toronto, 1993; D.Sc., Royal Roads military College, 1993; D.Sc., Memorial University, St. John's, 1993; D.Sc., Laval University, 1993; D.Sc., University of Montreal, Montreal, 1994, D.Sc., University of Prince Edward Island, Charlottetown, 1994; D. Sc., University of Western Ontario, 1995; Honorary Doctoral Degree, Niagara University, 1997, New York.
Special Honours:
She is the recipient of the following awards: Officer of the Order of Canada; the Order of Ontario; Canada 125 Medal; NASA's Space Medal; Hubertus Strughold Award, Space Medicine Branch, Aerospace Medicine Association; Award Of Merit, University of Western Ontario; Medaille de L'Excellence, L'Association des Medecins de Langue Francaise du Canada; La Personalite de L'Annee 1992, La Presse; 1993 Alumnus of the Year, University of Guelph. Outstanding Canadian, Armenian Community Centre of Toronto; YWCA Woman of Distinction Award, Prince Albert, Saskatchewan, Kurt Hahn Award, Outward Bound; 1992 Paul Harris, Recognition Award, Rotary Club of Ancaster, Inductee into the Hamilton Gallery of Distinction. Honorary Life Member of the Canadian Federation of University Women, Girl Guides of Canada, Federation of Medical Women of Canada, Science North, and Zonta International. Honorary Member of I'Association des Medecins de Langue Francaise du Canada, Bootmakers of Canada, Canadian Association for Women in Science and the Canadian Aviation Historical Society. Honorary Patron for the World Congress of Neurology (Vancouver), Canadian Federation of Business and Professional Women's Clubs, Mission Air Transportation Network, Canadian Bushplane Heritage Centre, Young Scientists of Canada, The Aphasia Centre (North York) and the Ontario Parks Association. She is Honourary Chairperson for The Canadian Coalition for Quality Daily Physical Education, Women's Soccer Competition, World Student Games and The Parkinson Foundation of Canada. She is Honorary Colonel of the 22nd Wing, Canadian Armed Forces, Homell Heights, Ontario and Honorary Director of Save Our North Atlantic Resources and the Canadian Space & Technology Centre, London.
Honours In Name Of Roberta Lynn Bondar:
Royal College of Physicians and Surgeons of Canada Fellowship, Queen Elizabeth Public School Resource Centre, Sault Ste. Marie, Alex Muir Public School Resource Centre, Sault Ste. Marie; Trophy for Outstanding Male and Female Athlete of the Year, Sir James Dunn Collegiate and Vocational School, Sault Ste. Marie; Roberta Bondar Gymnasium, Sir James Dunn Collegiate and Vocational School, Sault Ste. Marie; Soo College Scholarship, Sault Ste. Marie; Sir James Dunn Collegiate and Vocational School Scholarship, Sault Ste. Marie; Bawating Collegiate and Vocational School Scholarship, Sault Ste. Marie; Girl Guides of Canada Scholarship; Province of Ontario Science and Technology Awards; USS Bondar, The Guelph Trek Club; Roberta Bondar Earth and Space Centre, Seneca College; Place Roberta Bondar Place – Province of Ontario, Sault Ste. Marie; YWCA Scholarship, Prince Albert, Saskatchewan; Roberta Bondar Rose, Hortico Nurseries. Roberta Bondar School Ottawa, Ont; Dr. Roberta Bondar Public School, Ajax, Ont.; Dr. Roberta L. Bondar Elementary School, Abbotsford, British Columbia.
Organizations:
Fellow, Royal College of Physicians and Surgeons of Canada and member of the American Academy of Neurology, the Canadian Aeronautics and Space Institute, The Canadian Society of Aerospace Medicine, the College of Physicians and Surgeons of Ontario, the Canadian Stroke Society, the Aerospace Medical Association, the Albuquerque Aerostat Ascension Association, American Society for Gravitational and Space Biology, the Association for Space Explorers, the Canadian Society of Aerospace Medicine, Greater Albuquerque Medical Association, Canadian Medical Association, Ontario Medical Association, Canadian Association of Sports Medicine, North American Nature Photographers Association.
Recreational Interest:
Dr. Bondar enjoys photography, biking, hiking, and flying.
Topics
Resilience ~ Staying informed, diminishing fear
COVID is affecting all of us— our personal and professional spaces, our lives and how we live them. It is a stress test for more than economics. Relief can seem short-lived, with gathering clouds of fear with rain that might promote seeds of doubt. But, as we know from viewing things from the distance of time and space, there is abundant energy from the light that lives beyond us and within the best of human behavior. Aspirational becomes inspirational. Change delivers opportunity—a deep dive with a good light.
The Art of Seeing and the Art of Being ~ Creativity through clarity of vision
Curiosity is linked to exploration. It is also about what we might be missing, or what might be important to our safety and health. Without curiosity, creativity would live in exile and we would be limited to our immediate life with no real potential for true growth. We can change how we view the world around us by awakening our senses to explore what lies beyond the human eye or personal experience. Revelation becomes relevance and the more investment in the connection, the more powerful the outcome. Dr. Bondar combines her expert knowledge in her specialty of neuro-ophthalmology (how we see and view the world around us) and professional training in landscape/nature photography with her experience of spaceflight to seek new worlds and ideas.
Considered Risk ~ Opening up possibilities for change and growth
Life is a series of moments, any of which can change the course of personal, professional and world histories. Random things can happen and they do, all of the time. Far better to embrace change than to fear it. Far stronger to examine fear and how to overcome it. The danger of spaceflight makes it unnerving for many and for others it is a source of inspiration – that human beings are destined for something greater beyond Earth life. Fear unexamined is risk undetermined. Risk becomes a force for change and all change bears risk, with the balance of risk and change set by personal passions and goals. Dr. Bondar discusses the possibilities and inspiration derived from actively seeking opportunity once risk is considered.
Perspective Shift ~ Moving beyond the familiar to reach for the extraordinary
The nucleus of shifting one's point of view is having an opportunity to see and experience things in a completely different way. Sometimes it takes dismantling the known and other times it is the unknown that thrusts us into a new view of the old. Spaceflight gives us images and ideas plus the potential of emotional and natural connections to our life on planet Earth. Dr. Bondar integrates her perspective from space with her Earth exploration through still and video imagery to stimulate others to think differently.
Patterns of Philanthropy for Life ~ Contributing to the fabric of society
The perspective of Earth as seen from space is a reality check that indeed we live on a planet. It also can open the mind and heart to the interconnectedness of its natural resources, including the most precious of which is life. Great principles of philanthropy include helping others to survive the many challenges facing us on the planet, and to reduce poverty while promoting excellence through education. This is accomplished best through volunteerism and or financial support. Volunteers are a source of inspiration and have the passion and commitment to move society forward. The Roberta Bondar Foundation, a charitable organization, implements programming through a strong volunteer base that seeks a better society by connecting all generations to our natural world through the coupling of art and science.
The Avian World ~ Flights of fantasy and resilience
They inspired her to fly when she was a little girl. Now, Dr. Roberta Bondar strives to protect the precious and threatened avian heritage of Earth. As astronauts fly across political boundaries without seeing divisions from space, so do birds, especially migratory birds that are declining in numbers at an alarming rate. They have much to teach us about flight and feathers, navigation and habitat health. Most of all, they are extraordinary life forms that we cannot create or replace. When birdsong was noticeably missing during her spaceflight, Dr. Bondar grew wary of what Earth would be like if birds vanished as a life form because of changing climates or habitat degradation from human activity. Dr. Bondar created Protecting Space for Birds, a multi-year project to document threatened and endangered species internationally from three points of view: from the surface of Earth, aerial images and from the space perspective. Her fine art photography is featured in exhibitions, social media and published works.
Video 1
Video 2