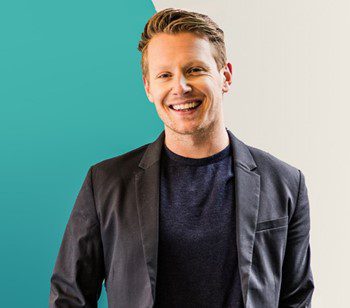 Synopsis
Speaker:  Eric Termuende                 
Topic Areas: Eric Termuende, teams and leading in the Future of Work
    Professional Fees subject to change without notice
$$$ = between $12,500-$25,000


Expenses:    As incurred      

Travels from: Vancouver, British Columbia, Canada

Expenses: for Travel, (air and ground) Accommodations, Meals, Traveling Companion, and Incidentals are not included in the above fees.
Discounted Fees:  Under rare and special circumstances speakers may discount their fees at their discretion. i.e., booking multiple events with the same client.

Non profit organizations may also qualify for a discount.



Biography
Eric Termuende is a best-selling author, internationally recognized thought leader, and keynote speaker on all things future of work, leadership, workplace culture, and talent management. After years spent studying the world's greatest places to work, he has deciphered what sets amazing leaders apart from the rest, and what it takes to build incredible teams that are resilient, innovative, and ready for the future.
His research and insights have inspired category-leading companies like Amazon, Coca-Cola, Nationwide, IBM, Zoom, Nokia, John Deere, and Toyota, to name a few. Eric's perspectives and accomplishments have also been featured in Forbes, Fast Company, Inc., and many other prominent publications.
In addition to the hundreds of keynotes he has delivered around the world, Eric is an entrepreneur and leader in his own right. As co-founder of NoW of Work, Eric has been named one of the world's Top 100 Emerging Innovators by American Express, making him a trusted resource as we collectively navigate the future of work together.
Eric's keynotes aren't just engaging and insightful, they're a fun, practical journey loaded with actionable takeaways that audiences can implement right away. Those that attend Eric's keynotes often share that his refreshing, down-to-earth messaging not only gets them excited about the future, but also provides the practical tools and know-how to build teams and thrive in it.
Topics
KEYNOTE #1
BLUEPRINT TO THE FUTURE:


Leading in a New World of Work
 While the trends, charts, graphs, and predictions about the future of work are interesting, the rhetoric around the future of work is often stuck on what it might look like, not how we get there. Instead of wasting time trying to predict what's next, leaders need to better understand the specific steps we need to take to focus on building incredible teams that thrive in the face of adversity and uncertainty; and have each other's backs along the way.
In this engaging, insight-filled, and actionable presentation, workplace culture and leadership expert Eric Termuende shares his research-backed blueprint for successful leadership in a world that has yet to be created.
Attendees will receive a practical guide to building teams that are more productive, engaged, creative, and innovative. They'll learn from the experiences of the National Football League, category-leading companies,
and trailblazers from around the world about the importance of building trust, removing friction, and creating a culture of experimentation. Attendees will discover ways to 'future-proof' their teams by making a series of one- degree shifts that result in an improved sense of belonging, psychological safety, and engagement. Attendees will walk away with immediate, actionable, budget-free steps to become the type of leader that builds resilient, innovative teams, no matter what else is going on in the world.
What audiences come away with:
Practical strategies to boost trust, resilience, and camaraderie
Research-backed insights on building team agility and excitement toward impending change
An understanding of how to harness the power of one-degree shifts
Methods for finding and reducing friction within teams
Actionable steps to cultivate a culture of experimentation, risk free
Perfect for those looking to:
Understand what to expect in the future of work
Navigate lasting talent shortages
Build an action plan to navigate uncertainty
Discover trends in talent/work location/demographics/economic trends
Build agile, human-centered leaders
KEYNOTE #2
UNWAVERING:

Building Incredible Teams for the Future of Work
 Uncertainty is inevitable in the new world of work. In the face of ongoing change, will we see our people running for the exits, or will they be there to support and help each other? Change is happening faster than ever before and building unwavering teams that are resilient, ultra-collaborative, and even excited about that change has never been more important. But how do we build unwavering teams? Trust, empathy, and ongoing experimentation.
Workplace culture and leadership expert Eric Termuende has spent nearly a decade decoding exactly what creates unwavering teams: those that are resilient, rooted in belonging, and have a deep sense of safety and inclusivity. These are the types of teams that thrive through change because they know that while change may be difficult, the only thing worse is standing still. Eric has created a playbook for cultivating unwavering teams, and in this session, attendees will both learn it and be able to take it home with them.
By discovering how to enhance collaboration, developing excitement for all of the possibilities experimentation yield, and deciphering the root of trust across a team, attendees will come away from this session understanding how to become the incredible leader who inspire their teams to perform at their best and stand strong through anything the future may hold.
What audiences come away with:
Deep knowledge about the root of collaboration and how to enhance it across the team
Research-backed insights trust, psychological safety, and belonging at work
How to enhance excitement about change and how to involve the whole team in the process
The most important question to ask to get engagement and buy-in
Why the future is something to be excited about, not scared of
Perfect for those looking to:
Improve team resiliency
Instill a sense of belonging and psychological safety in their teams
Effectively lead remote/hybrid teams
Navigate uncertainty smoothly and successfully
KEYNOTE #3
SNOWFLAKES AND FINGERPRINTS: 

How to Attract Top Talent in the Future of Work
Regardless of where we look, talent shortages are impacting every industry, and competition is fierce. With an entire generation on the precipice of retirement, and not enough workers ready to replace them, the situation is only going to get fiercer. More than ever before, we need to do whatever we can to attract and retain top talent – but what is that? After a decade of research on the world's greatest places to work, workplace culture and leadership expert Eric Termuende has the answer.
Like snowflakes and fingerprints, it all comes down to uniqueness. The days of job listings demanding an extensive list of skills and attributes from potential employees are gone. Instead, we need to talk about the larger workplace experience and the difference our organizations are making in the world. To attract the right talent in today's environment, we must plant our metaphorical flag in the ground and emphasize what makes us, as employers, different from the rest.
This means highlighting not only how and where we work, but also the more intangible aspects of our organization, like our purpose and values. It means leveraging our current employees' experiences and sharing why they love their jobs. To attract talent in the future of work we need to be loud and proud about the things that make us uniquely us.
In this fun and takeaway-filled presentation, attendees will not only learn how to create their own compelling stories to attract the right talent to their organization, but they'll also leave with a talent attraction framework they can continue to refine as the world of work keeps evolving.
What audiences come away with:
Actionable ways to create and share a unique, sticky, and impactful employee value proposition
Key strategies for leveraging your best recruiters (your existing team)
An understanding of why creating a 'best' place to work might not mean what you think it does (and what licorice, cilantro, and pineapple pizza has to do with it)
Knowledge of where culture lives, and how to adapt your story based on the team/location you're hiring for
Perfect for those looking to:
Stand out from competing companies and attract and retain talent
Turn existing employees into ambassadors/storytellers
Reignite excitement about the potential of their team/business with new talent
KEYNOTE #4
GENERATION ALL: 

How to Build and Lead 

Multigenerational

 Teams 
 Regardless of which workplace resource we look at, we're inundated with information about how to ensure harmony, productivity, and alignment when the different generations come together as co-workers. But what if we're answering the wrong questions? Instead of asking 'how do we get different generations to work together?' we asked, 'how do we build deeper connection, trust, and awareness of the people we work with every day?'
In this refreshing, insightful, and actionable presentation, workforce expert and bestselling author Eric Termuende shares insights gleaned from his years of research into how to build a better workforce – one that includes all generations, perspectives, and experiences. After studying the topic for years and surveying tens of thousands of people, Eric knows exactly what it takes to lead multigenerational teams. While the future of work may be unpredictable, one thing is certain: those who are able to build strong, multigenerational workplaces will have the advantage.
What audiences come away with:
Actionable ways to improve engagement and alignment across all generations in the workplace
Strategies for leading different generations
An understanding of the role of company purpose, and why it is secondary to workplace experience
Knowledge of the differences and similarities across generations as employees and teammates
The skills needed to promote idea sharing, creativity, and inclusivity across generations
Perfect for those looking to:
Understand the needs of the next generation of workers
Bust generational myths
Promote cross-generational mentorship/collaboration
Attract and retain the next generation of work
Testimonials
You absolutely knocked it out of the park & nothing but amazing feedback & accolades for you.
I anticipate many inquiries will come your way. This was a special day for us and you made it exceptional.
 Eric's talk was polished, pointed, and punchy. Our Tech CEOs overwhelmingly praised both the content and delivery of Eric's talk. We brought him in as a thought leader on workplace culture and transformation post Covid-19, and he delivered.
 Following a great keynote at the Northwest Credit Union Association, we brought Eric in for two keynotes with our branches. His high-energy, insightful, and timely information was perfect for us as we navigate the future of work and continue to build an incredible workplace. His message was so well-received that we're bringing Eric back for another event later this year (2022) and look forward to all he has to offer.
Eric delivered the perfect message for our top 350+ leaders as we look to lead 10,000+ people into the future of work and Polaris' best years yet. His keynote message was customized, relevant, and actionable as he shared the tools and skills we need to confidently lead through growth, change and transformation.  
-Steve Menneto – President, Off Road – Polaris, Inc.
We had Eric Termuende speak at two of our national leadership events in 2023. His message was a total hit as we continue to win and grow in the future of work. His engaging and entertaining keynotes were tailored, relevant, and gave all of our leaders the insights and tools they needed to build incredible teams and remain excited about the uncertain future we're all trying to navigate.
– Dino Naccarato, SVP – Loblaw
We had Eric as our closing speaker for Women Lead Change 2023 and he hit it out of the park! His message was grounded and inspiring, actionable and relevant. Everyone was buzzing as they left the room with optimism and excitement about the future of work and how we can build incredible teams along the way. We would highly recommend Eric to anyone looking for an engaging and insightful open or close to their conference. 
– Morgan Schmall, Director of Operations, Women Lead Change Global
Eric delivered an engaging, informative, insightful, and inspiring keynote.  He has an incredible style, energy, and authenticity that shines through – even virtually!
The positive feedback has been overwhelming. Our senior leaders said things like "I have a whole page of notes!", "I LOVED every bit of what Eric shared with us. I cannot wait to start acting on his ideas", and "That's probably one of the best 1-hour leadership sessions I've experienced!" Eric delivered practical ideas and compelling/real examples that we can all draw from to ensure we are the best leaders we can be – and, the ones that our teammates deserve.  He is AMAZING!
-Angela Fyfe – EVP Enterprise Services – Apria Healthcareideo
Video