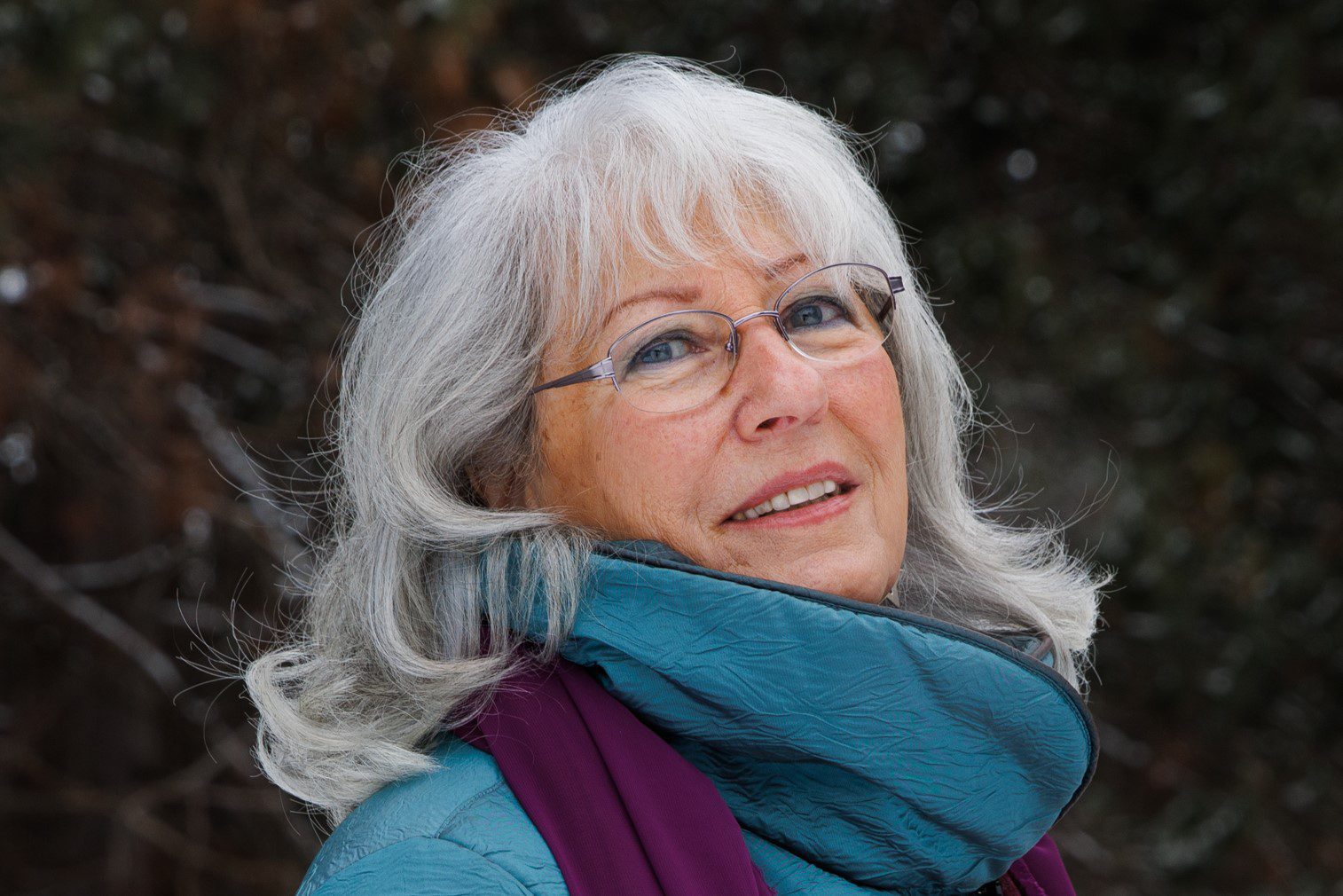 Synopsis
Speaker:     Gina Roitman, Holocaust Survivors, Inspirational,
"My Mother, the Nazi Midwife and Me"
Topic Title:              
Daughter of Holocaust Survivors, Inspirational,
"My Mother, the Nazi Midwife and Me"
    Professional Fees subject to change without notice
$ = under $5,000
Expenses:    As incurred                
Travels from:  Montreal, Quebec
Expenses for Travel, (air and ground) Accommodations, Meals, Traveling Companion, and Incidentals are not included in the above fees.
Discounted Fees:  Under rare and special circumstances speakers may discount their fees at their discretion. i.e., booking multiple events with the same client.  Non profit organizations may also qualify for a discount.
Biography
When —if ever–do we unpack the suitcase we are handed at birth, that bag somebody else has packed. In middle age, perhaps When we do open it, we most often find it filled with haunting stories about loss, family secrets, and altered truth. These are the stories Gina explores. The factual and the fiction are as challenging as they are inspiring.  Although more than 70 decades have passed since the end of WWII, something of her stories echoes in those we continue to hear regardless of place, time, or religion.  They are moving, inspiring and sometimes, infuriating.
Gina Roitman is a writer, memoir coach and biographer, the author of the literary thriller, "Don't Ask" and the collection,"Tell Me a Story, Tell Me the Truth."  As a child of Holocaust survivors, her parents' lives and stories paved the road she walks today.  It's a circumstance that she shares with many people around the world.  She believes that they – the second generation – have a responsibility to unpack their suitcase, recount these stories and ensure that truths are told before they are buried by time.
Topics
Memoir, Family Stories, the Holocaust
Don't Ask.  A novel
On the day her mother disappeared, Hannah read the last note Rokhl would leave her. It said, I am not her.
Hannah Baran is 45, a successful Montreal real estate broker with a highly lucrative client who, like her parents, is a Holocaust survivor. One day, she arrives late to bring her mother to a doctor's appointment but Rokhl is gone, leaving behind a mystifying note. Throughout Hannah's life, Rokhl's notes have been all the guidance she receives from a laconic, distant mother, a foil to Hannah's voluble father who rescued Rokhl from Auschwitz. On the night before her mother disappears, Hannah announces that she must travel to Germany on business, but Rokhl threatens that if Hannah goes it would be over her dead body. Three days later, Hannah finds her missing mother in the morgue. Left behind is a confessional letter—the story of Rokhl's life filled with loss, betrayal, and guilt.
Tell Me a Story, Tell Me the Truth. A story collection
"That's how we lived, surrounded by ghosts. They sat at the table while we ate our Sunday meal. They lay beside us in the bed as we slept…"
In Tell Me a Story, Tell Me the Truth, author Gina Roitman has captured her own experience as the daughter of Holocaust survivors in the character of Leah Smilovitz. Leah lives in a world trapped between two solitudes. An outsider, she belongs neither to her parents' painful generation nor to her own, freshly minted in the freedoms and contradictions of Montréal in the 1950s and 60s.
Growing up in a community of immigrants forever bound to the past, Leah tests the boundaries of her independence. This poignant and often funny collection of linked stories takes us through her rebellions, loves found and lost, and the pain of being helpless in the face of irreparable circumstances. Coming of age in a generation looking for its own identity, Leah struggles against old world fears and taboos to move into a more hopeful future.
My Mother, the Nazi Midwife and Me.  A documentary
Did my mother save my life or was her story the paranoid anxiety of a Holocaust survivor?
My journey began as research for a novel, a work of fiction.  It quickly grew into a documentary, when at almost every turn I uncovered accounts that are not only relevant to me as an individual, but to history.
My Mother, the Nazi Midwife and Me is a compelling, award-winning documentary that unearths a chilling story about the systematic murder of Jewish infants in a DP camp years after the end of World War II.
Video
Testimonials
JEWISH GENEALOGICAL SOCIETY OF MONTREAL
5500 Mackle Road, Apt.201, Montreal (Cote St. Luc), QC, Canada HAW 1V4
Tel: 514-484-0100, Tel: 514-735-4739, Fax: 514-484-7306
A Member of the lnternationol Association of lewish Genealogical Societies
October 27,2014
Dear Gina,
On behalf of the JGS of Montreal, I take this opportunity to thank you for your excellent
presentation on Monday, October 20th.
The introduction of your theme, Unpacking Your Suitcase, and the PPT presentation in
advance of screening your documentary prepared the ground well for your fascinating film,
"My Mother, The Nazi Midwife and Me".
The audience was spellbound, rendered speechless by what was shown on the screen. At the
film's end, the questions flew. In fact even a week later, when I bump into people who
attended, they are still telling me how impressed they were with it.
I hope you were happy with the brisk DVD sales of this most impressive film, with its hair raising
story.
Thank you again for providing us with a superb program.
Sincerely,
Merle Kastner,
VP & Programming
JEWISH GENEATOGICAL SOCIETY OF MONTREAL
A Member of the International Association of Jewish Genealogical Societies
_______________________________________________________________________________________
Dear Gina,
You had a group of 70 women totally mesmerized. No sound could be heard in the room. Your movie was so well edited, and your story was so well told punctuated with wonderful historical archival footage as well as very interesting interviews. Your personal presence was captivating.
Afterwards, the women could not stop talking about how great the program was. Seventy people in attendance is a testimonial to that.
Thank you very much for bringing yourself and your labor of love, your film ,to The Circle Of Friends.
Frances Block, Circle of Friends, Cummings Centre
________________________________________________________________________________________
I felt some relief on opening Gina Roitman's "Tell Me a Story, Tell Me the Truth", for Roitman brings some vigour to the language and unsentimentality to the subject (of the Holocaust). These stories trace the Montreal childhood and adult years of Leah, the daughter of a survivor mother who is anxious, pushy and guilt- inducing…Amazingly, Roitman manages to avoid cliché and make her characters real.
Cary Fagan, The Montreal Gazette
---
This heartfelt and humorous collection of stories about Leah Smilovitz, daughter of Holocaust survivors, is loosely based on Roitman's own experiences growing up in Montreal. Roitman cuts to the chase with great wit and one-liners like the time Leah disappoints her mother, who then quips, "I survived Hitler for this?!". "Tell Me a Story…" is storytelling at its best.
Bugs Burnett, Hour
---
"Mr. Greene and the Studebaker" is one of the best stories, with never a false note… Gina Roitman is a poet. This book, filled with strong writing, absorbing characters, believable events, and complicated relationships, reads like poetry, restrained and full of emotion.
Rita Berman Frischer, Association of Jewish Libraries Newsletter
---
This is basic storytelling at its best, relying on strong writing and interesting characters to drive the action forward. Roitman's writing is evocative and poignant, capable of turning phrases that will open your emotions like a key in a lock…Roitman's ability to capture enormity with just the right measure of words and accuracy is also remarkable.           Adriana Palanca, Montreal Review of Books (mRb)
---
Although the stories that Roitman explores have a flavour of familiarity to them, she manages to infuse her prose with enough twists that it makes for an interesting and surprising read.
R. Brian Hastie, The (Concordia) Link