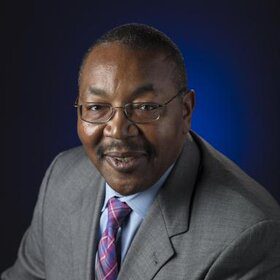 Synopsis
Speaker:        Gregory Robinson           
Topic Title:              
African American Keynote Speakers | Black Speakers

Change Management Keynote Speakers

Innovation Keynote Speakers

Leadership Keynote Speakers

NASA Keynote Speakers

Science Keynote Speakers

STEM Keynote Speakers

Team Building Speakers

Technology Keynote Speakers
    Professional Fees subject to change without notice
Expenses:    As incurred                
Travels from
Expenses for Travel, (air and ground) Accommodations, Meals, Traveling Companion, and Incidentals are not included in the above fees.
Discounted Fees:  Under rare and special circumstances speakers may discount their fees at their discretion. i.e., booking multiple events with the same client.
 Non profit organizations may also qualify for a discount.
Biography
About Gregory Robinson
 A 33-year veteran of NASA, Gregory Robinson is the former director of the $10 billion dollar James Webb Space Telescope (Webb). With 100 times more power than its predecessor, the Hubble Telescope, Webb is considered one of NASA's greatest achievements of the 21st century. Robinson's role in not only turning around an over budget program that was tarnished by a series of setbacks—but actually raising its efficiency rating from 55% to 95%—is attributed to his winning leadership style and willingness to shake up the status quo. He is credited with radically streamlining communications with multiple stakeholders (including four different committees in Congress, the Office of Management, Budget, aerospace contractors, international space agencies, the White House and more), smoothing political tensions, motivating teams and elevating transparency. He also drew widespread praise for his calm, soft-spoken leadership and communications style, and effective oversight of nearly 20,000 scientists, engineers and support staff in 29 countries and 14 U.S. states. Today, Webb is one million miles from Earth, transmitting never-before seen images. Over its projected 20-year lifespan, the space observatory is expected to capture galaxies being born and record the very origins of the universe itself, in many ways thanks to Robinson's quiet, unassuming and highly effective leadership. 
In honor of his achievements, Robinson was named to TIME Magazine's 100 Most Influential People of 2022 and EBONY's 2022 Power 100 lists, and is a recipient of the TIME100 Impact Award. He was named 2022 Federal Employee of the Year and received the 2022 Distinguished Presidential Rank Award, one of the highest awards bestowed upon career senior executives by the President of the United States of America. His talents were also recognized by Columbia University, which recruited him to the faculty of the School of Professional Studies, where he now lectures on information and knowledge strategy and leading large, complex projects.
 More About Gregory Robinson
 Prior to overseeing the Webb Space Telescope, Gregory Robinson's roles at NASA ranged from leading 114 missions for the Science Mission Directorate to being intricately involved with the 21 shuttle launches following the Columbia Shuttle accident. Robinson joined NASA in 1989, after graduating from HBCU  Howard University with a bachelor's in electrical engineering, joining the slim ranks of Black professionals at the agency. His against-the-odds path to the highest levels of NASA began as the ninth of eleven children born to tobacco sharecroppers in segregated rural Virginia. Although Robinson had a notable talent for math and science, a football scholarship paid his way to Virginia Union University, where studied mathematics before transferring to Howard.
 Over the course of 33 years at NASA, Robinson's jobs included Deputy Associate Administrator for Programs, where he was responsible for more than 100 science missions; Deputy Center Director of NASA's Glenn Research Center in Cleveland, Deputy Chief Engineer, and Deputy Assistant Administrator for the National Oceanic and Atmospheric Administration's National and Environmental Satellite Data and Information Service. He also spent 11 years in various leadership positions at NASA'S Goddard Space Flight Center.
 Robinson's professional accolades include being named 2022 Federal Employee of the Year, the NASA Presidential Meritorious Executive Rank Award (2007), the NASA Presidential Distinguished Executive Rank Award (2013) and 2022 Distinguished Presidential Rank Award. He was also a finalist in 'Management Excellence" for the Samuel J. Heyman Service to America Medal.
 In addition to undergraduate degrees from Howard and Virginia Union, Gregory Robinson holds an M.B.A. from Averett University and was a Senior Executive Fellow at Harvard. He is a past faculty member at the George Washington University, Department of Engineering Management & Systems Engineering.
Topics
Suggested Keynote Speaker Programs
TAKING ON YOUR OWN MOONSHOT
Are you looking to inspire your organization to reach for the stars, conquer a huge challenge, or simply see the value of teamwork, open communication and innovative thinking? Let NASA veteran Gregory Robinson guide you on a journey to the far reaches of space and limitless human potential, going behind-the-scenes at NASA against a backdrop of awe-inspiring photos from the James Webb Space Telescope. Sharing the story of how he led a team that transformed a failing program into one of humankind's greatest achievements, Robinson provides universal lessons on overcoming challenges, building trust and collaboration, enhancing communication and more.  Perfect for "all hands" meetings, kick offs, product launches or any event in which you want to inspire your group to achieve great things together.
A NASA-INSPIRED APPROACH TO LEADING INNOVATION IN ANY ORGANIZATION
Today, most organizations must innovate or fall behind. But what's the key to leading innovation and overcoming challenges and failures? It isn't just about hiring very talented people. At NASA, Gregory Robinson worked with, led and managed some of the world's most accomplished scientists and engineers. Instead, he says, it's about prioritizing relationship-building, creativity, knowledge-sharing and "open communication without fear." Robinson emphasizes soft skills like knowing when to lead and when to support, understanding how to collaborate, problem solving, and being able to reach out beyond your team to find answers and fresh thinking. Using real-life examples from his 33-year history at NASA, set against a backdrop that takes you a million miles from Earth, Greg Robinson shows how the human element is more critical than ever to driving transformation and achieving our most ambitious goals.
Just being an engineer in a time when few Blacks were in STEM professions would have been an achievement. Just getting into NASA—where the ranks of Black professionals were few and far between would have been an inspiring success story. But Gregory Robinson's against-all-odds journey to leading the James Webb Space Telescope program had a starting point worthy of Hollywood. Born the ninth of eleven children to tobacco sharecroppers in southern Virginia, where the legacy of Jim Crow was still strong, Robinson attended segregated schools until the age of 10. In this inspiring talk, HBCU graduate Robinson shares how he went from the tobacco fields to being named one of TIME Magazine's 100 most influential people– and how lessons learned through humble beginnings propelled his much-honored career.
MANAGING GLOBAL TEAMS IN TURBULENT TIMES
When Greg Robinson took over the leadership of the James Webb Space Telescope, it was years behind schedule, billions over budget, tarnished by engineering failures and waning stakeholder confidence. The trouble didn't end there. COVID, hurricanes, and other obstacles soon stood in the way of success. Still, Robinson managed to bring together 20,000 people in 29 countries and 14 U.S. states to not only turn the program around, but nearly double its efficiency. In this inspiring talk, highlighted by breathtaking images from Webb, Robinson shares how trust, communication and effective leadership can bring teams together from across the globe to overcome obstacles and achieve your organization's moonshot.
Video