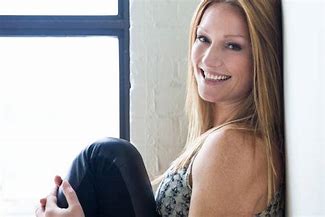 Synopsis
Speaker:    Heather Moyse, BSc, MScOT,
Topic Title:
 2x Olympic Gold Medalist (bobsleigh)
Professional Fees subject to change without notice
$$ = between $10,000 – $15,000
Expenses:    As incurred
Travels from:    PEI, Canada
Expenses for Travel, (air and ground) Accommodations, Meals, Traveling Companion, and Incidentals are not included in the above fees.
Discounted Fees:  Under rare and special circumstances speakers may discount their fees at their discretion. i.e., booking multiple events with the same client.  Non profit organizations may also qualify for a discount.
Biography
Describing Heather Moyse in one phrase is a difficult task, as she is so much to so many: multi-sport national athlete (bobsleigh, rugby, and track-cycling), motivational speaker, author, coach, ambassador, humanitarian, and above all, champion and leader. She is a 4-time Olympian and 2-time Olympic gold medalist, but she is not your typical Olympian as she did not grow up dreaming of competing in the Olympics.
Heather lives by her personal motto, "Believe in the possibilities", and inspires people all around the world with her life stories and her life philosophies. From the small Prince Edward Island town of Summerside to the top of the Olympic podium, Heather has been described as Canada's best ever all-round female athlete, who has accomplished the seemingly unlikely not once, not twice, but multiple times by believing in those very possibilities.
She first captured the nation's attention in 2010 while standing with her teammate on top of the Olympic podium. After setting push-start records all over Europe on the World Cup circuit, the electrifying duo made Canadian history on home soil at the 2010 Vancouver Winter Olympics after bombing down the bobsleigh track to Canada's first-ever gold medal in the sport.
After overcoming some personal challenges against all odds, and returning to bobsleigh only 6 months before the 2014 Sochi Winter Olympics, Heather amazed and endeared the world by not giving up on her own journey, and the electrifying duo successfully defended their title as Olympic Champions after a thrilling come-from-behind victory – a feat accomplished by a Canadian athlete only once before those Games.
But that is not all. She has also represented Canada in track cycling at the 2012 Pan-American Cycling Championships in Argentina – a sport that she took up only months earlier as rehabilitation for her ankle – and on the National Senior Women's Rugby team in 22 international rugby games and 4 international rugby sevens tournaments, including the 2013 Rugby Sevens World Cup in Moscow, Russia in which the team earned World Cup silver medals. She was the leading try-scorer in both the 2006 and 2010 Women's Rugby World Cups, and was selected as one of only two females in the world to be International Rugby Anti-Doping Ambassadors. In November 2016, Heather was the first Canadian female, and only second Canadian ever – to be inducted into the World Rugby Hall of Fame to join the likes of Johnny Wilkinson and Nelson Mandela who have also been recognized for their contribution to the sport.
In September 2017, after not training for 3.5 years (since the Sochi Olympics), Heather returned to the sport of bobsleigh for the sole purpose of empowering the younger less experienced athletes and helping them navigate the high-pressure Olympic season with her strength in mindset and mental management. She faced tremendous pressure during the season to join forces with her former teammate with whom she had won her two gold medals, but she clearly stated from the beginning that winning a third Olympic medal was not the motivation that brought her back to the sport, but the idea of potentially helping someone else win their first was. She strongly believed in investing in the next generation and stuck to her values, and helped make history in qualifying three Canadian women's sleds for the 2018 PyeongChang Olympic Games. And, only five and a half months after starting to train again, Heather pushed one of the Olympic rookies to a sixth place finish in those very Games.
And now, from the top of the podium to the front of the stage, Heather uses her personal experiences – and professional training as an occupational therapist – to encourage and inspire others to embrace challenges and face adversity head-on, believe in the possibilities of achieving their dreams, and to step outside of their comfort zones in order to discover and maximize their potential whether in sport, business, or life. To further personally embrace these points, in 2016 Heather summited the highest mountain in Antarctica to raise awareness for PTSD and raise money to help veterans and soon-to-be-retired members of the Canadian Armed Forces successfully transition back to civilian life after finishing their time in the Military.
Heather believes we are all capable of way more than we give ourselves credit for, but that we limit ourselves based on what we perceive as being possible or impossible. Because she is passionate about empowering others to achieve their potential, she has made it her business. She has made it her life's work to help others live on their own terms and redefine the possibilities for their lives and/or their businesses, and, besides coaching people in their journeys and with their goals, she wrote a book to reach and empower more people. Redefining 'Realistic' is a personal invitation from Heather to her readers to shift their perspective, believe in the possibilities, and discover, for themselves, what they are truly capable of.
As a lifelong humanitarian and proud Islander, (Prince Edward Island) Heather donates her time and talent to many community events and national charities, earning her the inaugural Randy Starkman Olympian Humanitarian Award, the Queen's Jubilee Medal, and the Order of PEI – the highest honour to be bestowed in any province in Canada.
Topics
Heather Moyse is a 4x Olympian, 2x Olympic gold medalist, motivational speaker, empowerment coach, and the author of "Redefining Realistic".
Empowering Keynote
The Gift of Motivation.




Champion Mindset: "Unlikely, but Possible"
How is it that some talented and gifted people never live up to or learn to maximize their potential? Never feel fulfilled? Never achieve more than what is expected of them? Heather Moyse knows. As a three-sport National athlete, four-time Olympian, two-time Olympic gold medalist, and certified occupational therapist, Heather has learned through her experiences in helping herself and others achieve at the highest levels that the qualities it takes to be successful as an athlete are the same qualities it takes to be successful in any occupation or industry – none of which have anything to do with physical strength or stamina. In this presentation, Heather reveals the four essential elements needed to succeed – four critical elements required for her to reach the top of the Olympic podium and anyone to overcome their obstacles and achieve at the highest level of performance, success, and fulfillment.
When you develop a champion mindset, you will be unstoppable!
Four key elements necessary in maximizing your potential – achieving your highest level of performance, fulfillment, and success.
How the power of perspective can inspire and empower you to discover that you are capable of much more than you think.
How even the most unlikely goals can be possible if you break them down and push forward with no regrets.
How one's choices determine not only our level of fulfillment, but also the impact we have on those around us.
The key to being a true leader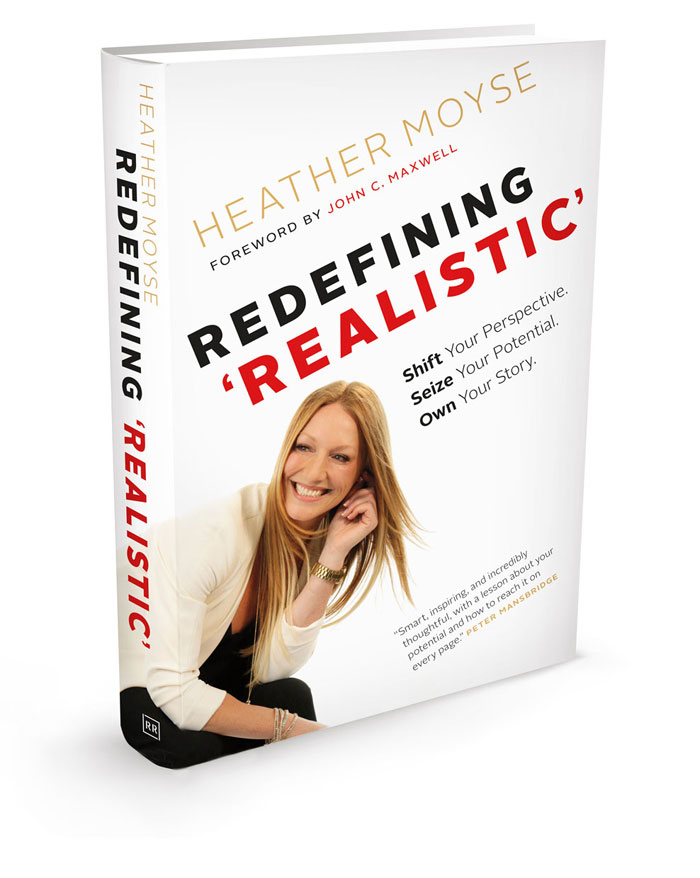 Redefining 'Realistic' 
"Be realistic." That's what we hear all the time,
even when no one is actually saying it.
But imagine if you knew you were unstoppable. Unconquerable.
Redefining 'Realistic' is about human potential and helping you achieve your goals — whether it is in sport, in business, or in life. Heather Moyse holds a master's degree in occupational therapy, and is a four-time Olympian (three-time Olympian at the time of writing this book), two-time Olympic gold medalist (in bobsledding), and World Rugby Hall of Famer. Heather's experience of embracing challenges, defying the odds, and proving the naysayers wrong has moulded her unique philosophy and perspective that she conveys in these pages.
Whether you are just starting to recognize your own abilities, have your life purpose already in place,
or are living your passion but still feeling like you need that extra push to reach your full potential – this book is for you!
Whether you are feeling a bit lost, facing a seemingly insurmountable challenge, or are undertaking a transition or big life change
– this book is for you!
This easy-to-read book will shift your perspective and empower you to start challenging your self-limiting beliefs and start questioning your assumptions about what you currently believe to be impossible, and will unlock the mindset needed for you to seize your potential and discover what you are truly capable of. Because, as Heather says, "We are all capable of way more than we give ourselves credit for."
For those of you who want to get empowered by Heather while commuting to work, working out in the gym, or just relaxing in the tub without worrying about getting pages wet, Heather's book Redefining 'Realistic' is now available as an AUDIOBOOK!
Testimonials
Heather's presentation was definitely a critical success factor for our event and we would highly recommend her for any events that require a speaker that can deliver the 'wow' factor.
 Peter L. Tierney, General Manager
Fisher & Paykel Appliances Canada, Inc.
 "[…] It was her message's relevance to our advisors that far surpassed our expectation! Heather is a shining example of setting goals, perseverance, determination and overcoming obstacles, all of which relate to a business setting. On top of that her personality and ability to engage and interact with an audience made her a highlight for all that attended. […] My only regret is that we didn't give her more time on stage for a longer Q&A session. I would highly recommend hiring Heather for any event you want to motivate and impress!" 
 Greg Fox, Regional Manager, Sun Life Financial
 Most definitely one of the best motivational speakers I have ever experienced.   
 Ben Champoux, CEO, 3+ Corporation
 When we invited Heather to speak at our conference, we were looking for someone who could motivate, inspire and empower a large and diverse audience. Heather did that and so much more. Using humour and her natural gift for storytelling, Heather captured the attention and admiration of virtually every member of our 3000+ audience of independent sales consultants and guests. She structured her presentation to ensure it would be relevant to the personal and professional goals those in the audience. Having Heather at our event ignited our audience's imagination and reinforced our Conference's theme of "Empower".
 Helena Alexandre
General Manager and Vice President Arbonne Canada
 I can say without a doubt that Heather's message will not be quickly forgotten by anybody that is fortunate enough to attend one of her sessions.
 Mark Bradley, Chief Executive Officer
LMN Software
 "By far, the highlight of the conference." 
Nadia Chegrinec, Marketing Manager
Canada Post
 "I don't think I'll ever forget Heather […] Everyone was glued to their seat […] My wife read her book on the way home […]"
 Jane Young (quoting various attendees of the conference), Executive Director
New Brunswick Automobile Dealers' Association
"The presentation that Heather Moyse gave was captivating.  There were approx. 900 delegates at this event and you could hear a pin drop."
Local Organizing Committee, Transportation Association of Canada
 "She had the audience engaged from the moment she came into the room.  Her presentation was inspirational, interesting, and funny, and her communication was authentic. […] It was a highlight of the week."
 Jill Jones, Executive Vice President
President – North America & Latin America
Brown-Forman
 "Heather's presentation captivated our team and laid out great examples of leveling up one's performance.  Her drive, persistence and inspiration towards achieving excellence were communicated in a professional, yet personal and sincere manner.  Many of our team cited her speech as a highlight of the conference."
 Brad Fletcher, Managing Director, Canada, Brown-Forman Canada
Video