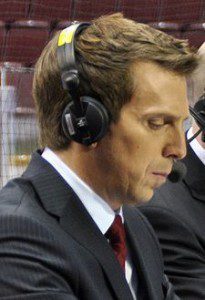 Synopsis
Speaker:    James Duthie, sportscaster for TSN, NBA               
Topic Title:              
James Duthie, sportscaster for TSN, NBA
    Professional Fees subject to change without notice
$$$ = between $15,000-$25,000
Expenses:    As incurred                

Travels from:      Toronto, Ontario   
Expenses for Travel, (air and ground) Accommodations, Meals, Traveling Companion, and Incidentals are not included in the above fees.

Discounted Fees:  Under rare and special circumstances speakers may discount their fees at their discretion. i.e., booking multiple events with the same client.

 Non profit organizations may also qualify for a discount.
One of the brightest stars in sports broadcasting today,
Host/MC, Entertaining Sports Stories with James Duthie
James "Boom Boom" Duthie is an Ottawa-born Canadian sportscaster for TSN.
He is currently the host of The NHL on TSN. In the past, he has hosted CFL Live,
NBA in the Paint and Sports Centre.
Biography – James Duthie
James Duthie is the host of TSN's extensive NHL coverage. In 2005, Duthie was also nominated for hosting TSN's six-hour hockey marathon, Canada's Game: Hockey Lives Here. The talented and sharp-witted Duthie is the former co-host of the evening edition of SportsCentre, Canada's most watched sports news and information program. Duthie also previously hosted TSN's highly acclaimed CFL studio show and NBA coverage.
Prior to joining TSN, Duthie, an Ottawa native, worked at VTV in Vancouver as both a news and sports reporter. Duthie also spent three years at CJOH-TV in Ottawa as a sports anchor.
Duthie's humorous, intelligent and entertaining style is evident off-air as well. Viewers can read his online column on TSN.ca. He is recognized across the country for his outstanding work, Duthie has received three consecutive Gemini Award nominations (2003-2005) as 'Best Host or Interviewer in a Sports Program or Sportscast' for his role with the NHL on TSN.
Topics:
•Broadcast Journalism
•Teamwork
•Goal Setting
• Motivation
•Leadership
•Adversity
Entertaining Sports Stories with James Duthie
In this presentation, James will relive some of the heroic, the tragic, and the heartwarming stories he's experienced through his sports career. His well-known sense of humour, deep hockey knowledge and his passion for the game have audiences clamouring for more.
Host/MC
Links Golf Program | Celebrity Golfer
James is available as a celebrity golfer. He is also a great option for Hosting/MC duties at a post-event banquet.
Celebrity Spokesperson
Event Moderator
Having interviewed various professional athletes, James has the ability to tap into that key learning or lesson, while also making the discussing a lively and entertaining one.
Awards
2011
Gemini Award | Best Host or Interviewer in a Sports Program or Sportscast
Sports Media Canada | Excellence in Sports Broadcasting award
2010
Gemini Award | Vancouver 2010 Olympic Winter Games
2009
Gemini Award | Best Sportscaster/Anchor
Testimonials
"James was outstanding in every way. He was well organized and entertaining with humour and class. He was an overwhelming success for a varied, high profile event."
– Douglas H. Mitchell, Co-Chair Borden Ladner Gervais, Calgary
"He is an integral part of the Hockey Hall of Fame's Annual Induction Ceremony. He makes the introductions and interviews seem effortless, which of course, they are not. Jame's professionalism and his careful preparedness enhance this prestigious gala."
– Kelly Masse, Director, Corporate and Media Relations, Hockey Hall of Fame, Toronto
"James has hosted a number of client events for me. Prior to each event, he is always exceptionally well prepared taking the time to understand the audience and our corporate objective. As the host of the event, he is professional, engaging, and has a great sense of humour that always connects with the audience."
– Hugh Gorman, President, BridgePort Realty Capital Partners (formerly of Oxford Properties)
"James was the guest speaker at KK shooters hockey camp where he challenged the campers from ages 6 – 12 years of age to never give up on their dreams, as he told them of his dream. James was professional, witty and fun and he challenged the kids".
– Don Roe, Recreation Supervisor, Town of Markham
"James is an excellent speaker in any venue. He is bright, polished, prepared and humorous to boot".
– Brian Burke – President and General Manager of the Toronto Maple Leafs
Toronto, Ontario