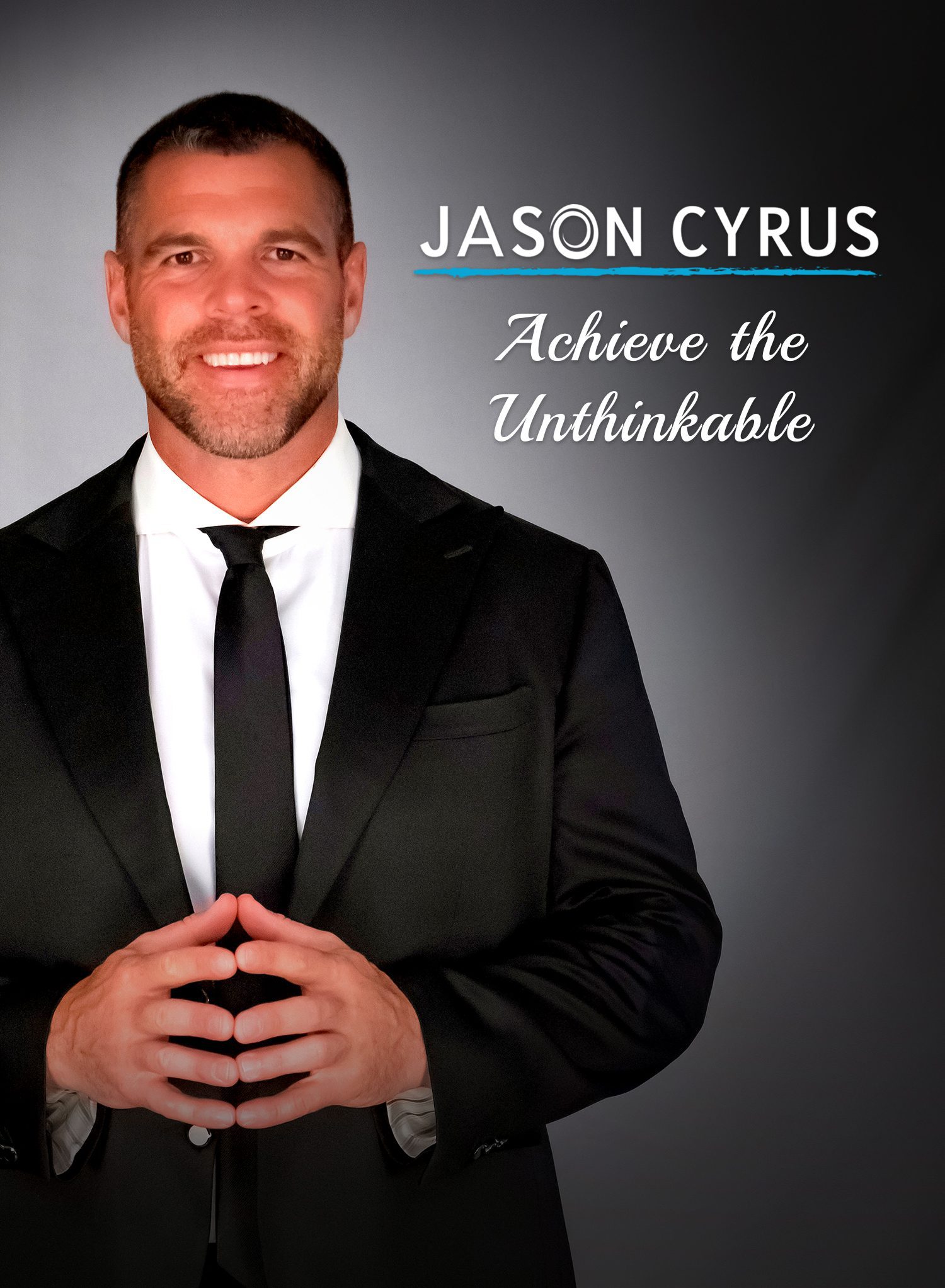 Synopsis
Speaker:     
Jason Cyrus (He/Him) 
Motivational Hypnotist (C.H), Naturopath (N.C), Speaker and Mental Performance Coach
Topic Title:              
Jason Cyrus (He/Him) 

Motivational Hypnotist (C.H), Naturopath (N.C), Speaker and Mental Performance Coach
    Professional Fees subject to change without notice
$ = under $10,000
Expenses:    As incurred                
Travels from:      Moncton, NB   Canada
Expenses for Travel, (air and ground) Accommodations, Meals, Traveling Companion, and Incidentals are not included in the above fees.
Discounted Fees:  Under rare and special circumstances speakers may discount their fees at their discretion. i.e., booking multiple events with the same client.  Non profit organizations may also qualify for a discount.
Biography 
Spectacular – Imaginative – Hilarious – Motivating – Inspirational
Unbelievably Entertaining.
Jason "Cyrus" Vautour (He/Him) 
Motivational Hypnotist (C.H), Naturopath (N.C), Speaker and Mental Performance Coach
 Born in the small coal mining village of Minto, NB and son of country music legend the late Joey Knight, Jason has always been loved for his big heart, quick wit, great sense of humor, family values and charismatic personality.
Like a true Canadian boy, Jason has always had a love for hockey combined with talent and skill.  During his hockey career, Jason played on AAA hockey teams and received many awards including MOST VALUABLE PLAYER.  His success led to an invitation to try out for a Junior A hockey team in Ontario.  His hard work and dedication earned him a position on the team which led to many other opportunities.
Jason fostered his love for magic and hypnosis at a very young age and is now called "Canada's Stage Hypnosis KING" by the country's entertainment capital, Niagara Falls. Jason began touring at the major theatres/casinos across Canada and very quickly had one of the hottest tickets in town.  Audiences are completely blown away by his highly entertaining world class shows coming from everywhere to experience the laughter and thrills.  Jason continues to pack the theatres more and more each and every year.  Major corporate companies hire him for headline entertainment for their company events.
In 2016, he developed a very powerful keynote speech entitled "Achieve the Unthinkable" combining entertainment with a message that is leaving corporate companies, high schools, universities and non-profit groups completely BLOWN AWAY by this unique presentation. Jason shows you how you can put the scientific principles to work in your business and personal life by using the power of hypnosis, imagination and visualization. You will quickly find out why he leaves audiences "Spellbound" says Dr. David Scott, (Associate Professor Faculty of Kinesiology & Montreal Canadians sports psychologist) with his "Life Changing" message.
In addition to his stage shows and engaging keynote presentations, he also is considered by many professionals as one of the top hypnotherapists in the world working with clients virtually and one on one at 360 Health Centre in Moncton NB. He is a certified clinical hypnotherapist (C.H) (International Hypnosis Association), (National Guild of Hypnotist), certified with the Mike Mandle Hypnosis Academy (Neo-Ericksonian Hypnosis), Naturopath (N.C) (The Academy of Naturopaths and Naturotherapists of Canada) and a member of the Alliance of Professional Naturopath and Naturotherapist.
In 2022, Jason became a Neuro Change Practitioner (NCP) though Neuro Change Institute based in Australia and was taught by PhD level teachers that are the best in their field from some of the top universities. (Harvard Medical School, The University of Queensland and Yale University to name a few). He studied Beliefs, Mindset, Emotional Intelligence, the subconscious/unconscious and Neuroplasticity (The brain's ability to learn and adapt).
With his love for sports Jason studied with Brian Cain and became a certified Mental Performance Coach. Brian is widely regarded as the foremost authority on Mental Performance Mastery.  He has worked with Fortune 500 companies, executives and organizations as well as coaches, athletes, and teams at the Olympic level, in the National Football League (NFL), National Basketball Association (NBA) National Hockey League (NHL), Ultimate Fighting Championship (UFC), in Professional Golf (PGA, LPGA, Korn Ferry, Symetra) and Major League Baseball (MLB). And the list goes on and on
Jason is able to help his clients reach their true potential while enhancing and improving their lives. He specializes in working with Athletes. The success and popularity of his shows and speaking engagements have increased his clientele as people travel from far to see him privately.  Jason enjoys all aspects of his career.  While he enjoys performing and speaking in front of large audiences, he also finds working one on one with clients equally if not more rewarding.
He still enjoys playing hockey, weight lifting and golf but his real dedication belongs to his wife Catherine and daughter Chloe.  He values the time he spends with them.
Topics
Jason Cyrus, Hypnotist
Can one keynote really improve your performance? Absolutely! For the past decade, Jason Cyrus has been teaching audiences how to get and stay motivated using the power of imagination and visualization.
As an Author, Unconscious Coach, Naturotherapist and ROCK STAR HYPNOTIST Jason Cyrus has dominated and transformed the field of stage hypnosis over the last decade with his unmatchable stage presence, unique style, positive attitude and charisma. In his wildly entertaining keynotes, he shows you how to achieve the unthinkable – and how you can put the scientific principles to work in your business and personal life.
Find out why corporate companies, major universities, and non-profit groups alike are calling his presentation "life-changing!"
Achieve the Unthinkable
Personally or professionally, we all set goals.  We all want to reach our goals to succeed in our lives.  Whether it be meeting a monthly quota, losing 20 pounds, quitting a nasty habit or furthering our training and education, we all want to improve.  We know the path, we know how to get there.  We have the desire.  We have the passion.  We want to do it.  What is standing in the way of reaching our goals?  It seems that no matter how strong our desire is to reach our goals, we are met with challenges, distractions and complications.  Obstacles always seem to get in our way and ultimately impede success.
In this entertaining and engaging keynote, Jason Cyrus shares personal experience and insight as he explains what's holding most people back from accomplishing their dreams—along with scientifically proven ways to overcome them.  The truth is, there is a way to reach our goals, accomplish our dreams.  Some people think that getting what we want, getting what makes us happy is reserved for the highly talented and highly educated men and women.  This is simply untrue.  However, successful people are unique.  What sets them apart from everyone else is their ability to practice visionary thinking.  Those who can imagine happiness, success and a better world are free to shape the future.  Those who cannot only wonder what it would be like.
If you can dream it, you can achieve it!
LEARNING OUTCOMES:
Programing yourself for success
The power of self-hypnosis
Using Visionary Thinking to become a High Achiever and reach your goals
How easily fears can be overcome
How to get and stay motivated using your Imagination
Embrace Faith and believe in yourself
Testimonials – Hypnotist
Keynote Testimonials
"WOW! The most entertaining stage presentation I have ever heard was at a conference where Jason performed. He had the crowd in the palm of his hand. It was the best, smoothest and most powerful night of laughs I personally ever witnessed. Even more important were the great practical insights that help us to be more productive and capable of reaching our potential. Jason is an example of character stage presence and great people skills. "
Dr. L.D. Buckingham (Pastor)
Founder and CEO
Bucking Leadership Institute
A Ministry of Kingswood University
"We hired Jason to be our closing keynote speaker at the East Coast Dental Group conference and boy did he ever deliver. The entire room was laughing, cheering and having a blast. Jason has a unique ability to capture the room, engage the crowd and provide motivation along the way. He's the total package.
 The feedback we got from our group was incredible, he was the highlight of our entire conference!"
JF Cormier, Marketing Manager – East Coast Dental Group
Highly recommend! Jason will be a game changer for your event!
"If you haven't seen this guy yet you need to hunt him down! Jason has such a fantastic message while making you laugh. He was with us for an hour and it was so much fun it felt like only minutes! Jason Cyrus thank you for your message to us at NBDAA. 💕 Can't wait to see you again."
Heather Melvin, CDA
Office Coordinator New Brunswick Dental Assistants' Association
"About three weeks ago, our company had Hypnotist Jason Cyrus come inspire us with his unique, impactful and amazingly entertaining presentation.  Throughout the preparation process, Jason was available and open to discussing topics that were important to our vision.  He took our feedback and simply knocked it out of the park.  Not only was a great time had by all, but the messaging was bang on.  His ability to deliver his message of visualization to meet goals while creating a fun, safe environment made the conference a success. It was a truly memorable experience and I highly recommend Jason for any corporate function, he's a class act!!"
 Michel Roach
Manager Business Development at Farm Credit Canada
"I had the pleasure of attending and being hypnotized twice by Jason Cyrus.  One was a stage show and one was his motivational "Achieve the Unthinkable" event put on.  After both nights, some amazing life changes started happening.  Not only did I stop texting and driving, biting my nails, and binge eating, but I was also released from certain lifetime self-limiting beliefs and fears.  I came away from the event highly motivated to make better choices for myself and within 24 hours I was applying for the job of my dreams in the Cayman Islands.  It has been two months since I met Jason Cyrus (what a wonderful man) and I have now landed the dream job and we are moving to Cayman Islands.  Thanks for the work in my mind Jason and I could listen to that soothing voice and watch him over and over.  Well worth dancing like Ricky Martin.  Thank you Cyrus."
Jason Jones, M.Ed, CCC, LCTCanadian Certified Counsellor & Licensed Counselling Therapist Atlantic Wellness Community Center
"Jason Cyrus… Words can't describe how talented this artist truly is.  Jason gifted us with his presence during two separate banquets where he really tailored his keynote speech 'achieve the unthinkable' to the audience.  He did his research ahead of time to know exactly who was in the audience which made everyone in the crowd feel extra special and appreciated.  He made everyone feel at ease and won us all over with his enthusiasm, empowering words, knowledge, creativity and charming personality.  
 He takes his art seriously but knows how to have the BEST time with it!  It was MIND BLOWING for us all to see just how, with a snap of his fingers, people were 'under his spell'.  He was upfront about not wanting to embarrass or disrespect participants and was true to his word.  Clean hilarious exciting fun!!  My face still hurts from laughing!!
 Cyrus was so easy to work with.  He was accommodating, respectful and very professional.  At the end of the day, he's a good guy who finds joy in bringing a sense of wonder and empowerment to people all while allowing them to experience a truly unique and incredible experience.  He was by far the highlight of the evening and the AC/DC of speakers!
 Cliché, but I'm going to say it… Cyrus truly was hypnotizing!! " 
 Sylvie Boudreau
Event Coordinator
Children's Residential Services
Department of Social Development
Region 3, Fredericton
 "We invited Jason Cyrus to be the closing event for our Mental Health week here at the college. As perusal he ended our week with a BANG! His keynote speech spoke clearly to our students and facility about "Achieving the Unthinkable", overcoming obstacles and obtaining your wants, needs and passions. I could not have asked for a better message to be sent to our students during this particular week, Jason never fails at giving others a positive message, making us laugh until our cheeks hurt, and offering a moment to open our minds to the unthinkable. His delivery is flawless, because of that you know you have just been part of something so special. I recommend Cyrus to anyone who ever asks, it is never a thought of will they gain something from his keynote but what will they gain. If you're waiting for the right time to experience one of Jason's events, let me be the first to tell you…YOUR TIME IS NOW!"
Cecilia Watkins, Student Success Advisor/ Oulton College. (506) 530 4715
"A few weeks ago at a convention we organized, Jason Cyrus was our motivational speaker. When I first heard that he would be hypnotizing people at 9am I was "concerned". Who would want to be hypnotized at that hour? Well I couldn't be more wrong. Jason was awesome! He had the room at his fingertips and worked his magic. It was amazing. On top of it all, there was a great motivational message. Many people in attendance, including myself have said they'll be searching him out over the summer. Great job Jason! It was a pleasure working with you."
 Shaun MacPhee , CEO – SE Mutual Insurance
 "We had the pleasure of having Jason Cyrus entertain and motivate us at our recent Christmas party. What an amazing performance and a true professional. Lots of laughs with a very powerful and motivational message. I would recommend Jason and his team for anyone looking for a great gift and evening with your employee's. "
 Mark Ripley, Dealer Principal – Mann-Northway GMC
 "What a privilege it was meeting Jason Cyrus.  His energy and enthusiasm exploded all over the room.  Jason presented his Keynote Address "Achieve the Unthinkable" at one of our Corporate Events and the crowd was captivated.  His message is so positive – you really can achieve the possible.  Normally I am shy and would not get up on stage but I didn't even hesitate because Jason was very calming, professional and kept if light and fun.  Thank you so much Jason, it will not be the last time we see you!"
Peggy Mitchell, Office Manager McInnes Cooper
"There was a lot of hype about Jason Cyrus and his live event coming into our national PropertyGuys.com conference. Believe me, he DID NOT disappoint. He had us laughing and in tears for the entire show. I'm shocked with what he pulled off this evening – In a good way!!! Thank you so much pal. I can't wait to see your show again."
 Ken Leblanc – President of PropertyGuys.com
 "I have personally attended Jason's stage show multiple times and most recently we had the opportunity to have him present his Keynote Address "Achieve the Unthinkable" at our Annual Conference. Jason brings to life a belief in yourself through positive thinking and a willingness to achieve what you once thought may have been out of the realm of possibility. Regardless of the obstacles you are presented with personally or professionally, Jason shows you through the power of visualization that anyone can achieve what they put their minds to. He is inspirational, entertaining, professional and motivating – but above all, he is worth every penny"
Darrin H. Quigley, Regional Manager RBC
 "We invited Jason Cyrus to be our Keynote Motivational speaker at our Atlantic Sales and Operations conference. Prior to his presentation, Jason took the time to review with me who the audience would be and we agreed to go with his show "Achieve the Unthinkable". This tied in excellent with the theme of our conference.
The keynote Jason put on was incredible, hilarious, clean fun and very professional. He lived up to his word that no one would be embarrassed– only sore from laughing.
Everyone was WOWED by his performance.
Jason was awesome to work with and took the time after the show to talk one on one with a number of our team members. The group shared with me that he was the best Keynote speaker that they have experienced for a very long time.
I highly recommend Jason for your next meeting /conference."
Kevin Coles 
Atlantic Region Sales Manager Superior Propane
 Jason Cyrus's keynote speech "Achieving the Unthinkable" was a brilliant end to our Fire Safety Symposium. It combines a powerful message with the good clean fun of his hypnotism abilities, which are nothing short of amazing. I did not believe that hypnosis was real until I saw this, and witnessed several people who I know well, fall instantly to sleep and then follow his suggestions in a way they never would if not hypnotized. Many of the attendees contacted me afterwards to let me know how much they had enjoyed his keynote and still talk about it now. A highly recommended a performance by this talented speaker.
 Brendan Stones – General Manager AIRCARE Ltd. Hamilton, Bermuda
 "On April 23, 2018, at the PEI Trade and Convention Center, Jason Cyrus presented the Keynote Address "Achieve the Unthinkable" to the delegates at the 2018 Maritime Provinces Water and Wastewater Association (MPWWA) Training Seminar and he had the audience's complete attention from his first words. His unique method of emphasizing the power of positive thinking and hidden potentials of the mind had everyone in attendance totally engaged throughout his presentation. His commanding stage presence and down to earth manner in demonstrating the power of positivity through hypnosis only served to emphasize the principle of "if you can dream it, you can do it". Our delegates, both on stage and in the audience were treated to a memorable and thought provoking motivational presentation that both kicked off and proved be the highlight of our 4 day event.  At a previous seminar Jason had served as our entertainment and when we went looking for a motivational speaker to present at our 2018 event, we jumped at the opportunity to have him. Whether it's his stage show or his keynote address, if you're looking for first rate entertainment to captivate your membership I highly recommend the ROCK STAR HYPNOTIST……..Jason Cyrus!!!!!"
 Rob Hamilton – Organizing Committee 2018 MPWWA Training Seminar
  "Jason came and presented to my first year university class. It was simply an outstanding and memorable lecture. He took the time to thoroughly explain the truths, myths, and mechanisms behind hypnosis. He highlighted the benefits of hypnosis as well as the limitations. He did all of this in a professional and engaging manner. He then gave examples of how hypnosis could be employed. This part of the presentation left the students spellbound and was an experience that I am sure they will remember for many years to come. His style and manner of presenting was second to none and the students came away with a whole new understanding of hypnosis."
Dr. David Scott, University of New Brunswick.
Associate Professor Faculty of Kinesiology & Montreal Canadians sports psychologist
"On May 26, 2018, CPC Greater Moncton women were extremely fortunate to present Jason Cyrus as their keynote speaker for their annual Regional Convention held in Fredericton.
A cross between Tony Robbins and Peter Reveen, Jason Cyrus brings the world of entertainment and self-help together in a mind-blowing, extraordinary presentation that leaves his audience with much to think about. Who would have thought that hypnotism and reflection could be so much fun!
Jason's ability to inspire as well as entertain is second to none. Our entire region was amazed by his talents and insightfulness. We were left not only with and entertaining show but some very thought provoking moments.
What Jason delivers is REAL, RELEVANT, and EFFECTIVE. You will not be disappointed."
Marie Law – President of the Canadian Progress Club Moncton Women
Lisa Dow – HR Consultant, Language trainer, Mental Health Counsellor
"At a recent sales conference I attended I was thrilled to see a long day surprisingly broken up with a guest keynote speaker, on the agenda the speaker was to talk to us about the power of the mind and visualization.
Wow, did he ever, Cyrus took the stage and proceeded to not just talk to me about the power of the mind, but show me!
I spent the next 90 minutes crying from laughter!
I was blown away that throughout the performance; waves of realization came over me of how relevant and powerful the message was to what I do in my business day to day. In the end I was left with a sore stomach and the idea that I can use my mind to accomplish so many more of my goals.
I am in control!"
Mark Toner/Account Executive Rock 88.9
"That time that Jason Cyrus (you know… the rockstar hypnotist) came to love on us, inspire us and make the people we love do some hilarious stuff!  SUCH an amazing night!!! If you haven't spent any time with this remarkable man you probably should.  Oh my goodness Jason thank YOU!!! That was amazing… and I'm so thankful to have had the opportunity to meet you and interact with you on a personal level. Having seen your show before I had no doubt in your gifts as a hypnotist but it was honestly incredible to hear you speak about goal setting and achievement!! That message was so timely for me! Having come from a very rough background I have a hard time with confidence and belief in my ability to accomplish more and feel that I'm deserving of it. Your message really resonated with me and I am so grateful for that! Can't WAIT to see you again!!!!"
Maegan Witherall / Co – President of Linking Live Inc
"I am totally blown away by my experience at the Jason Cyrus event!! Jason did a special presentation for our Linking Lives group & apparently I was the star of the show Do not remember much but I feel AWESOME!! Back was killing me and I have no pain right now and feel more relaxed than I have in years!! Jason Cyrus you rock; can't wait to do another project with you!  #AchieveTheUnthinkable #FeelingAwesome #MadeABelieverOuttaMe
Maria Johnston/Psychologist
"We asked Cyrus to perform at our Awards & Gala Dinner at our annual conference and our group has not been able to stop talking about him.  His hypnotist show was entertaining, amazing and hilarious.   He is a great comedic entertainer and awesome to work with.  If you are looking for entertainment or a keynote for your event, he is your guy"
Shannon McCool / Administrator – ATLANTIC SUBWAY® LTD  
"Had the distinct pleasure of watching a truly great man come and work with our team of young ladies who strive to overcome fears and bond together. Jason Cyrus immediately made then comfortable and they were receptive and eager. The encouraging words and power of the young mind made an edge of your seat exclusive event for these girls!  Jason Cyrus was inspirational and absolutely empowering. As one girl said "this was the best ever when can we do it again!"

Lorraine Byron – Owner of Olympia All-star Cheerleading
"Jason astounded our students with his recent presentation "Achieve the Unthinkable "at Minto Memorial High School!  His ability to hypnotize, entertain, and engage the audience was very impressive.  Our students were thrilled with his performance and how interactive it was.  He left us wanting more and students stated it was the best assembly they had ever attended. The TIGERS of MMHS strongly suggest that you invite Jason to your school; you will not be disappointed.  His message of encouragement is exceptional and we will certainly invite him back again very soon.  Thanks Jason. You will always be a TURE tiger! "
Ronna Gauthier BA BEd MACP
Minto Memorial High School
Guidance Counsellor
"Jason Cyrus was amazing, great show and we laughed the whole evening. I would most definitively recommend him for any of your banquets or social events to come! Got only great comments from NB nurses' union after the show, everyone was entertained and amazed!! Thank you for a truly amazing night! It was our best event that we ever done and this was our 20th year!"
Valérie Levesque – Event Coordinator New Brunswick Nurses Union
"Neverever in my wildest dreams did I think I would be part of a hypnosis show. I was at a work conference when Jason Cyrus was introduced and we were told his keynote speech would be about 'Achieving the Unthinkable'.  He was there to teach us about utilizing the power of our minds and to help us tap into our hidden potential. I wish I could tell you about his speech, but as it turns out I was part of the entertainment that day and spent my time on stage hypnotized! As someone who never, ever, believed I could be susceptible to suggestion in that manner, I can tell you my experience was a wild ride and one that I will never forget. It was an experience of a lifetime and one that I highly recommend for everyone.  My coworkers tell me the show, and Jason's motivational presence, were without a doubt the highlight of our conference."
Deborah Rent – Marketing Consultant/Account Manager Newcap Radio
Video