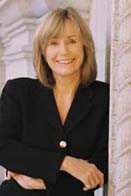 Synopsis
Speaker: Kare Anderson
 Topic Title:              
Kare Anderson, Communication Skills,

Conflict Management, Marketing, Negotiation, Nursing, Retail, 

Say It Better
    Professional Fees subject to change without notice
Expenses:    As incurred                

Travels from:    California, USA    
Expenses for Travel, (air and ground) Accommodations, Meals, Traveling Companion, and Incidentals are not included in the above fees.

Discounted Fees:  Under rare and special circumstances speakers may discount their fees at their discretion. i.e., booking multiple events with the same client.

 Non profit organizations may also qualify for a discount.
Biography
Enjoying a More Accomplished, Adventuresome and Satisfying Life – With Others
The Rube Goldberg-style marble ladder contraption on the side table in my second grade class completely captured my attention, more than the teacher's lesson plan, and I wasn't the only one. When the recess bell finally rang, instead of going outside, three of us rushed over to re-jigger it so the marbles would have a more zig zaggy way to meander down, from the top to the bottom. That should have been a clue to me then that I'd rather reconfigure or create something new – with others — than to simply learn how things are now.
Inventiveness is increasingly vital, for individuals and organizations, in this technology-enabled Age of Engagement, so you, too, may want to hone the skills needed to tap that talent inside of you.
As a reporter, inventor and co-collaborator on many projects – I have honed three passionate interests that can benefit you, too, in this increasingly complex yet connected world.   Now, more than ever, these skills are needed to stay relevant, sought-after and enjoying the true adventure story you were meant to live:
1.  Quotability
More than smarts, experience, hard work or even money and attractiveness the key first step to standing out and to attracting involvement is your capacity to get your ideas heard and shared. There is an art and a science to being frequently-quoted.
The A.I.R formula for quotability is as vital to life as oxygen in this connected era:
Actionable
Interesting
Relevant
 2. Connectability
Disconcertingly, likeability often trumps competence when people choose whom to support, buy from or befriend, research shows. Discover how to turn more situations into opportunities to connect around a sweet spot of shared interest, using one or more of the 30 Connectability Cues Kare has discovered from tracking behavioral research over the past decade. Use them to bring out the brighter side in others. Only then will they see and support your best side.
3. Collaborative
Inevitably those who become sought-after in any sphere, from personal to social or work settings, have co-created the most tempting offering for their "market."  Understand how to choose one or more of the seven most successful and widely-applicable methods to solve a problem or seize an opportunity:
Self-organized teams, loosely networked together
Co-creation, scalable and/or templatable
Crowdsourcing
Mini-charettes
Special interest communities, online and in-person
Storyboarding an experience, place, event or content
Mass customization
If you put any of these to use I'm betting that later, looking back on your life, some of your most meaningful memories and friendships will be the result of accomplishing something greater with others than you could have by working alone.  You can bring out each others best talents and temperaments by evolving one of these specific structured collaboration methods to your situation
Kare Can Support You in Two Ways
Want to use your best talents more often to accomplish greater things with others?  Like to be recognized and rewarded as you hone these traits? Then hire Kare to:
Speak at your conference or meeting
Provide coaching by phone and/or in-person
The arc of Kare's work and life so far…
Forbes columnist and Emmy-winning former Wall Street Journal and NBC journalist, Kare Anderson has been a public speaker in 18 countries, speaker at TEDxBerkeley,  and consultant to companies, sports teams, startups, government leaders and non-profits as diverse as Google, The Skoll Foundation, London School of Economics, Nordstrom, Siemens, Deloitte, and Novartis.
For Obama's first presidential campaign she created over 208 issues formation teams.  She was Pacific Telesis first Cable TV and Wideband Division Director and a founding board member of Annie's Homegrown.  Anderson co-founded nine women's political action committees. Her ideas are cited in at least 18 books. She is the author of Getting What You Want, Walk Your Talk, Beauty Inside Out and Resolving Conflict Sooner.  People in 28 countries read her blog, Moving From Me to We.
Kare's Most Requested Programs
Communication Expert
Become the Unforgettable Face of Your Organization
More than your smarts, good intentions, wealth, or even charisma your most vital traits in this increasingly complex, connected and information-flooded world are your capacity to be more widely quoted and deeply connected with diverse, sometimes unexpected allies. That's the only way to stay relevant and sought-after. Discover seven core ways to turn every in-person or virtual situation into an opportunity to demonstrate value and create opportunity with and for others. Learn the A.I.R. formula for making every message memorable, meaningful and actionable.
From a once phobically shy stutterer-turned-global journalist discover how to turn the next chapter of your work and life into the adventure story you were truly meant to live with others. As David Rockefeller Jr., said after hearing Kare speak, "She will forever change how you see yourself and your world."
Hidden Behavioral Cues That Boost or Bust Credibility
In-person and virtually, no action is ever neutral. From the angle at which you face others to the tone of your Tweets or voice, your every move creates mutuality or resistance. With advances in ways to study behavior we have discovered over 50 largely hidden behavior and contextual cues that affect how others feel about you. Emmy-winning former NBC and Wall Street Journal reporter turned Forbes and Huffington Post columnist has spent the past decade translating research into over 100 ways to become more credible, likable, trusted, widely quoted and sought-after. Kare literally demonstrates the vital behavioral cues that bring out others' better side so they naturally see and support yours. Become the glue that holds diverse groups together so you accomplish more, become indispensable and attract more opportunities.
Turn Colleagues Into Articulate, Helpful Ambassadors of Your Organization's Brand
In an increasingly complex yet connected world, the higher the tech the higher the "touch" needed for companies to thrive. Perhaps the biggest missed opportunity to attract more customers and retain top talent is to support your employees in engaging with customers, prospects and other key stakeholders in timely and helpful ways. Such connectivity strikes fear into the hearts of many executives, yet the upside benefits can far outweigh the mistakes. With the right rules in place and apt training, employees who are entrusted to be brand ambassadors are likely to strengthen relationships inside and outside your firm, see problems and opportunities sooner, generate greater shared learning with each other and boost esprit de corps. From an expert on communicating-to-connect your employees can learn specific cues for becoming more connective and compelling, in-person and virtually.
Create the On-Site Experience That Boosts Spending and Bragging Rights
Just as a movie director storyboards the sequence of scenes to pull audiences into the story, you can increase the number of positive moments that the people you serve experience while at your place. In so doing they feel deeply about vividly sharing their experience with others. From the first sight to the last touch, increase the multi-sensory cues that spark loyalty. From hotels to hospitals, stores to sports arenas, people serving places become top-of-mind when management storyboards their experience. Discover how to conduct an Exposures Audit to craft the scene-by-scene, one-of-a-kind experiences that others rave about.
Testimonials
Kare is one of the most innovative presenters on the topic of interpersonal communication you could hope to encounter, and getting better all the time."
~ Jeff Davidson, The Work-Life Balance Expert®, speaker and columnist
"We invited Kare to speak at the Walmart Home Office to our Finance Division. She was wonderful to work with and kept our needs at the forefront of our interaction.  The results exceeded our expectations and the feedback from the event was very positive. We've had numerous requests to invite Kare to speak to the division again. Many who attended said that they felt it was a career changing event."
~ Shonda Godley, Director, Talent Development, Walmart Stores, Inc.
"Kare Anderson captivated the audience with her sage advice. The passionate way she provided us concrete ways to improve, communicate better, look towards our strengths, build our character and collaborate were well received. I heard comments like "The best speaker I have heard in a long time".
I always appreciate the way Kare is a wealth of knowledge and the way she cites others and provides you with other quoted resources solidifies her points and makes you as an audience member feel confident in her teaching. Her format of lesson, group sharing, and discussion worked so well for such a social group like ours. I will continue to highly recommend Kare across all industries and especially for anyone who is customer-facing and needs to collaborate and communicate to survive!!!"
Pam Wynne, CMP, CMM,Global Program Director, Carlson Wagonlit Travel
"Take your today beyond! This is an amazing speaker, innovator and changer in the industry. Kare is a world of experience and knowledge. Her ability to make a connection, integrate and make amazing connections is unreal. My notes from her speaking engagement were three pages!!"
~ Kellie Ann Cahill, CMP, New York Hilton Midtown
Janice Mashak"In the world of professional speakers, Kare is one of those rare individuals. She is a warm, enthusiastic, compassionate, individual who can deliver good solid content in a very professional way.
For the audience, learning is almost automatic. Kare has such a genuine conversational style that you want to listen to her. From that, everything simply falls into place. Beyond her top-notch content, it's also a sheer joy to work with her."
~ Janice Mashak, Vice President, LeadingAge Wisconsin
"I met Kare at the first of three conferences at which I saw and heard one of her presentations. She may be the best professional speaker I have ever seen — interesting, entertaining, informative, and passionate about her topic. Having talked with Kare on other occasions, I also know that she is extremely well read, always eager to share, and a great networking resource. Her books and articles are always insightful and a pleasure to read. I recommend Kare highly as a speaker, writer, business coach, or collaborator."
~ J. Donald Mottley, former legislator, attorney at Taft Stettinius & Hollister
"Kare delivered a great keynote speech at our conference. She was funny, insightful, polished and professional. She really connected with our audience and left them thinking about how they could make changes in both their professional and personal lives. "
~ Ted Hopton, Empowering people at work through online community
 

Video