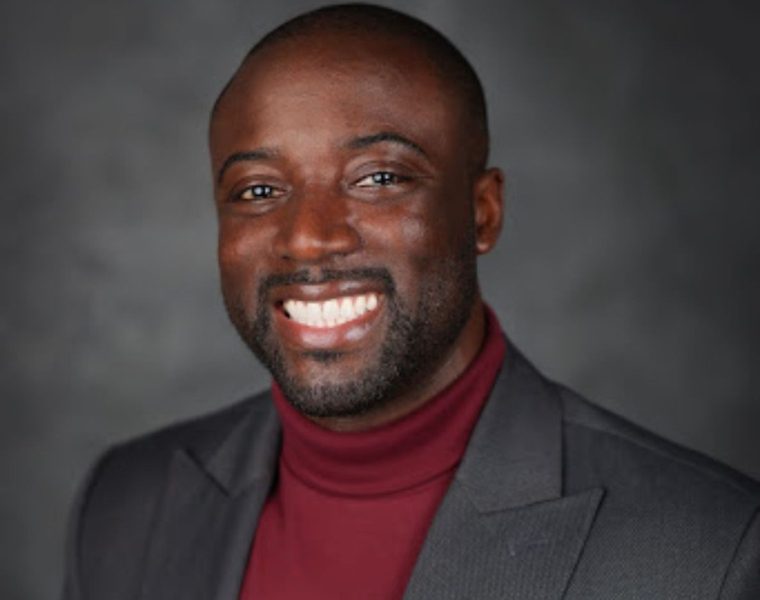 Synopsis
Speaker:   Kwame Christian, Esq., M.A.
Topic Areas
Top Negotiation Expert, Fortune 500 Trainer/Coach, Two-Time Bestselling Author, Forbes Contributor, and Host of Negotiate Anything, the World's #1 Negotiation Podcast
Keynote Speaker Topics
African American Keynote Speakers | Black Speakers

Artificial Intelligence (AI) Keynote Speakers

Bestselling Authors

Business Speakers

CEO Keynote Speakers

Change Management Keynote Speakers

Communication Keynote Speakers

Conflict Resolution Keynote Speakers

Diversity, Equity & Inclusion Keynote Speakers

Influence and Persuasion Keynote Speakers

Leadership Keynote Speakers

Negotiation Keynote Speakers

Sales Keynote Speakers

Sales Kickoff Keynote Speakers
    Professional Fees subject to change without notice
$$$$ = $30,000 – 50,000 USD
Expenses:    As incurred 
Travels from:  Ohio, USA
Expenses for Travel, (air and ground) Accommodations, Meals, Traveling Companion, and Incidentals are not included in the above fees.
Discounted Fees:  Under rare and special circumstances speakers may discount their fees at their discretion. i.e., booking multiple events with the same client.
 Non profit organizations may also qualify for a discount.
Biography
Kwame Christian, Negotiation Expert, Host of Negotiate Anything
More About Kwame Christian
Following the incredible success of his viral TEDx Talk (more than 409,000 views), Finding Confidence in Conflict, Kwame Christian launched a successful career as a bestselling author, keynote speaker, and Forbes contributor. His first bestseller, Finding Confidence in Conflict: How to Negotiate Anything and Live Your Best Life was released in 2020, followed by a second bestseller, How to Have Difficult Conversations About Race: Practical Tools for Necessary Change in the Workplace and Beyond, in 2022. Kwame also hosts the podcast, Negotiate Anything, tackling subjects ranging from buying a car, salary negotiations and managing conflict with difficult people to raising funding for business start-ups. Launched in 2016, Negotiate Anything is the #1 negotiation podcast in the world, with more than five million downloads and listeners in over 180 countries. Kwame is also a regular contributor to Forbes, where he lends his expertise on a range of topics, including negotiation, conflict resolution, leadership, sales, and communication.
Kwame is a practicing attorney, working with businesses and their owners to get better deals, solve complex problems, and overcome legal challenges. He is also a popular LinkedIn instructor, teaching over a dozen courses in his areas of expertise. Kwame previously taught negotiation, communication, and mediation advocacy at the university level, including The Ohio State University Moritz College of Law, the top-ranked law school dispute resolution program in the country.
Kwame earned his law degree, masters in public policy, and bachelors in psychology from The Ohio State University. He received the John Glenn College Young Alumni Award (2020) and Moritz College Outstanding Recent Alumnus Award (2021), which makes him the only person in the history of The Ohio State University to win alumni awards in consecutive years from both the law school and the masters of public affairs program. He was also named among Columbus' 2022 40 Under 40 award recipients.
Outside of the professional arena, Kwame is a devoted family man, proud father of two boys, and a serious chess nerd having played over 20,000 games and earning a ranking in the 99th percentile on Chess.Com
Why Kwame Christian?
Bestselling author Kwame Christian and host of Negotiate Anything,  the world's  #1 podcast on the subject, sees negotiation as an invaluable life philosophy that will build stronger relationships, teams, and leaders, promote cultural harmony and empathy, foster more productive and inclusive workplaces, drive results, and empower positive environments at both work and home.
His highly interactive talks provide practical, essential  tools, including his signature Compassionate Curiosity Framework,™  that have helped countless individuals and organizations overcome the fear, anxiety and emotion associated with negotiation and difficult conversations.
Topics
FINDING CONFIDENCE IN CONFLICT
This presentation aims to help team members handle difficult conversations and negotiations using the Compassionate Curiosity Framework. Attendees will have the opportunity to improve their ability to understand the emotions and psychology behind a conflict, gain control over their emotions, build trust with colleagues and clients, and create an atmosphere that encourages healthy, honest communication.
Led by attorney and global expert on negotiation, Kwame Christian, this practical and engaging session will teach attendees psychology-based negotiation strategies to manage conversations. Participants will learn how to structure difficult conversations effectively, manage difficult emotions, and avoid common mistakes that can stifle healthy communication. This workshop will form the foundation for all negotiation training.
The learning objectives for this presentation include how to have critical conversations and create trust with colleagues and clients, how to create an atmosphere that encourages healthy, honest communication, how to avoid hostility and common mistakes that stifle healthy communication, and how to approach every interaction as an opportunity for future success.
Difficult conversations and negotiations can be a significant source of anxiety and stress, leading to breakdowns in communication and tension in relationships. However, by learning negotiation strategies and the Compassionate Curiosity Framework, attendees will gain the confidence and skills needed to handle difficult conversations and negotiations effectively. This presentation is ideal for team members who wish to improve their conflict management skills and build better relationships with their colleagues and clients.
HOW TO HAVE DIFFICULT CONVERSATIONS ABOUT RACE (SENSITIVE TOPICS, DEI)
This presentation is designed to equip attendees with the necessary skills to have confident and equitable conversations about sensitive DEI topics, specifically around race. The learning objectives include understanding common barriers to conversations about race, learning key elements to structuring difficult conversations, effectively managing difficult emotions, and avoiding common mistakes that jeopardize inclusivity and cohesion.
Participants will learn to overcome their internal barriers to discussing DEI and work around others' barriers to productive discussions. They will also learn to be strategic about the outcome they want and guide the conversation accordingly. The presentation will introduce the concept of "Compassionate Curiosity" to connect and persuade, as well as tackle some of the most common race-related conversations that come up in the workplace.
The presentation is inspired by negotiation expert Kwame Christian's motto that the best things in life are on the other side of difficult conversations. Participants will gain the confidence to talk about race and learn how to make a difference when they do. This presentation is suitable for anyone looking to create change for themselves or others, whether they are BIPOC or white allies seeking to support their coworkers or clients.
By the end of the presentation, participants will be able to identify their internal and external barriers to discussing race, structure difficult conversations effectively, manage their emotions and avoid common mistakes, and engage in productive discussions around race and other sensitive DEI topics. This presentation is for anyone who wants to turn their passion for change into persuasion and make a difference in their workplace or community.
NEGOTIATION STRATEGIES TO GET THE BEST DEAL
In this interactive workshop, negotiation expert Kwame Christian will teach participants the most powerful negotiation techniques to ensure they get the best deal possible. Participants will learn how to use the Compassionate Curiosity Framework ™ to negotiate effectively in both personal and professional settings.
Throughout the workshop, participants will develop skills in key areas such as building rapport, standing firm, managing information flow, and strategic preparation. They will also learn how to ask the right questions, create powerful alternatives, and use anchoring as a negotiation tool. Additionally, the workshop will cover developing relationships, building trust, dealing with difficult people, managing emotions, and setting boundaries.
By the end of the workshop, participants will have a better understanding of negotiation strategies and tactics, as well as the confidence and skills needed to succeed in both their personal and professional lives. The presentation is interactive and engaging, with plenty of opportunities for participants to practice the skills they have learned.
THE FUTURE OF COMMUNICATION IN THE AGE OF ARTIFICIAL INTELLIGENCE
As AI continues to advance, it creates new challenges and opportunities for professionals. To help you and your team thrive in this new age, negotiation expert and founder of the American Negotiation Institute, Kwame Christian, will deliver a thought-provoking keynote presentation on the future of communication in the era of AI. In his presentation, Kwame will share insights on how humans and AI can work together to enhance communication and the importance of investing in human-centric skills like empathy, negotiation, and conflict resolution to stay ahead of the curve. He will also explore new research on anthropocentric bias bias against artificial intelligence and how it suggests that there will always be a need for human skills and connection in the future. Don't miss this opportunity to learn from one of the leading experts on negotiation and communication.
HOW TO GUIDE YOUR TEAM TO GREATER SUCCESS
This presentation is ideal for leaders who want to learn how to motivate diverse teams and effectively facilitate group dialogue. Led by negotiation expert Kwame Christian, attendees will learn the psychology behind group dynamics, how to coach for success in the modern workplace, and conflict resolution strategies.
The learning objectives include understanding group dynamics, facilitating inclusive discussions, coaching effectively, and creating a workplace culture where employees feel set-up for success. Leaders will also learn how to effectively advocate for themselves and their teams.
By the end of the presentation, attendees will have the skills and confidence to lead diverse teams, coach employees toward success in a dynamic work environment, and effectively handle conflicts. The presentation is interactive and engaging, with plenty of opportunities for participants to practice the skills they have learned
 Video