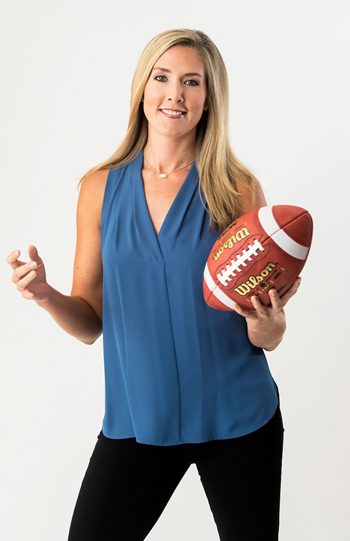 Synopsis
Speaker:    LAUREN SISLER                
Topic Areas
Emmy Winning ESPN Sportscaster, Addiction Prevention Advocate
    Professional Fees subject to change without notice
$$$ = between $10,000 – 15,000

Expenses:    As incurred                
Travels from:  Birmingham, AL      
Expenses for Travel, (air and ground) Accommodations, Meals, Traveling Companion, and Incidentals are not included in the above fees.
Discounted Fees:  Under rare and special circumstances speakers may discount their fees at their discretion. i.e., booking multiple events with the same client.
 Non profit organizations may also qualify for a discount.
 Biography
Lauren Sisler is a two-time Emmy award-winning sports broadcaster who joined ESPN and SEC Network in 2016 as a
sideline reporter for both college football and gymnastics. As a sportscaster and former collegiate gymnast, Lauren is
passionate about sports, but even more passionate about telling the stories of the coaches, athletes, and fans who make it more
than a game.
Her life was not always defined by victories. In 2003 as a freshman at Rutgers University, tragedy struck her world when
she unexpectedly lost both parents within hours of each other to their concealed battle with prescription drug addiction. On
her journey through grief, Lauren bravely emerged from the shadows of shame, embraced her story, and found hope again.
"I carried that shame until I finally realized I wouldn't let the pain I harbored define me, just like it didn't
define my parents."
Lauren realized that embracing her story and making peace with it had the power to heal, and she could inspire others to do the same.
Through her authenticity and vivid storytelling, Lauren's presentations take listeners on an emotional passage that ignites gratitude and a reimagined purpose in their lives.
"Your story is significant. Learn to love it, then do something with it."
Topics
Defined by Defeat: The Real Champion's Story
Life rarely goes according to script.
As an 18-year-old at Rutgers University, Lauren Sisler's reality was shattered when – within hours of each
other – she lost both parents to their concealed battle with prescription drug addiction.
In the weeks and months to follow, Lauren was catapulted into a new, painful reality, one in which the
picture-perfect life as she knew it was overshadowed by grief and shame.
Despite unfathomable adversity, she pursued her passions and rose in the ranks in the uber competitive
field of sports broadcasting. Lauren is now a two-time national and regional Emmy award-winning sports
broadcaster with ESPN and SEC Network.
Among the myriad of truths she gained at a young age, Lauren learned that success is often defined by
defeat, and our approach to life must include viewing circumstances through a lens of purpose and
gratitude.
"Sports is my passion, but my purpose is to share what I learned from my parents' story – and how I
learned to fall in love with my own."
She shares invaluable insight into the secrets of successfully overcoming adversity and the fundamentals
of resilience that are now written into the chapters of her story.
Audiences will learn how to:
• rebound from tragedy with courage and mental toughness
• unlock doors of opportunity by embracing your story and overcoming shame
• take chances to increase resilience during times of change
Key attendee takeaways:
• embrace every part of your story
• see the greater purpose behind every circumstance
• maintain a sense of humor, especially in life's more embarrassing moments
Unlocking the Shackles of Shame
As a freshman at Rutgers University, Lauren Sisler unexpectedly lost both of her parents within hours of
each other to their concealed battle with prescription drug addiction. She had a choice to make: hide the
story and suffer alone, or use her struggles to help someone walk out of the shadows.
It was only when Lauren started working as a reporter for ESPN more than a decade after the death of
both her parents that she started to truly undo the shackles of shame.
"In my job, I find the truth in athletes' stories and report on how their personal lives shaped who they are.
And yet the shame I inherited stopped me from telling the truth about my own story. By facing my trauma,
I discovered hope amidst the pain I felt from my parents' addiction. It has shaped me into who I am."
Lauren is an avid addiction prevention advocate, dedicated to breaking stigmas and eliminating the shame
associated with substance abuse and mental health disorders.
In her keynotes, Lauren takes audiences behind the scenes of her extraordinary journey, and how tragedy
ignited purpose and gratitude in her life.
Audiences will learn how to:
• reframe trauma by viewing personal experiences through a different lens
• acknowledge the pain of the past while moving forward shamelessly into the future
• embrace their own story with courage and fortitude
Key attendee takeaways: 
• view life through a lens of purpose and gratitude despite painful circumstances
• discover the powerful and often life-changing impact their story can have on the lives of others
• Courage builds confidence and creates resilience during times of uncertaint
 

Testimonials
Lauren's personal story and willingness to share with our student-athletes and staff continues to have a tremendous impact to this day. She made us all realize that we will have struggles as we go through life but they don't define us or hinder us from using the gifts that God has given us to make a difference. The world is truly a better place because of Lauren, her story and her gifts.
M.N., ATHLETICS DIRECTOR, SAMFORD UNIVERSITY
We were fortunate to have Lauren speak to the students and faculty of Leeds High School. What an impactful testimony. She delivers her message with such passion and zeal that everyone in attendance was captivated from start to finish. Anyone struggling with a difficult situation, addiction, lack of motivation, or self esteem issues would benefit from hearing Lauren Sisler speak. After listening to her we were all motivated to persevere and work through the pitfalls of life. Thank you Lauren you have been a blessing to Leeds High School!
R.W., PRINCIPAL, LEEDS HIGH SCHOOL
Lauren delivers a powerful message, unmasking the global struggles with addiction, and delivering it right into her audience's lap. Her story knocked me to my knees, and then lifted me up with hope. I was shocked that this happens, angered that more wasn't being done, and inspired to join the fight. It honestly made me want to love those close to me more, work harder, and chase my dreams. It didn't take long for Lauren to expose every nerve and make me feel alive.
J.D., HOST, THE NEXT ROUND
Lauren was terrific when she spoke to our basketball team. Her knowledge of the sports-media industry, her advice on how to handle yourself during interviews and her insight on brand-building were all very helpful to our student-athletes. She has a vivacious personality which made it a fun and enjoyable experience for our entire team. You could immediately tell she has a passion for what she does. She did an excellent job in preparing our guys for what was to come and we would welcome her back any time.
N.O., MEN'S BASKETBALL COACH, UNIVERSITY OF ALABAMA
Lauren came to speak at a ladies night we had at First Baptist Church of Trussville. Her story is a beautiful picture of both strength and grace. But, it's what Lauren did OFF of the stage that will leave such a lasting impact. She was engaged and tuned in to everything we did that night. She was willing to just BE with us for the evening and talk about life's messiest of situations with each individual that wanted to. Her time with us was truly a treasure that won't be forgotten.
K.W., DIRECTOR OF PRESCHOOL MINISTRIES, FIRST BAPTIST CHURCH TRUSSVILLE
2020 was a disastrous year for organizations like ours due to the COVID-19 pandemic forcing the cancellation of most meetings and events. However, with conditions improving, our Board of Directors desired to move forward with holding an in-person event for our 2021 Spring Business Meeting in Montgomery. We knew that finding a quality guest speaker might be difficult given the circumstances. I had followed Lauren Sisler's career since she first came to Birmingham as a Sports Anchor on CBS42. I was somewhat familiar with her back story of overcoming personal adversity. As a result, I felt that she would be a great choice to speak to our group, and offer an uplifting message in the uncertain times we're all currently living in. Lauren did not disappoint. From the first time I contacted her about speaking to our group, she was receptive to the opportunity. She remained a consummate professional throughout the process, ensuring that everything would run smoothly on the day of the event. When she spoke to our group, she was charming and witty, but her message was extremely powerful. Her words struck a special chord with me in that my father was in the hospital, and I realized I was wrestling with some of the same issues that she had faced as a result of her parents' hidden addictions. Lauren also reminded us that time is precious, and that once it's gone, it can never be replaced. I took her words to heart, and have placed a renewed emphasis on spending quality time with my family, and hopefully helping my father make a full recovery. I would strongly recommend Lauren to speak to any group that needs to hear her inspirational message of hope. Trust me, you will not regret it.
T.A., EXECUTIVE DIRECTOR, ALABAMA UTILITY CONTRACTORS ASSOCIATION
I thoroughly enjoyed working with Lauren on our sold-out event! Lauren's mix of passion, humor, and authenticity on the stage made her the perfect leader for our event. Her story is so powerful and her wisdom is beyond her years. Most of all, she is the same backstage as she is on stage. I am a huge Lauren Sisler fan!
S.L., CEO, COURAGE TO LEAD
Lauren Sisler is not only good at what she does, but she also made us better at what we do. Lauren added far more to Impact Leadership Conference than her personality and poise on stage and camera – which are, themselves, world-class. She fully adopted our goals as her own and filled the role of an expert guide through the planning process. Her energy was contagious and lifted both our team and our audience.
M.P., PRESIDENT, HIGHLANDS COLLEGE
When trying to find a speaker who could help bridge the recovery community with the broader community, educate people about addiction, and break down the stigma of addiction, we were beyond lucky to find Lauren. Not only was she courageous to tell her personal story, but she inspired an entire community to change based on her energy, passion, and big heart. Lauren went above and beyond the job to get to know us, hear our story, wishes, and desires, and got to know our community from meeting with kids at the Boys and Girls Club, to having a soda at the recovery club, to rubbing elbows with guests and taking the time to be with them. I am so incredibly impressed by Lauren, her humility and personable nature, and only wish we could have her speak to our community on a monthly basis. Thanks Lauren for being you and teaching our community to do the same.
J.S.P., FOUNDER & CEO, COMMUNITY & NONPROFIT LEADERSHIP CONSULTING, LLC
If Video is not available please refresh your page.
Video