Synopsis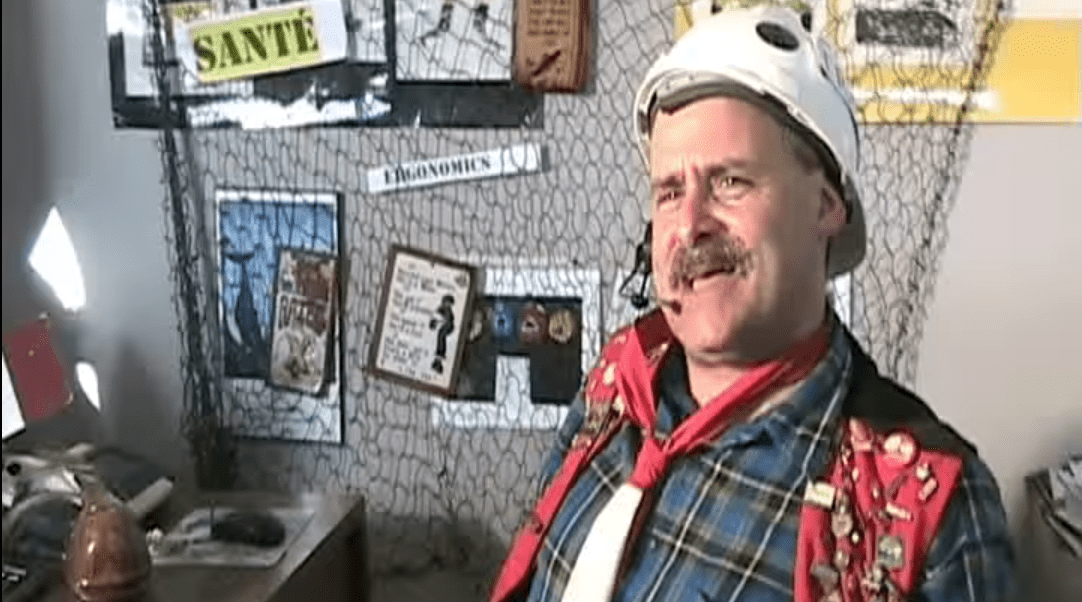 Speaker:    Marshall Button, a.k.a. Lucien, Comedy, Humor               
Topic Title:              
Marshall Button, a.k.a. Lucien, Comedy, Humor, French, English
    Professional Fees subject to change without notice
Fees:  Call for a quote
Expenses:    As incurred                
Travels from:   Moncton, NB   
Expenses for Travel, (air and ground) Accommodations, Meals, Traveling Companion, and Incidentals are not included in the above fees.

Discounted Fees:  Under rare and special circumstances speakers may discount their fees at their discretion. i.e., booking multiple events with the same client.
 Non profit organizations may also qualify for a discountComedian
New Brunswick's Blue-Collar Philosopher Comedian
Meet Lucien, Comedian
Lucien, the opinionated Acadian mill-worker and compulsive raconteur from Dalhousie on New Brunswick's North Shore, has had an unprecedented twelve year run since he first appeared in Fredericton, N.B. as part of a satirical Bicentennial revue, Maritime Mixed Grill.
The character was created by New Brunswick theatre artist Marshall Button, who scratched together a two-minute monologue for what he thought would be a brief dinner-theatre run in February of 1984. Over the ensuing decade, the character "evolved" to the point of assimilating well-over six hours worth of bilingual material, which has found its way into two different full-length plays; "LUCIEN", "LUCIEN'S LABOUR LOST" and LUCIEN SNOWBIRD and countless short commentary-performances on CBC's Morningside and Sunday Morning.
Through every performance in every locale and province across Canada, Lucien has become New Brunswick's cultural ambassador. In many ways, for Lucien to tell his story is to tell the story of the region and its people. In his humorous, heartfelt manner, he had been serving up a slice of New Brunswick cultural life that the rest of Canada has been feasting on for over a decade. The cultural significance and value of the character is also derived from the fact that Lucien's home is New Brunswick. Canada's only officially bilingual province, New Brunswick has been best described as a microcosm of Canada, a scaled down version of its english and french partners co-existing, forming a unique society. Lucien is an expression of this founding province of confederation – its culture, society, philosophy, way of life.
In his unique Acadian blend of English and French (sometimes known as franglais) Lucien offers his views on everything from religion, politics, relationships, work, sports, health and nutrition, the environment, technology – from a humorous perspective that many Canadians can relate to. With his folksy charm and wit, Lucien is able to provide a snapshot of what is going on in the hearts and minds of many Canadians from Victoria to St. John's.
His reception and identification as "every working man" enhances his appeal – an appeal that transcends geographic, occupational, socio-economic, cultural and linguistic boundaries.

He has contributed countless commentary performances for CBC Radio and Television, including a guest appearance on Royal Canadian Airfarce, and on Sportsnet during the 2006 Memorial Cup Hockey Tournament. Marshall has performed Lucien well over fifteen hundred times, from coast to coast in every Canadian province, and has appeared regularly during Moncton's HubCap Comedy Festival.
Marshall Button is currently the Artist-in-Residence at Moncton's Capitol Theatre. It's always fun to sit back, relax, and "take a break" with Lucien.
A 1994 Ottawa Citizen theatre review of one of his annual sold out performances at the Upper Canada Playhouse read:
"… Marshall Button as Lucien is a cultural icon … Lucien is a kind of gift from Button to the rest of the country, an Acadian blessing of laughter and perspective and from the heart wisdom … In the 10 years since he strolled on the stage, mangling the language but never the heart and soul behind it, Lucien has become a Canadian cultural icon."
Testimonials
Lucien: he could be N.B's next folk hero
The Telegraph Journal
" … Marshall Button's Lucien, the Acadian hardhat whose take a break, take your time attitude has worn its way into the New Brunswick vernacular. First time observers should be prepared for a very funny one man play. But it cuts to the bone of New Brunswick working life like a lifetime of slivers. Rave reviews followed him like sulpher in a downwind when he took the show for a 6500 km bus tour of Alberta and British Columbia. Western audiences like the character but he's not one of them. He's too english to be from Quebec, and he's too french to be from Nova Scotia. He's a New Brunswicker… he couldn't be from anywhere else … "
One-man show not to be missed
The Ottawa Citizen
" … In the 10 years since he first strolled onstage, mangling the language but never the heart and soul behind it, Lucien has become a Canadian cultural icon. Lucien is a kind of gift from Button to the rest of the country an Acadian blessing of laughter and perspective and from the heart wisdom. It is a show not to be missed. Lucien 2 is not to be missed because it is finely textured portrait that brings a slice of Canada so warm, vibrant, hopeful. The credit is due to Button's sharp eye and ear for detail and the richness of acting so natural the nuance, brilliant pacing … it is a rare and wonderful gift and Button offers it compellingly … "
Success of 'Lucien' brings Marshall Button fame
The Brockville Recorder and Times
" … It is still the philosophical ramblings of a New Brunswick mill worker for which he (Button) is most famous. The national exposure on Morningside has given Button the unique opportunity of choosing when and where he'll perform. The appeal of the play says Button is its universal message that to overlook the "lowly" is to overlook those who through their innocence speak the greatest truths. Lucien has been so successful because the character's multi-faceted personality relates to a broad base of the population. The script as well is being adapted constantly to the country's changing social and political background giving renewed freshness. National affairs, says Button provides ample paint for his creative palate. Lucien speaks what is known as "frenglish/franglais" a mixture of french and english which provides a subtle message on its own that unity can be achieved. Button grew up in New Brunswick where bilingualism and co-existence are almost accepted facts. It's the message that this can be achieved that makes the play current.
Video
[youtube_sc url="http://youtu.be/-t0IqckcZOU" title="Marshall%20Button,%20a.k.a.%20Lucien" rel="0″]