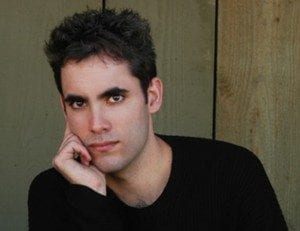 Synopsis
Speaker:                  Michael Grandinetti  
Topic Title:              
Magician 
    Professional Fees subject to change without notice
Fees: Please contact us for a quote

Expenses:    As incurred                

Travels from:         Los Angeles, CA
Expenses for Travel, (air and ground) Accommodations, Meals, Traveling Companion, and Incidentals are not included in the above fees.

Discounted Fees:  Under rare and special circumstances speakers may discount their fees at their discretion. i.e., booking multiple events with the same client.  Non profit organizations may also qualify for a discount.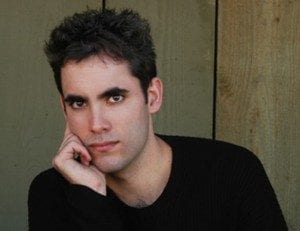 Biography –  Michael Grandinetti – Magician
Named by Entertainment Weekly as "a great magician who can truly communicate with a TV audience", Hidden Remote as "a fan favorite with charisma and an easy rapport with an audience", and Digital Journal as "one of magic's best loved magicians, the one to watch", Michael Grandinetti is not your ordinary magician.
With performances on national and international television, in stadiums, arenas, casinos, and theaters around the country, with Oscar-winning composers and symphony orchestras, for NFL and NBA halftime shows and major sporting events, in large-scale parades, for Fortune 500 companies, and even at The White House, Michael has made a name for himself around the world as a talented and innovative illusionist and magician.
Over the past 20 years, Michael has been driven to make magic contemporary and to give it a wide, mainstream appeal. He has had starring roles on NBC's "The World's Most Dangerous Magic II", The CW's "Masters of Illusion", and POP's "Don't Blink", and his magic has been featured on the Emmy-nominated FOX series "Bones", "The Today Show", "Access Hollywood", "Entertainment Tonight", "The Hollywood Christmas Parade", "The Bold and the Beautiful", "SportsCenter", "NBA on TNT", and "FOX & Friends". Michael has also appeared as a guest on radio shows across the country and in media including Parade Magazine, Entertainment Weekly, AXS.com, Hidden Remote, Starpulse, The Huffington Post, MAGIC Magazine, Young Hollywood, Pittsburgh Magazine, The Beverly Hills Times Magazine, Go! Magazine, DC Life Magazine, Tucson Living, and with multiple appearances on The Marilu Henner Radio Show.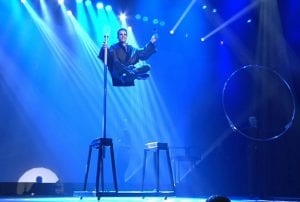 Michael was recently featured on CNBC's "Make It", a series about people who have achieved success in challenging industries, as well as on the cover of TV Times magazine, released nationally in newspapers across the U.S.
As a Magician possessing a true passion for amazing live audiences, Michael has performed at a wide range of venues including Heinz Hall with Oscar-winning producer and composer Marvin Hamlisch and the Pittsburgh Symphony Orchestra, A.J. Palumbo Center in Pittsburgh, Harrah's Resorts in Atlantic City and San Diego, Gallo Center for the Arts and Gold Country Casino in Northern California, United Center in Chicago, Oracle Arena in Oakland, CA, Bank of America Stadium in Charlotte, Casino Rama in Ontario, Canada, Grand Central Station in New York City, the Four Seasons Resort in Lanai, Hawaii, on the red carpet of ESPN's ESPY Awards at the Dolby Theater in Hollywood, and at The White House Easter Celebration.
Michael was also honored to be the first illusionist magician ever invited to perform in the National Independence Day Parade in Washington DC. During this remarkable celebration of our country, Michael levitated a girl high above one of the floats as it moved down Constitution Avenue while an audience of 250,000 people lined the streets.
In addition, Michael was recently one of the headlining performers in "Masters of Magic", a large-scale production show which ran nightly for two months at the Grand Sierra Resort and Casino in Reno, Nevada. Presented on the world's largest indoor stage, a full acre in size, Michael caused a 500lb motorcycle to appear in mid-air, levitated 10ft into the air under bright lights at the front of the stage, created interactive magic with everyone in the theater at the same time, and melted his body through the center of a 7ft tall wall of solid, examined steel.
Michael is also one of the stars of the hit CW television series "Masters of Illusion", performing in five seasons of the show, which aired across the US and in over 100 countries around the world. Hosted by Dean Cain (Lois & Clark: The New Adventures of Superman, Hit The Floor), Masters of Illusion showcases the world's top magicians and illusionists in front of a live audience in Hollywood. During the run of the series, Michael has performed a wide variety of grand illusions and interactive stage magic including shrinking a girl to the size of a basketball, vanishing borrowed rings and causing them to reappear baked inside a loaf of bread, bringing a painting to life, melting his body through the spinning metal blades of a 5ft wide industrial fan, levitating a lady in the center of the audience, and escaping from a platform suspended 20ft above the stage. Special guest Ace Young, star of American Idol and Hair on Broadway, assisted Michael onstage during the show for his "Steel Passage" illusion.
To promote the series, Michael performed a daring live stunt in which he levitated in the air, for 4 hours, 15ft above the Hollywood Walk of Fame. During the event, helicopters hovered overhead, traffic along busy Hollywood Boulevard came to a halt, and observers flocked from blocks away to wave their hands all around to try to figure it all out. The performance was broadcast by news sources across the country and the Pittsburgh Post-Gazette listed the stunt as one of the 5 things they loved during the week.
Michael also starred in the recent POP TV series "Don't Blink", a docu-series that took viewers inside the underground world of street magicians as they perform for the unsuspecting public and celebrity guests on-location throughout Los Angeles. For the series, Michael filmed over 30 pieces of magic, from large-scale grand illusions to interactive sleight of hand, while surrounded by audiences at locations including Hollywood Blvd., Venice Beach, and Universal Studios.
Always striving to take the art of illusion in new and exciting directions, Michael has pioneered live magic in one of the most challenging environments imaginable – major-league football stadiums, baseball stadiums, and basketball arenas. He has performed NFL halftime shows at Bank of America Stadium (Carolina Panthers vs. defending Super Bowl champion New York Giants) and University of Phoenix Stadium (Arizona Cardinals vs. Baltimore Ravens) while live audiences of over 70,000 people watched with a 360 degree view as Michael caused people to appear, vanish, shrink in size, and levitate 10ft into the air, right on (and above) the 50 yard line. The game at University of Phoenix Stadium was broadcast live on ESPN's Monday Night Football and Michael was joined as the game's entertainment by legendary rock band Journey, who performed the National Anthem.
In addition, at Citizens Bank Park, Michael made the 7ft tall, 300lb Philadelphia Phillies mascot, The Phanatic, magically appear in the center of the outfield. For the Miami Marlins vs. Pittsburgh Pirates game at Marlins Park in Miami, Michael had the honor of throwing out the first pitch, after first making the game ball magically appear and, at Kansas City's Kauffman Stadium, Michael performed one of the largest live interactive illusions in history when he read the minds of all 45,000 people in the stadium at the same time.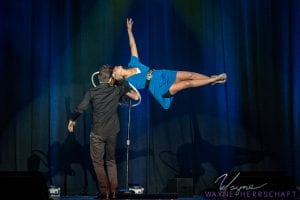 Michael has also created basketball halftime shows for NBA teams including the Chicago Bulls, the Dallas Mavericks, the Utah Jazz, the Milwaukee Bucks, and the Golden State Warriors, and college teams including the University of Michigan, Penn State, USC, North Carolina State, and for the Atlantic 10 Men's Basketball Championship at Barclays Center in New York City. Michael's halftime show for the Chicago Bulls NBA playoff game at United Center in Chicago, where he levitated at the center of the court while surrounded by a sold out crowd of 22,000 people, even caused commentators Shaquille O'Neal and Charles Barkley to comment in amazement during the live national broadcast on TNT.
This is magic on a major scale.
Michael combined the worlds of magic and music when he created special performances and appeared as a featured guest artist with the Pittsburgh Symphony Orchestra, the Grand Rapids Symphony Orchestra, the Huntsville Symphony Orchestra, the Rochester Philharmonic Orchestra, the Phoenix Symphony Orchestra, and the Augusta Symphony Orchestra, with several more symphony shows ahead. During these shows, while the orchestras played musical selections specially themed for each illusion, Michael magically transformed a tuxedo into the orchestra's conductor, made roses bloom on the stage, levitated into the air while surrounded by the playing orchestra, and, for a finale, caused the orchestra itself to read the minds of the audience by playing pieces of music they were only thinking of.
Michael Grandinetti has come a long way since he received his first magic set for Christmas, and performed his first show, at the age of 5. Before graduating from college, Michael was honored to receive the City of Pittsburgh's "All-Star Achievement Award", given to those who have carved positive and noteworthy paths in their industry.
Michael's personality and style were introduced to the world when he performed his original creation "The Spike Tower" on the NBC television special "The World's Most Dangerous Magic II". While covered with a mixture of gasoline and kerosene and secured by chains, Michael had only sixty seconds to escape before two walls of flaming steel spikes were thrust towards him at over 50mph. Bringing together seven illusionists from around the world, Michael was the youngest performer on the show.
In addition, Michael has created and developed custom magic presentations for Fortune 500 companies and major corporations including Mazda, Hewlett Packard, Grainger, Ernst & Young, Southwest Airlines, The American Marketing Association, Harley-Davidson, Rite Aid, and Bayer and he was one of the featured performers at the "Women of Valor Gala" in Beverly Hills, with celebrity organizers including Danny DeVito, Rhea Perlman, and Jamie Lee Curtis.
As a respected Creative Consultant, Michael is also very accomplished behind the scenes. He has taught sleight of hand magic to the actors on the CBS daytime drama "The Bold and the Beautiful" and, for the TBS show "Conan" starring Conan O'Brien, Michael consulted on a special illusion design intended to make comedian Zac Galifianakis magically appear for his interview. Michael was also contacted to contribute an original illusion for the Pamela Anderson show at the Hard Rock Resort and Casino in Las Vegas. In addition, Michael has consulted on a national commercial featuring sleight of hand for the United States Treasury, provided additional techniques in the instructions for a unique piece of close-up magic marketed after its appearance on a David Blaine special, written several articles on magic published in books, magazines, and newspapers across the country, and he was a historical/magic consultant for the book "Spellbound", detailing the life of famed illusionist Doug Henning. Michael's original illusion designs have been featured in productions in Atlantic City, Branson, Seoul, Korea, and on the television series "Paolo Limiti" in Italy and he was once even called about the possibility of making Dubai's Burj Khalifa, the world's tallest building, magically appear – before it was built!
Through his work, Michael Grandinetti is making the art of magic modern, innovative, charismatic, and exciting while showing audiences around the world that nothing is impossible.
CORPORATE MAGIC – Michael Grandinetti – Magician
As one of the country's top corporate entertainers, Magician Michael Grandinetti and his magic have been featured in sales programs, trade shows, and corporate galas from coast to coast. His clients have included Fortune 500 companies and major corporations such as Mazda, Rite-Aid, Hewlett Packard, Grainger, Ernst & Young, The American Marketing Association, Southwest Airlines, Harley-Davidson, Benjamin Moore Paints, and Bayer.
In addition, with his unique ability to design and incorporate magic to fit any theme, Magician Michael can combine his stunning visual illusions with a company's brand, message, and executives to convey their product benefits in a unique, compelling, fun, and, most importantly, memorable way.
Performance lengths can range from 3-5 minute stand alone segments, to a 30-60 minute show, to a full-scale 75-90 minute feature presentation. Michael can even make a client's CEO or a featured guest magically appear onstage. Each show is custom tailored to fit the needs and specifications of each event, program, and venue. And, with a large inventory of original creations, a Michael Grandinetti Magician performance is guaranteed to feature magic that can't be seen anywhere else in the world.
Magician – A small example of the custom branded magic Michael has created includes:
Southwest Airlines – for the company's 40th anniversary gala in Dallas, TX, Michael made the company's Managing Director Cheryl Hughey magically appear and created an interactive mind-reading illusion with Southwest CEO Gary Kelly.
Philadelphia Phillies – to celebrate the famous mascot's birthday, Michael caused the 7ft tall, 90″ round, 300lb Philly Phanatic to magically appear in the outfield of Citizens Bank Park.
Harley-Davidson – creating magic on a massive scale, Michael transformed a roaring fire into a 500lb Harley-Davidson motorcycle on a platform suspended 6ft above the stage.
Grainger Industrial – bringing the client's product directly into the magic, Michael cut the company's Chief Financial Officer in half using a Grainger supplied power saw at Chicago's Navy Pier.
American Marketing Association – to illustrate "communication at the speed of light", Michael caused a laptop computer to instantly teleport from one side of the stage to the other and made CEO Dennis Dunlap magically appear by walking out of a two dimensional video projection to start his presentation in Orlando, Florida.
JDA Software – showing that their competitor's dangerous lies wouldn't harm the strength of JDA, Michael caused a wall of steel spikes to melt through the company's CEO while he continued to smile, laugh, and joke with the audience at New York City's Javits Convention Center.
Mazda Sales Awards – for the annual event honoring the company's top sales staff at the MGM Grand Resort in Connecticut, Michael caused $100,000 to magically appear inside a clear glass case.
Larger than Life Magic – Michael was even called about the possibility of making the Burj Khalifa in Dubai, the world's tallest building, magically appear – before it was built!
Whether you're interested in a full performance, a series of appearances throughout an event or presentation, a unique way to unveil your product, an innovative way to include interactive magic in your marketing materials, or just a fun way for your attendees to close out a day, Michael Grandinetti can add amazement and wonder to your event that your guests, customers, and audiences will not forget.
Testimonials – Michael Grandinetti – Magician
"The raves are still coming in! All are saying what a great job you did. Thanks for making it a special night for us!"-
Greg Remensperger, Executive Vice President, Oregon Auto Dealers Association
"Thank you to you and your crew for sharing your talents and your professionalism, and for putting on a brilliant show. I had some friends in the audience, theatre professionals, and they were blown away! You are both a consummate professional and a sublime artist. Your performance added an extra dimension to our pops programming which was thrilling for the audience, gratifying for our musicians, and a pleasure for our staff and crew to host. To others out there, if you get the opportunity to work with Michael and his magic, don't pass it up."
– Curtis Lindsay, General Manager, Huntsville Symphony Orchestra
"What a great night, we had a BLAST! The show was amazing!"
– Erica Jackman, Director of Marketing, Huntsville Symphony Orchestra
"Your entertainment throughout the night and your amazing stage performance made it truly special for all attendees. Thanks for all of the hard work and creativity. I hope our paths cross again soon!"
– Jonathan Bennett, Chief Merchandising Officer, Interline Brands
"Not only is Michael an entertaining magician, he's also a great TV personality – one who wows audiences and wins them over at the same time."
– Brittany Frederick, Hidden Remote
"You were amazing. I look forward to more magic at Universal Studios in the future!"
– Mario Teruel, Manager, Location and Production, Universal Studios Hollywood
"Illusionist Michael Grandinetti performed some masterful magic that intersected with a filmed introduction by AMA CEO Dennis Dunlap, climaxing with the organization leader suddenly stepping out of a box that was empty just moments before. Quite a show!"
– Piet Levy, American Marketing Association Blog
"We had several guests this morning, you were the best! Thanks for a great interview. Look forward to seeing your TV appearances!"
– Roger Monroe, WAZU 90.7 FM Morning Show, Peoria, IL
"You are top notch and a real pro, and our associates are still trying to figure out how you did those amazing magic acts!"
– Janice Spurlock, Director, Creative Media Services, Rite-Aid Corporation
"Thank you for making the Diamond Children's Medical Center Gala a huge success. All of your extra time and attention to detail were truly appreciated by everyone and your special shows for the children were truly amazing. We were all in awe of the magic you shared with us the past two days."
– Anne Bryan, Entertainment Producer, Diamond Children's Medical Center Gala
"The show was terrific and a great addition to our event! We look forward to seeing you again!"
– Ken Martindale, President and Chief Operating Officer, Rite Aid Corporation
"I have worked in variety TV for more than 40 years, most of it with Dick Clark, and I want you to know I was truly impressed with your performance."
– Al Schwartz, Executive Producer, CW's "Masters of Illusion"
"A great magician who can truly communicate with a TV audience."
– Brittany Frederick, Entertainment Weekly
"I didn't see ONE person who wasn't on the edge of their seats during your show. Looking forward to doing it again!"
– Brett McGinness, Director of Marketing, Reno Aces Baseball
"We attend just about every magic show within a 90 mile radius and you were certainly among the best we have ever seen. Your persona won us over and took us on a wonderful journey."
– James Hauer, Riverside Resort and Casino, Riverside, IA
"Your magic is truly inspiring. You made me believe in anything and everything. I have never been to a magic show before and you made my first show breathtaking."
– Josie Mico, Grand Sierra Resort and Casino, Reno, NV
"Wow, what a great show, you are truly a gifted magician. I'm sure we'll see you again in the not so distant future. Thank you!"
– Chef Jimmy Nadell, Corporate Event, Aspen, CO
"I just wanted to let you know our client was thrilled with the outcome of the event and said your performance went great! Thanks for working with us to create such a successful event!"
– Erin Lapeyre, Kansas City Life Gala, Kansas City, MO
"You were just absolutely incredible! You are so talented and everyone was in awe of your magic and illusions! One of the guests came up to me at the end and could not get over the corner of the dollar bill trick! He kept talking about it!!!"
– Harmonie Kreiger, Pop Your Shop Events, Beverly Hills, CA
"We thoroughly enjoyed having you perform for our client and quite honestly I can't remember any performer being quite as accommodating and such a pleasure to work with both in advance of the event and on the performance day. You are a true pro (and your team as well). You were such a hit."
– Bonnie Piedmonte, Southwest Airlines Anniversary Gala, Dallas, TX
"Your show was tremendous!"
– Greg Galiette, Louisville Bats Baseball, Louisville, KY
"Your work is truly amazing, and audiences would certainly be excited to see your illusions, magic, and spectacle."
– Daryl Roth, Tony Award Winning Broadway Producer
"It was a pleasure to work with you. Your magical illusions added a special dynamic to our shows and our audience enjoyed your presentations immensely."- Matthew L. Feldman, The Phoenix Symphony, Phoenix, AZ
"You were amazing! How in the world did you levitate??!"
– John Conti, The Franchise Sports Talk Radio Host / Mission Bay Theatre Audience Member
"I have seen him many times and he is great."
– George Schlatter, Emmy-winning Television Producer and Director
"If you're a fan of magic, or just want to see great live entertainment, don't miss the chance to catch Michael Grandinetti while he's in San Diego. His performances are engaging and entertaining for all audiences, and his personality will win you over just as much as his magic. He is a magician who is unparalleled in his ability to mix the fantastic with having a fantastic time and one of the best talents in illusion working today."
– Brittany Frederick, Fan Sided
"Thank you so much for an amazing weekend of magic at the Mission Bay Theatre! It was wonderful to work with you. You delighted our guests with your fantastic show. They are still raving about it!"
– Christine Callaway, Producer, Mission Bay Theatre, San Diego, CA
"It was a pleasure to have a true professional in the house. It was a great show and the audience loved the experience!"
– Rob Howick, Entertainment Centre, Casino Rama, Ontario Canada
"It was great seeing the show and my youngest was thrilled to be onstage with you. We certainly would recommend your show to the other PAC's we work with."
– Barry Neal, Lancaster Performing Arts Center, Lancaster, CA
"Our guests and members loved your show and we are still basking in the compliments! Thank you for astounding and amazing the audience. When we need more magic, we know who to call on – YOU!"
– Mary Lee Berger-Hughes, National Academy of Engineering, Washington DC
"It was great working with you and your team! We really enjoyed the show and the audience had an awesome time, which is most important. They will remember this experience for a very long time!"
– Caitlin Herrion, Durham Performing Arts Center Show, Durham, NC
"Your performance was fantastic. I've never had a President's Dinner performance that kept so many people glued to their seats. Well done!"
– Jeff Fishback, Auto Show Director, Oregon Auto Dealers Association
"Michael Grandinetti was phenomenal at The Paramount in Huntington on Long Island. He gave them a magic show to remember for a long time, and even the few skeptics in the audience were in total awe. He commanded the stage the entire time, where his love and passion for his craft were clearly evident and appreciated by all. His talent is top-notch, and his warm and humble personality stands out by a mile. His live magic show at The Paramount earned five out of five stars."
– Markos Papadatos, Digital Journal
"Among the most accomplished acts in the world of magic…Michael Grandinetti holds his own with well executed levitation and fire illusions."
– Tom Gilbert, Los Angeles Times
"It was an honor to have you as a part of this historic, national event. You were wonderful!"
– Cheryl Campbell, The White House Easter Celebration, Washington DC
"The reviews are in and you were a big hit. The show was outstanding!"
– Kurt Funk, Director of Events, The Philadelphia Phillies
"Fantastic, beautiful…a highlight!"
– Marvin Hamlisch, Pittsburgh Symphony at Heinz Hall
"Thanks for making our opening a huge 'WOW' for our attendees. It was truly a pleasure to work with you!"
– Amanda Marijanovic, Producer, MYB Productions
"The show had a great energy and the audience was completely engaged. Your charm and wit…perfect. I loved how natural you were onstage. You are a fantastic entertainer, a pleasure to work with, and at the top of my list!"
– Paul Strabley, Event Producer, Iacono Productions
"Michael, you truly are a gifted entertainer! On behalf of my group, I extend my deepest gratitude. We attended your show and it was the highlight of a truly spectacular and memorable evening!"
– Dr. Joseph Michelli, Author of The Starbucks Experience, The New Gold Standard, and Prescription for Excellence
"I congratulate you on such an outstanding performance! The audience was wowed. It was a pleasure meeting you, working with you and experiencing your talent. You truly put on an amazing show!"
– Leslie Finnin, Program Manager, Grainger National Event, Navy Pier, Chicago
"I was very impressed with your wonderful performance on Friday evening. Your show was spellbinding, I could watch it over and over again. Your showmanship and attention to detail were exceptional!! WELL DONE!"
– Cindy Romano, Los Angeles Entertainment Agent
"Michael was a great addition to our event! He worked with us leading up to the show in customizing the illusions down to the last detail to fit our needs. Our audience had a wonderful time being amazed."
– Peter Donnelly, General Manager, Mazda North American Operations
"I had SO MUCH FUN at your show last week. I have my 8 of clubs in my wallet. Makes me smile every time I look at it. Thanks for including me in your show!"
– Renita, Film and Television Casting Director
"Our audience found your illusions to be very unique, intriguing and entertaining. And, you tied our message in to really sell the crowd. The outcome was phenomenal!"
– Sue McCune, JDA Software, National Retail Expo, Javits Center, New York City
"I had promised the membership an inspiring display of magic and you hit the mark. Your charisma, professionalism, and wit make you an exceptional entertainer."
– Joseph Iannuzzi, PASBO Executive Conference, Pittsburgh, PA
"Michael did an excellent job! He was perfect for our trade show. His performance leaves you wondering if he really does hold magical powers."
– Robert Betz, Able Distributing, Spring Expo Trade Show, Wausau, WI
"You are terrific! You gave us an excellent performance, don't forget us next Labor Day!"
– Lee Miller, Executive Producer, Jerry Lewis MDA Telethon
"That was awesome! Thanks for a great show!"
– Buckhead, Radio Personality, STAR 98.7 FM, Los Angeles
"It's amazing when you're able to find something that you love so much at an early age and are willing to perfect your craft. That's what Michael did. He is just amazing!"
– Lorianne Crook and Charlie Chase, Crook & Chase National Talk Show
"Then there was Michael. Look out Copperfield. You've got competition!"
– Jules Lenier, Genii Magazine
"You are brilliant and smooth and make for an excellent interview!"
– John Garabo, Radio Personality, Y108 FM, Pittsburgh PA
"Abracadabra is no longer the appropriate way to conjure up a spell. Magic has found a new catch phrase and it goes 'Michael Grandinetti!' With a mind of illusion and a charming smile, Grandinetti made dividing a woman in half look effortless. The audience was smitten, chanting their ooh's and aah's."
– Samara O'Shea, Duquesne University
"I really didn't expect much from a magic show but what a surprise I got!! You were wonderful!! You have charm and talent and an exciting future ahead of you. Thank you for a great time!"
– Emily Fillmore, Audience Member
"Your magic is amazing, but your charismatic presence both on and off stage is phenomenal. Today you sure made me feel special."
– Bernadette Merrill, Audience Member
"I sat in the audience the entire time either smiling or gasping in absolute amazement. Aside from your incredible magic, you're funny, charming, and most of all genuine. Unique should be your middle name!"
– Carrie Albrizio, Audience Member
Video – Magician