Mount Everest, Personal Effectiveness, Risk Taking, Team Building, Motivation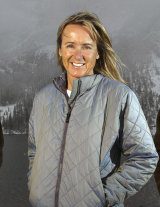 First North American woman to reach the summit of Mount Everest
Travels From: Calgary, Alberta
Fee Range: $10,000 – $12,500
Biography
When we reach beyond the horizon of our self imposed limitations we are transformed —  transformed from being confined by our limitations to being defined by our possibilities".
-Sharon Wood
Sharon Wood has never considered herself a hero. But in 1986, she became the first woman in North America to climb Mount Everest, the world's highest peak. It was an astonishing personal and team accomplishment under conditions of extreme physical and mental duress. It was an example of ordinary people achieving extraordinary results.
Sharon's climb of Everest was only one facet of more than twenty years experience as a professional and elite mountaineer, with numerous ascents of summits over 20,000 feet to her credit.
In the last decade, Sharon has shared her story of achievement with hundreds of organizations throughout North America. She skillfully connects the powerful metaphor of Mount Everest to the challenges faced by individuals and teams striving for excellence in their own endeavors.
Sharon Wood has been to the top of the world and back. For anyone wanting to be more effective in their life, her story is a powerful inspiration.
Major Achievements
First North American woman to reach the 29,035 foot summit of Mount Everest
Awarded an Honourary Doctor of Laws by The University of Calgary
First woman to become a Canadian Climbing Guide, and to achieve status in the elite International Association of Mountain Guides
Appointed to the Honour Roll for Outstanding Achievement by Canada's MacLean's Magazine
Recipient of the inaugural Tenzing Norgay Award as 'Professional Mountaineer of the Year' from the American Alpine Club and the New York Explorer's Club
Recipient of Bill March Summit Award of Excellence from the Banff Centre of Mountain Culture
Awarded Meritorious Service Medal by the Governor General of Canada
Mother of two sons
Topics
Keynote Presentations
To the Summit of  Mount Everest and Beyond
Sharon Wood is the first North American woman to climb Mount Everest and the only woman to do so by a new route and without Sherpa assistance.
Sharon teaches, entertains and inspires with her story of climbing Mount Everest by a new and more difficult route, with fewer resources and, in good style. Good style in the world of elite high altitude climbing is all about accomplishing more with less.
Her story is a testimonial to rendering the impossible possible through exemplary teamwork, leadership and personal spirit. It is a story about ordinary people achieving extraordinary results. Sharon effectively conveys both the individual and the team perspective by stressing the importance of her own passion and dreams while fulfilling a role as a member of a team. A team committed to levering every component of their strategy to realize a shared vision.
Sharon's style is personal and moving. She uses powerful anecdotes and vivid analogies to convey the elements that parallel the challenges of striving individuals and organizations. Sharon's authentic, humorous and humble approach evokes listeners to consider the value of their own stories and reflect upon the resources and opportunities that foster personal and team success.
"Everest – To the Summit and Beyond" is more than just an adventure story, it is a timeless, universal story about human struggle and triumph over adversity. For anyone wanting to be more effective in his or her work or life, Sharon's story is a powerful inspiration.
Stunning PowerPoint images and video taken live from the highest mountain on earth support her presentation.
Sharon tailors each presentation to the focus of the audience.
Take a Risk, Live Life!
Risk is a factor tied to much of what we do. Risk is often the deterrent to acting on what we need to do to live a more fulfilling life. Sharon espouses the value of selective risk taking as a means to experiencing our greater potential. Anticipation of loss, fear and anxiety are feelings most often associated with risk. Sharon conveys the strategies and essential components she has used to push through her fears and barriers. She speaks to preparation, a clear vision, intention and desire as being essential components to minimizing and calculating a risk. Most importantly she speaks to rewards of being a risk taker and winning in life.
Founder and Chairperson of a private school in her community, President of her own company Adventure Dynamics Inc, first North American woman to summit Mount Everest, a professional mountaineer and a mother of two sons; Sharon is leading a life rich with risk, challenge and change.
Through humor, passion and self-disclosure Sharon describes the elements of risk in a variety of endeavors. She draws from her personal experience in public speaking, implementing community and team projects, and climbing the highest mountain in the world to explore the balance of losses and gains in risk taking.
Workshops
Team Power !
A Workshop with Sharon Wood and Marni Virtue
An interactive workshop designed to accompany Sharon Wood¹s Everest presentation
In our Team Power! workshop, we provide participants with the opportunity to interpret and discuss key points from Sharon¹s Everest presentation and take what they learn back to their work and personal lives.
Our underlying belief is that people have the power to access the solutions and answers they need to become more effective in their professional and personal lives. Our job, in the workshop, is to assist people to tap their power and resources to create the results they want.
Approach
We work together throughout each workshop to create a safe atmosphere that encourages lively discussion, introspection and action planning. Most of the discussion is generated among participants using experiential team development and initiative exercises. These exercises engage groups and stimulate the discussion of pertinent concepts from Sharon¹s presentation using work and personal experiences.
Planning
We work with you, together with other key client contacts, prior to workshops to determine your specific objectives. Then, with your input, we custom-design the structure and content of the workshop. The workshops typically include interactive exercises and discussion topics to address the concepts most relevant to the objectives you set out. Your input is sought and appreciated throughout the planning process, as well as during the workshop.
Topics
While we customize your workshop to focus on the topics most relevant to your organization, typical subjects include the following:
What it takes to be truly effective
Risk taking ­ expanding comfort zones
The link between personal and team effectiveness
Qualities of effective teams and leaders
Team Power
How perceptions, attitudes and assumptions affect results in life
What specific action you can take to be more effective in the workplace
Group Size
Workshops can run with 10 to 300 participants; however, the nature of workshops change depending on group size. With small groups, we can use more experiential activities, whereas larger groups focus more on interactive discussion.
Time
From one to three hours. We offer more extensive workshops, which range from one to three days. These workshops include outdoor team and leadership development components.
Testimonials
"I feared these people were too "sophisticated" to respond to a motivational speaker. I couldn¹t have been more wrong. Your story, and the slides and the video that went with it were fascinating. You clearly understood the problems we faced, and tailored your presentation to our needs. Your low-key style set off the message like black velvet behind diamonds."
RBC Royal Bank
"Sharon your message regarding team concepts, interdependencies, and maximizing one¹s potential was directly on point. You were extremely effective in applying your own experiences in high altitude climbing to our business setting. The extra time you spent with us to get a deeper understanding of our business was clear to the audience and strengthened your impact. Moreover, your engaging and relaxed communication style enabled our staff to relate sell to you and with you. Simply put, you clearly exceeded our expectations and our expectations were quite high."
MEDSTAT A Thompson Company
"Everyone in the audience unanimously agreed that your presentation was fantastic. Your message which was delivered with such honesty, really struck home for the audience ­ while leaving the event they felt energized, entertained and ready to recognize the many opportunities in front of them. I am convinced that the success of this session was not only in your actual message and delivery, but in the hard preparation work and the time you dedicated in prep discussions with myself and other P&G leaders beforehand."
Proctor & Gamble
"Most important they said that they could relate to your accomplishment and story in a way that they had not experienced with other speakers. Not that they thought they could climb Everest, but that through personal commitment and teamwork they could take their ordinary skills and develop them in a way that would allow them to deliver more both personally and professionally than had thought possible."
GSK Glaxo Smith Kline
"Sharon Wood Spoke to over five hundred RE/MAX sales people at a sales rally. I have helped organize these events for seven years, and she had the greatest positive response we've have ever had. She left the audience feeling ordinary people can do extraordinary things, and they were as charged up as if they had gone up Everest themselves."
RE/MAX
"The standing ovation we gave you was of course partly for your Everest achievement. But I think it was more because you created for the Project Management audience a context by which you reflected the conference leadership theme, and you drew in everyone. I have received so many accolades on your behalf as a result.
Somehow Sharon magically moves and inspires her audience at an emotional level, while at the same time delivering practical experience in teambuilding, project management and role modeling. She also has a knack, rarely shown in speakers, of showing her humanity."
PMI Project Management Institute
"I wanted to thank you for speaking to our sales force at our recent Brand Conference. The response to your presentation was outstanding from all levels of participants. Your story-telling techniques, the amazing adventure that you endured and the way you are able to relate to current business trends within our organization made your presentation the most favored of the day.
The Victoria's Secret team has a high standard for each and every speaker; and you not only met but exceeded our expectation! Your story will stay with us for years to come."
Victoria's Secret
"After hearing you recount, with great humility I might add, the significant physical and mental challenges embedded in your climb to the summit, it really put into perspective the business issues we face. Your concepts of "Good Style", "Better is Possible" and "Thriving versus Surviving" have already found their way into the vernacular of our company. Your story is so rich that I expect we will be referencing it in internal conversations for some time to come."
General Cologne RE.