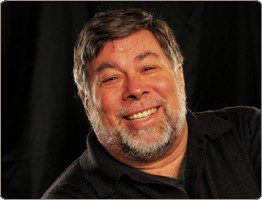 Synopsis
Speaker:  Steve Wozniak, "The Woz", Co-founder of Apple Computer, Inc.                  
Topic Title:              
Steve Wozniak, "The Woz", Co-founder of Apple Computer, Inc.
    Professional Fees subject to change without notice
$$$$$$ = – $125,000 and up

Expenses:    As incurred                

Travels from:    California, US     
Expenses for Travel, (air and ground) Accommodations, Meals, Traveling Companion, and Incidentals are not included in the above fees.

Discounted Fees:  Under rare and special circumstances speakers may discount their fees at their discretion. i.e., booking multiple events with the same client.  Non profit organizations may also qualify for a discount.
Best Selling Author of iWoz: From Computer Geek to Cult Icon
Biography
A Silicon Valley icon and philanthropist for the past three decades, Steve Wozniak revolutionized the personal computer industry as co-founder of Apple Computer.  With its first line of Apple products—Macintosh, Apple I and Apple II—Wozniak and Steve Jobs brought computers to the hands of the mass market.  Wozniak's leadership and creativity cultivated significant disruptive technologies such as the iPod (2001), the iPhone (2007) and the iPad (2010), while also helping to build the largest company in the US stock market with a net worth of half a trillion dollars.
For his achievements at Apple Computer, Wozniak was awarded the National Medal of Technology by the President of the United States, which is the highest honor bestowed on America's leading innovators.  He is also an inductee to the National Inventors Hall of Fame.  Through the years, Wozniak has been involved in various business and philanthropic ventures; he currently serves as Chief Scientist for Fusion-io and is a published author of a New York Times best-selling autobiography, iWoz: From Computer Geek to Cult Icon.  A talented business speaker, Wozniak shares a once-in-a-lifetime success story with audiences globally by teaching the lessons of Apple to show that evolution is achieved from the ground up.
SPEAKER TOPICS
The Founding of Apple Computer
Fostering Creativity & Innovation in a Technical Environment
Breeding an Entrepreneurial Mindset in a Corporate Culture
iWoz, His Autobiography
Robotics & Automation
Education
A Customized Keynote Tailored to the Audience and Event — No Two Speeches Are Alike
He takes a very customized approach to each presentation he delivers and speaks directly with the event host to ensure a topical focus that is unique, conversational and an excellent tie-in with the overall event.  The result is a highly personalized, unforgettable talk delivered by one of the most influential pioneers of the technology industry.