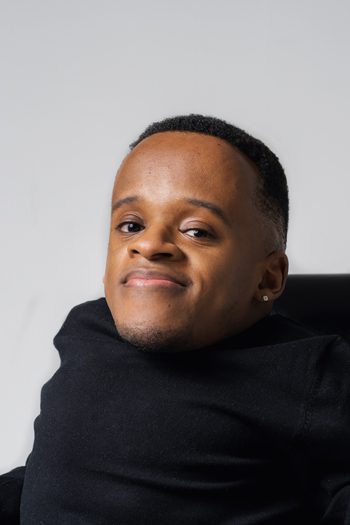 Synopsis
Speaker:          Winston Clements         
Topic Title:              
Inclusion Specialist, Keynote Speaker & Content Creator on a mission to inspire 1 Billion people
    Professional Fees subject to change without notice
$$ = between $10,000 – $15,000

Expenses:    As incurred                

Travels from:      Atlanta, USA   
Expenses for Travel, (air and ground) Accommodations, Meals, Traveling Companion, and Incidentals are not included in the above fees.

Discounted Fees:  Under rare and special circumstances speakers may discount their fees at their discretion. i.e., booking multiple events with the same client.  Non profit organizations may also qualify for a discount.
Biography
Helping the world's leading organizations to create cultures that are truly inclusive
Winston Ben Clements is an Inclusion Speaker & Advocate with expertise in the areas of disability awareness, anti-racism and resilience. He was predicted to live a life of isolation and pain due to a rare bone disorder known as Osteogenesis Imperfecta (OI). This condition caused his bones to be extremely fragile, suffering over 200 fractures in his lifetime.
Winston is a two-time TED Speaker, Entrepreneur and YouTuber. His specialist topics are disability awareness, anti-racism and resilience. Winston has partnered with global brands including Google and Disney. His ultimate mission is to inspire 1 BILLION people to unleash their full human potential.
As a young person, Winston not only had to deal with the typical challenges of school and adolescence, but he also struggled with loneliness and frustration because his body would continuously let him down. Watching his siblings and the other kids from the sidelines was a constant reminder of how different he was, and he often found himself wondering "what is the point of it all?"
Despite this, Winston considers himself to be one of the lucky ones. A significant number of people with OI do not make it beyond childhood. He was also born into a family who were destined to cope with a son who refused to allow his physical condition to limit his ambition. Winston credits his positive attitude to his Christian faith, as well as all the encouragement he has received from family, friends and well-wishers along his journey.
Winston graduated from University with a degree in Computer Science and then spent over 10 years working as a Consultant for global tech corporations.
His current work as a speaker and advisor, continues to have transformational effects on audiences worldwide. He is passionate about supporting the world's leading organisations to create cultures that are truly inclusive for all.
Winston's most requested keynotes
Keynotes
Diversity & Inclusion – tackling unconscious bias to build more inclusive and effective teams
Overview
This talk is focused on employee attraction and retention and provides a toolkit for organisations to foster a more inclusive workplace culture. Often organisations place a heavy emphasis on the attraction piece (diversity), that the retention aspect (inclusion) is overlooked. This talk addresses practical steps leaders and team members can take to be better allies to underrepresented communities. Winston also outlines the challenges of building an inclusive culture as well as industry best practices.
Key Points
Unconscious bias
Disability inclusion
Anti-racism awareness
Psychological safety
Inclusive leadership
Recruitment and selection
Outcomes
At the end of the session, attendees will go away with a tool kit to help them foster an inclusive workplace environment. They will also develop awareness of their own unconscious biases and receive tools to strengthen their organisation's value proposition to attract and retain the right talent.
Building Resilience – Thrive in times of change and adversity
Overview
This talk is relevant to any organisation who want their people to embrace a growth mindset, even in times of change and adversity. The key objective of this session is to challenge attendees to look at their mind in a new way and to learn some simple techniques to build resilience and accountability. Winston breaks down the various components of resilience and provides scenarios for delegates to work through in order to harness mindset tools for high performance.
Key Points
Resilience
Leadership
Growth mindset
Limiting beliefs
Extreme ownership
Motivation
Outcomes
Attendees will leave with an action plan to help them to deal with different situations at work. They will learn how to find the seed of something positive even from situations of adversity, as well as hearing Winston's very unique and inspirational story of resilience.
Testimonials
| | |
| --- | --- |
| Reference | Client |
| Winston delivered an inspirational talk that everyone had positive feedback on! | Google |
| Winston is able to create a space that encourages discussion and where attendees feel they can share their thoughts and opinions without judgement. I would recommend anyone to engage with Winston should they require a skilled facilitator in the area of racism awareness. | The Professional Cricketers'​ Association |
| Winston's presentation was insightful as well as emotional. He highlighted how biases and ableism manifest in the workplace and society and how we can all be an ally and make a conscious effort to create inclusive cultures and systems for disabled people. | RSM |
| Winston's story is extremely compelling with brilliant lessons imparted in a very unique and impactful manner. | Ipsen |
| Winston's session on intersectionality and disability inclusion in the workplace was very well-received by our members of staff. Winston inspired and energised us to be a better ally for our differently abled colleagues whilst taking intersectionality into consideration. | NHS |
Video 1
Video 2