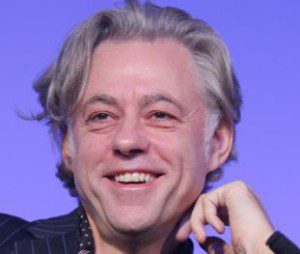 Synopsis
Speaker:  Bob Geldof, World Affairs, Humanitarian                 
Topic Title:              
Bob Geldof, World Affairs, Humanitarian
    Professional Fees subject to change without notice
$$$$$$ = – $125,000 and up
Expenses:    As incurred                

Travels from:         
Expenses for Travel, (air and ground) Accommodations, Meals, Traveling Companion, and Incidentals are not included in the above fees.

Discounted Fees:  Under rare and special circumstances speakers may discount their fees at their discretion. i.e., booking multiple events with the same client.  Non profit organizations may also qualify for a discount.
POLITICS, WORLD AFFAIRS, HUMANITARIAN, AFRICA, ACTOR,
EVENT SPEAKING, FILM, MUSIC, PR, TV
Sir Bob Geldof
Sir Bob Geldof is prolific and successful, a tireless charity campaigner who uses his worldwide fame to great effect when it comes to raising awareness of a wide range of issues and causes, including African famines and aid organisations, as well as politics, global communications and business.
During his music career, which started in 1975 with The Boomtown Rats, he has written and recorded a number of albums and hit singles, both as part of a band and as a solo artist, and this continues to be one of his passions. In 1984, he turned his attention to the famine that plagued Ethiopia, resulting in the formation of Band Aid and the massive charity fundraising event, Live Aid. He was knighted for his charity work in 1986.
Sir Bob established himself as an astute businessman with the co-ownership of television production company Planet 24, which was responsible for launching The Big Breakfast in 1992. In the late 90s, he founded online travel agent Deckchair.com, which was sold in June 2003.
Having sold Planet 24, Sir Bob and Alex Connock founded Ten Alps Communications in 1999, which produced documentaries for the BBC, Channel 4 and Sky, among others. As part of his TV and charity work, he completed a TV series for BBC – Geldof In Africa – in which he travelled through West Africa, Central Africa and East Africa. He has also written a number of articles for eminent publications such as Time magazine.
In July 2005, Sir Bob was at the forefront of the Live 8 concerts which, as with Live Aid 20 years previously, were intended as a global fundraising event. He continues to be a tireless charity campaigner, and has received a number of awards in recognition of his work, including the Nobel Man of Peace Award, several Honorary Doctorates and several nominations for the Nobel Peace Prize.
Since 2010, Sir Bob has been working on a private equity investment fund for Africa called The 8 Mile Fund, which is part of his overall plan to support the continent and bring it in line with other growing economies such as China and India.
An influential and inspiring speaker, he uses his experiences and insight to talk in an informative and entertaining way on a range of topics. He is highly provocative, uplifting, inspiring and motivating, using his own experiences as a basis for his talks.
Video