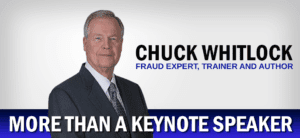 Synopsis
Speaker:         Charles (Chuck) Whitlock
Topic Title:              
, Identity Assumption
    Professional Fees subject to change without notice
Expenses:    As incurred                

Travels from:         North Carolina, USA 
Expenses for Travel, (air and ground) Accommodations, Meals, Traveling Companion, and Incidentals are not included in the above fees.

Discounted Fees:  Under rare and special circumstances speakers may discount their fees at their discretion. i.e., booking multiple events with the same client.  Non profit organizations may also qualify for a discount.
Identity Assumption
White Collar Crime, Identity Fraud, Identity Assumption, Cyber Crime
Frauds in America Today, Medical Fraud and Health Care Scams,
Business Fraud, Financial Fraud and Investment Scams,
Cons Against Seniors, The Psychology of the Con Artist
Biography
An award-winning investigative reporter, television producer, entrepreneur and public speaker who has made regular television appearances on such shows as The Oprah Winfrey Show™, 60 Minutes™, Inside Edition™, The View™ and Extra™, Chuck has also received over 2000 testimonials from numerous organizations across the country for his speeches and workshops. Chuck Whitlock has been published 18 times by multiple publishers including Simon and Schuster and its subsidiaries. Chuck's books pertaining to true crime and consumer awareness quickly became New York Times Best-Sellers.
Chuck has been featured on national media (most recently Today on NBC, CourtTV, CNBC's Steals and Deals, and CNN's Your Money), and regularly writes columns as a subject matter expert for national publications such as Bottom Line Wealth and Law Enforcement Technology. Chuck's message about fraud prevention has reach consumers over 1 billion time. Chuck's personal experiences, exclusive on-camera supportive material, audience integration and dynamic delivery, make him the perfect speaker for any conference or event.
Whitlock has shared his expertise with a broad spectrum of groups ranging from law enforcement to financial services organizations. Chuck is a master at speaking to just about any type of audience. Whitlock has been sought out in recent years to provide training to federal, state, and local law enforcement, including the F.B.I., the Secret Service, the U.S. Postal Inspection Service, the A.T.F., the D.E.A. and many others.
Chuck was also founder and chairman of a large executive training company in the Northwest, the Executive Officers Club (EOC). From 1990 to 2010, under Chuck's leadership, his members employed over 50,000 people and did in excess of $15 billion in sales. Members of the Executive Officers Club include Nike, Intel, IBM and hundreds of other world-renowned corporations.
Chuck earned his B.A. in Business Administration and Management from LaSalle University and completed complimentary post-graduate studies at Stanford University. Chuck also holds an honorary doctorate degree from Warner Pacific College.
Topics
Ethics Isn't One Thing—It's Everything
Chuck Whitlock knows scams and white-collar crime inside and out. He exposes them and educates about them. He even pretends to commit them—on camera—demonstrating to audiences just how the real crooks operate. Considered a leading authority on fraud, Chuck will discuss the importance of ethics in business. Using his exclusive undercover footage, he shows what can happen when business and ethics don't go hand-in-hand and demonstrates the importance of a strong, organization-wide policy on ethics.
Spotting Fraud in Your Organization
Chuck Whitlock knows the signs of an employee gone rogue. An employee who manipulates an organization for personal gain can leave a larger negative impact than you may realize. Using stories and exclusive footage from his career as an undercover investigative reporter, Chuck will provide insight into the mind of a sociopath. Attendees will leave knowing how to spot fraudsters before they can totally undermine their organizations.
How Vulnerable Is Your Business?
A business is only as secure as its least security-minded employee. Is your business susceptible to fraudulent activity and white-collar crime? What steps can you take to protect your assets and secure the financial future of your business? Tips from one of the world's leading experts in white-collar crime could save your business.
Scam Jam
Chuck Whitlock's renowned Scam Jams focus on informing participants about the latest scams and how to protect themselves from becoming victimized by a con artist. These workshops have received glowing reviews from the FBI, Chambers of Commerce and Better Business Bureaus across the nation. Lead the fight against fraud at your next conference or event!
Mediscams and Healthcare Fraud
Based on his best-selling book, Mediscams, Chuck Whitlock discusses white-collar crime as it pertains specifically to the medical and healthcare arena. Using his exclusive library of undercover footage, Chuck will expose just how unethical practitioners, specialists, hospitals and providers might take advantage of patients and consumers. Learn how con artists steal millions of taxpayer dollars each year as they fleece Medicare and Medicaid programs.
Books by Charles Whitlock, including:

Easy Money
Age without Rage
Police Heroes
MediScams
Scam School
Secrets of Successful Selling
Testimonials:
Association of Government Accountants (AGA)
"As one of the country's leading experts in white-collar crime, you spoke with authority and from experience. The videos of your television appearances and investigative reports on such shows as 60 Minutes, The View, Oprah, and Inside Edition emphasized your points beautifully and added even more value to your address. Your message resonated with everyone, especially your statement, "Don't forget low-tech crime while fighting high-tech crime." I hope all of our 14,000 members have the opportunity to hear you."
United Arab Emirates Internal Auditors Association (UAEIAA)
"Your presentation was one of the most interesting topics at the conference. It was an honor for us to have you as one of our keynote speakers. We believe that the knowledge you have shared will help immensely in the development of the Internal Audit sector. We know your time is precious and we are grateful you shared some of it with us. We look forward to your participation in future events."
This was your fifth time to speak at our Better Business Bureau's Scam Jam. Every year, you've outdone your previous appearances with fresh, new material. Every year, our audience has reacted with the highest response ratings and comments of 'Can't wait until next year to hear Chuck Whitlock again.' Every year, you remain one of the highlights of the event. Face it, Chuck: You wowed 'em again.
Your life-changing program has made an impact on our community. We will never be the same again. Your speeches are creative, imaginative and entertaining with valuable insight that can be used long after the event is over. Your shocking, spellbinding stories have empowered our people in their ongoing fight against scams and fraud. We're now better prepared because of you.  Gerry WilsonPresident & CEOBBB of San Diego, CA
Your participation in the Area Agency on Aging District 7 Annual Elder Abuse Conference is greatly appreciated. According to the participant evaluations, you were 'informative, interesting, entertaining, and energetic!' Many of the participants expressed the desire to hear you again and wished you had been given the opportunity to speak longer.
We greatly appreciate your dedication to uncovering scams and educating the public about the countless victims who have lost their life savings, self-worth, and other personal property to scam artists.  Kaye Elswick, RNOmbudsman Program Dir.Area Agency on Aging District 7, OH
You did it again! You made our BBB Scam Jam another huge success!
We received many letters and phone calls from consumers across Iowa to let us know how much your program has already impacted their lives. Many consumers are buying paper shredders and others are simply more cautious in divulging personal information. You have a special talent in getting right to the message at hand and yet make the program entertaining.
We thank you again and want to encourage other Better Business Bureaus to take advantage of your program by offering Scam Jams throughout the country.
Mary Kruger Eyler, President BBB of Des Moines, IA
It was everything it was supposed to be, and then some. Our first Scam Jam was a greater success than I imagined it could be. The attendees were exceedingly complimentary about your presentation. They were entertained and learned something while listening. And, as you predicted, no one left until you were finished. I especially appreciated that woman who came up to you after the first show and said she had missed a little of your beginning, so was coming back for the next show. And, she did, even sat through the whole show.
This was the best program we have ever presented for the public. I'm confident it will help many people, especially seniors. The media were very responsive. We got great radio, TV and print coverage. The Chairman of the Board loved the program and sat through all three of your presentations. It was a win-win-win all around—for the Bureau, for the public and for the senior citizens. Nicholas G. Greaves President BBB of Baltimore, MD
Video