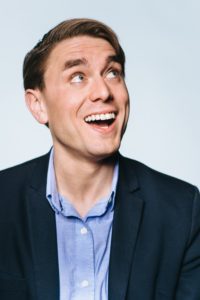 Synopsis
Speaker:    James Mullinger                
Topic Title:              
James Mullinger, Comedian, Keynote Speaker, Philanthropist
    Professional Fees subject to change without notice
Expenses:    As incurred                
Travels from:        Rothesay,, NB
Expenses for Travel, (air and ground) Accommodations, Meals, Traveling Companion, and Incidentals are not included in the above fees.
Discounted Fees:  Under rare and special circumstances speakers may discount their fees at their discretion. i.e., booking multiple events with the same client.  Non profit organizations may also qualify for a discount.
James Mullinger Biography                                         
British comedian James Mullinger has taken Canada by storm. Sold out shows across the country, appearances on CBC's The Debaters, movies, TV shows, festivals, awards, magazines, stand up specials – since moving to New Brunswick five years ago he's done it all.
In April 2016, James Mullinger sold out New Brunswick's biggest indoor venue Harbour Station with his uniquely hilarious stand up show. This record breaking show was documented for a CBC documentary film 'City On Fire' which has aired across Canada to rave reviews and high ratings. The stand up special of the show itself was picked up by Hulu and Amazon Prime so his tales of life in Atlantic Canada are now being enjoyed by people in UK, Germany, Japan and America. It is the first stand up special in history to be filmed in Atlantic Canada and released internationally.
In April 2018 he sold out Harbour Station a second time, this time beating how own record which made headlines across the pond. The stand up special of that show has also been released by Amazon Prime across the world and debuted at #1 on iTunes.
James Mullinger tours extensively to packed houses across Canada and England and written and produced a big screen feature film starring actors from Downton Abbey and Twilight about his early years in stand up, which was described as "unmissable" by GQ Magazine and "essential viewing. A funny, realistic look at what it takes to become a stand up comedian," by the Montreal Times.
is one of the New Brunswick's biggest cheerleaders. He loves it here and spends his time promoting it across the world and raising money for charities and non-profits. James Mullinger has raised more than $150,000 for local charities. He has also become one of Canada's top comics, being nominated for both a Just For Laughs comedy award and a Canadian Comedy Award for Best Live Show.
He is also a much sought after corporate clean comedian and keynote speaker on the subjects of marketing, media and uplifting positivity celebrating where you live and work.
Performing his keynote speech 'Anything Is Possible' for companies as varied as Irving Oil, TD Canada, New Brunswick School Board, Construction Association of Nova Scotia, Road Builders Association, Atlantic Canada Regional Council of Carpenters, the Crane Rental Association of North America, Moosehead Breweries, New Brunswick Immigration Symposium and hundreds more. A highly skilled MC, he has hosted the 2017 East Coast Music Awards, the EY Entrepreneur Of The Year Awards, The ContactNB Awards and the GQ Comedy Extravaganza featuring Russell Peters.
He also launched his own international magazine The Maritime Edit to share his love of the East Coast of Canada with the rest of the world.
Topic: Keynote
James Mullinger – Anything Is Possible
Short synopsis:
Hugely inspiring, uplifting and hilarious keynote speech from the award-winning British comedian on celebrating where you live and how anything is possible in Atlantic Canada / Canada (delete as applicable).
Longer synopsis
In this inspiring, hilarious and uplifting presentation from award-winning entrepreneur, businessman, writer, philanthropist and comedian James Mullinger he will have you jumping for joy, punching the air, finding a whole new love for where you live and will inspire you to improve your business, work ethic and look at life in a whole happier way. In 2014 James Mullinger left his homeland of London, England and moved to East Coast of Canada. Why you ask…well he'll tell you. He seemingly had it all in England: his own TV show, bestselling book, an editor for GQ magazine, sold out national stand up comedy tours. James wanted a better quality of life for his growing family so he packed up and moved to his wife's hometown in New Brunswick.
Everyone told James he would have to leave his career behind if he moved to Atlantic Canada. But on the contrary, James discovered a whole new lease of life on the East Coast of Canada and improved his life immeasurably. He truly believes ANYTHING IS POSSIBLE Atlantic Canada and that if we celebrate where we live and work, we will thrive.
Seeing life-changing transition through James' eyes will invigorate your spirit and how you view where you live and work inspiring you in life, love and help you make decisions that could improve your professional potential no matter where you find yourself living and traveling to.
TESTIMONIALS:
"James was extremely well received. It couldn't have gone any better. His comedy was a huge success, we didn't' stop laughing the whole time.  He was very accommodating to our schedule and a pleasure to deal with.  Thank you to you and James for all your efforts in making our conference a success.  I look forward to working with him in the future."
Adam Mosher, Anglophone School District
"Mr. Mullinger's talent as an award-winning comedian is common knowledge, BUT an unexpected bonus was his unique ability to keep our team's blood pressure in check.  Any event organizer understands the ongoing concerns about cancellations, late arrivals, etc., when booking entertainment.  James kept our minds at ease through ongoing communications every step of the way.  His attentiveness in ensuring the content of his act was in line with our audience was greatly appreciated and a room full of gut-busting laughter during his performance solidified our belief that he was the perfect choice for our event.  If you are looking to guarantee your event is an outstanding success, I strongly suggest you book James Mullinger as your entertainment."
Amy McLennan – Marketing & Operations Manager, Master Promotions Ltd.
 "James performed at our Annual General Meeting and Conference before a crowd of 230 people. James did a fantastic job of keeping everyone in the room entertained through his story telling and his jokes. James is a great comedian and very easy to work with. I would recommend James to anyone."
Shaunna Scott, Community Business Development Corporations
"Everyone thoroughly enjoyed themselves, we laughed from beginning to end and we're still laughing this morning."
Irving Oil 
Compulsive viewing. A very funny man with a big future ahead of him."
The Huffington Post (UK)
"The moment this veteran British comic bounds onto the stage, you're in for an amazing hour of solo comedy. James is Britain's greatest gift to Canadian comedy."
Stuart Nulman, Montreal Times
Video 1:
Video 2 Promo Reel: