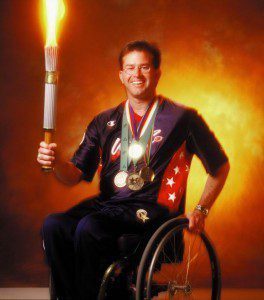 Synopsis
Speaker:  Mike Schlappi, Change, Healthcare, Overcoming Adversity                  
Topic Title:              
Mike Schlappi, Change, Healthcare, Overcoming Adversity
    Professional Fees subject to change without notice
$$$ = between $15,000-$25,000

Expenses:    As incurred                

Travels from:  USA  – Utah      
Expenses for Travel, (air and ground) Accommodations, Meals, Traveling Companion, and Incidentals are not included in the above fees.

Discounted Fees:  Under rare and special circumstances speakers may discount their fees at their discretion. i.e., booking multiple events with the same client.

 Non profit organizations may also qualify for a discount.
Inspiration, Motivation, Change, Attitude, Healthcare, Overcoming Adversity, Sports/Olympics, Success,
Peak Performance, Diversity, Patriotism, Goal Setting, Gold Medalist, MBA, Author
Motivational Speaker, Gold Medalist, Author, If You Can't Stand Up, Stand Out!
Biography
Keynote speaker Mike Schlappi has an inspiring message for every American, young or old: "Just because you can't stand up, doesn't mean you can't stand out." As president of Mike Schlappi Communications, and confined to a wheelchair, he is spreading that word to audiences ranging from students to chief executive officers, from rookies to Olympic champions, and from small gatherings to major conventions.
At the age of 14, Schlappi was student body president, had been awarded his Eagle Scout and had expectations of a career in sports as a top American athlete when he was involved in a tragic shooting accident. Doctors told him he would never walk again, but after months of rigorous therapy, he began playing basketball from his wheelchair and went on to become an athletic standout.
Schlappi is a four-time Paralympic Medallist and two-time World Champion in Wheelchair Basketball. The first wheelchair basketball player in the United States to be on four consecutive summer Paralympic teams, Schlappi was honored by the state of Utah in 2000 as one of its Top 50 athletes of the past century. He served on the board of trustees that managed the 2002 Winter Olympic Games in Salt Lake. He is the founder and director of the Wheelchair Sports Foundation, a non-profit organization that serves disabled athletes.
Hoping to inspire others through his experiences, Schlappi hung up his sneakers and transitioned from the sports arena to the speaking platform. His engaging presentations have entertained and inspired thousands of audiences worldwide. Schlappi's thought-provoking story challenges individuals to succeed despite difficult circumstances by empowering themselves and accepting personal responsibility.
Off the basketball court, Schlappi graduated with a master's degree in Business Administration and Healthcare from Arizona State University, and on a leadership scholarship, earned an undergraduate degree in Finance from Brigham Young University. Schlappi is also a writer and author of two popular inspirational books which draw heavily on his own experiences and the challenges he's overcome: Bulletproof Principles for Personal Success and Motivational Leaders.
He has won numerous honors including the American Medical Association's Special People Award, The Sporting Goods Manufacturer of America's Heroes Award and the Golden Key Athlete of the Year Award.
Mike and his wife, Tami, reside in Draper, Utah and are the stressed parents of five kids!
Topics
Mike Schlappi's most popular presentation, "If You Can't Stand Up, Stand Out", helps his audience realize that the best way to predict their future is to create it. His message includes humor and motivation as he tells his personal story — A story that began with a tragic shooting accident has evolved into a lifetime of lessons and victories. Although Mike was paralyzed, his dreams were not. Mike uses a media presentation and his Paralympic medals to teach his "Bulletproof Principles for Success".
Mike also has another presentation he calls, "Attitude Therapy!" Mike inspires his audiences with a powerful dose of his patented "Attitude Therapy". He builds a strong case for getting started and taking personal responsibility for their successes and failures. Mike's example and entertaining style will challenge everyone to relish adversity as an opportunity to change and improve. People will learn to love themselves from the inside out and walk away with the realization that if Mike can do it, so can they!
Mike will tailor his presentation to enhance the theme of your event and carry forward any message you would like to convey to your group.
Mike's keynotes have been popular among the following:
Corporate Sales Meetings
Healthcare Organizations
National Associations
Colleges and Universities
Network Marketing
Sports Organizations
Religious Organizations
Youth Groups
Testimonials
"Mike Schlappi's life teaches anyone who has ever thought that the mountain was too high, or the valley was too wide, that the will of the human heart can conquer all obstacles. Mike's story, is a story of heart, commitment, and valiant perseverance. He is a role model to all, and a real hero."
Orrin Hatch – United States Senator
"Mike's life is a great accomplishment in an All-American way… He is an inspiration to people everywhere who want to succeed."
Bill Clinton – Former President of the United States
"To offer a simple recommendation for Mike Schlappi is an understatement. Mike's genuine, honest and professional approach is head and shoulders above many of the speakers that I've heard. Motivational speakers can sometimes be one dimensional in terms of their content and delivery. Mike's 'shoot for the stars' message appeals to a multitude of issues that face an organization."
Christopher S. Carlton, President 
Dräger Medical, Inc.
"In my 20 years of coordinating meetings, I am hard pressed to identify a speaker that I have worked with that is as cooperative and effective. Thanks for working with us to make the Descartes Global Sales Meeting successful. It was a compelling and heart-rendering performance that will be remembered for years to come."
Lora Cecere 
Descartes Systems Group
"I think we've all heard motivational speakers before, but your message was so personal that we could all feel the power you generated. It's easy to see why you received a standing ovation and such enthusiastic applause at the conclusion of your message. It all had to do with your unconquerable spirit and attitude. Your challenges left all of us with a desire to do more."
Ray Rivers, Vice President 
E'OLA International
"Your keynote speech was extremely well received. In fact, on a majority of my overall conference evaluations, you were listed as 'the best part of the conference.' That, coupled with the standing ovation my clients gave you, speaks volumes about how well the program went. Thank YOU!"
Lori K. Bennett, Director of Marketing Communications
PARADIGM TECHNOLOGIES
"By sharing the challenges that he had faced head-on in his life, Mike did a masterful job of instilling within each employee a determination to over-come business obstacles that pale in significance to those faced and conquered by Mike."
Alan Rudd, President & CEO 
VINCA, the data protection company
Quotes from conference attendees:
•"Best lunch hour of my life!"
•"I turned in my overall (evaluation) too soon – this is my #1 favorite!!!
•"He was the best speaker I've ever had the privilege to hear."
•"You made a very positive mark on many people, which I suppose is one of the best measures of a successful motivational speaker."
•"Best speaker of the forum. Invite him back!"
•"Absolutely inspirational. A great way to end…and to begin."
•"(He) was excellent – the best I ever heard – wish I could talk to him every day!"
•"#1 speaker of entire convention – thank you!, thank you!, thank you!!"
•"Out of this world! It doesn't get any better."
Video