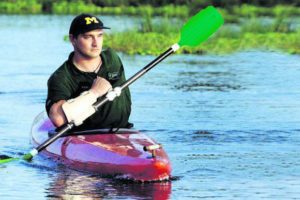 Synopsis
Speaker:  Paul Templer, The Hippo Guy, Overcoming Adversity
Topic Title:
Paul Templer, The Hippo Guy, Overcoming Adversity
Professional Fees subject to change without notice
Expenses:    As incurred

Travels from:    Detroit, MI
Expenses for Travel, (air and ground) Accommodations, Meals, Traveling Companion, and Incidentals are not included in the above fees.

Discounted Fees:  Under rare and special circumstances speakers may discount their fees at their discretion. i.e., booking multiple events with the same client.

 Non profit organizations may also qualify for a discount.
The Hippo Guy, Inspiration, Motivation, Adventure, Change, Overcoming Adversity, Survivor
Biography
Tell me something about this Bad Day at the Office chap.
Well, one thing that's pretty unique about him is that one-day he found himself headfirst, up to his backside, down an enraged hippopotamus's throat – now that's a bad day at the office!
Born in Africa, he grew up amidst war and strife. Wanderlust struck and he traveled the globe, served with Her Majesty's Forces (British Army), led extreme expeditions to some of the last uncharted places left on earth before settling down to lead safaris back in his native homeland.   Trying to save someone's life, he ended up head first down a hippo's throat. He got chewed up pretty badly… including getting his arm chopped off.
If you watch National Geographic, Discovery Channel or the BBC (to name a few) you're likely to see or have seen him.   After being grumpy for a while he decided to get his act together. He led an historic three-month long expedition down the Zambezi River, which had never been paddled from its source to the sea before – he modified a paddle and kayaked it with one arm.
Then he fell in love, got married, started a family and a successful global consultancy; coauthored an anthology Success Simplified with Stephen Covey and a few others, just had his new book "What's Left of Me" published; works on documentaries with National Geographic and Discovery; established a foundation focused on helping people to live more fully in their lives with dignity (including veterans and their families as they learn to navigate their lives living with PTSD) … oh, and he learned how to change a diaper with one hand.   He's been busy.
When meeting planners are looking for a "wow-experience" that's when they call Paul. He takes attendees on an emotional roller coaster ride… they laugh, cry, gasp, shake their heads in disbelief… they consistently report leaving motivated; inspired to scrap the grumpy victim shuffle we all occasionally adopt when life doesn't work out the way we want it to – choosing instead to look for and to make the most out of whatever it is that life has to offer. After all, we might as well given that BS is optional.   BS?   Oh BS, being stressed. That book that he contributed to, Success Simplified – his chapter was entitled "Mood is everything" and not only does he show you how being stressed is optional, he shows you what you can do to stop being grumpy… if you want to.   He's  funny, really down to earth and very easy to work with too.
Topics: The Hippo Guy
Tales that deftly deliver messages of vital importance.   Paul Templer is a gifted storyteller, weaving dramatic and often humorous tales that deftly deliver messages of vital importance: when life goes wrong – and it will, to some degree or another for everyone of us – we each have the power to correct our course, to manage the adversity and make the choices that, one at a time, enable us to create the life we feel we were meant to live.
It was in Paul's words, a bad day at the office   While guiding an African river safari, he was attacked by an enraged hippopotamus that pulled him from his canoe and swallowed him headfirst up to his waist. Chances are a hippopotamus hasn't swallowed anyone in your organization. But everyone has bad days at the office and no one gets through life without confronting adversity and change.
Being stressed (BS) is Optional (Breakout/Workshop).   Mood is everything, it's just not the only thing. Even the most competent and committed amongst us allow our performance to suffer when we indulge in unproductive moods and let ourselves wallow in a state of overwhelm. Be entertained and inspired as you learn to apply simple and easily applicable practices that enable you to boldly and confidently claim that BS is Optional as you move successfully, navigating and making the most of these turbulent/challenging times.
Getting Work to Work.   Doing what you say you're going to do when you say you're going to do it and giving people a heads up when you can't… and playing together nicely should be organizational norms, right? Research* claims "Not so." This entertaining, interactive and pragmatic session brings together lessons learned via battlefields, bedrooms, boardrooms and playing fields around the world and introduces participants to some of the core practices and commitments that enable High Performing Teams to out perform their competitors.
Testimonials
"Paul's story is captivating and he allows you to experience the drama first hand so you are on the edge of your seat… I was touched the same way as when I watched "Saving Private Ryan" for the first time, extremely moved and grateful for heroes. Paul is a hero. I recommend him strongly!"  – John Anderson YEO (Young Entreprenuers' Organization)   "You changed my life in ways I can't even comprehend as of yet!"  – Michael P. Kanan, President CEO Inacomp Technical Services   Words cannot express what a superb performance you delivered to our senior managent. You exceeded our expectations and were the highlight of our three-day event. Thank you so much for putting so much time and energy into the program you delivered.  – Bryan Millican, Executive V.P., Sales and Marketing, Con-Way
"The conference attendees were inspired by his story and people started the conference energized."  – Carrie Klinglesmith, MRPA Vice President, Conference Chair
"We had over 300 people in attendance and you held everyone's attention. We could have heard a pin drop during your presentation. Your story touched so many in our audience that we were still talking about it at the banquet that evening. I would be delighted to recommend you… to anyone who is looking for a dynamic and professional speaker."  – Rae Malesh, Auxilary Activities Coordinator, NAMIC
"Paul Templer delivered an incredibly powerful and moving keynote presentation to our colleagues. Paul's account of his "bad day at the office" mesmerized our entire group and kept them on the edge of their seats. Most importantly, our colleagues walked away from the experience inspired in every way.  – Michael D Fezzey, Regional President, Huntington Bank   "Paul's personal story is truly inspirational, but his skills as a storyteller are what makes his story remarkable. Our conference attendees gave him great reviews. He's also just great to work with. Paul is very personable and accommodating."  – Tori Miller Liu, Director of Marketing and Communications at Global Cold Chain Alliance