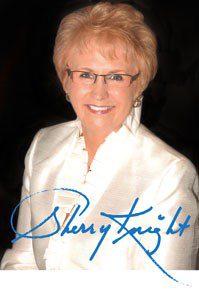 Synopsis
Speaker: Sherry Knight
Topic Title:
Success, Change, Leadership, Service Management
Professional Fees subject to change without notice
Expenses:    As incurred

Travels from: Regina, SK
Expenses for Travel, (air and ground) Accommodations, Meals, Traveling Companion, and Incidentals are not included in the above fees.

Discounted Fees:  Under rare and special circumstances speakers may discount their fees at their discretion. i.e., booking multiple events with the same client.

 Non profit organizations may also qualify for a discount.
Sherry Knight, Inspiration, Motivation, Personal Success, Change, Leadership, Service Management
Biography
Sherry Knight has a broad background in helping organizations with their people, performance and profits. Her focus is on assisting organizations in hiring right the first time from a wide range of backgrounds. When an organization has the right talent then managing that talent is easier.
Sherry has a Teaching Certificate from Brandon College, a BA from the University of Manitoba and a Public Relations Certificate from the University of Regina. She holds her CPHR designation and her FCMC designation.
She has worked with individuals and organizations in:
Assisting individuals in building and exploring their career paths
Improving performance through coaching, training and facilitating of workshops
Delivering keynote talks to help individuals see a variety of ways to improve themselves, their businesses and their relationships
Recruiting the right people for the right organization – whether the individual can fit the values of the organization
Coaching executives is a key ingredient in helping organizations move forward – she assists individuals in developing a plan for learning and coaches them to assist their organization in being better than it already is
Sherry shares her time with her husband John, 5 children and 11 grandchildren. Knowing what is needed by each is a balancing act she juggles – sometimes successfully and sometimes not so successfully!
She is connected to a number of Saskatchewan organizations through membership in the Regina Chamber of Commerce (past president), Saskatchewan Chamber of Commerce, Canadian Association of Professional Speakers, and the Institute of Certified Management Consultants of Saskatchewan. Sherry has sat on the board of The Counselling Foundation of Canada, Canadian Education and Research Institute for Counselling, Conexus Credit Union. She was nominated as Woman of the Year in the Business Category, has received numerous awards. Sherry has appeared on radio and TV, and she hosted the weekly radio show Knight Views on Regina's CJTR. She is the author of UnstoppABLE – 7 Steps to Living Your Personal Best.
Topics
The Fire Within – Personal Success
Being successful in your professional or personal life is a choice you make. This dynamic presentation highlights a positive attitude as the key to success. It will motivate you to make the changes you need to be successful in all you do.
Customer Values Management – Service Management
Eighty percent of unhappy customers take their business elsewhere because of poor service. This motivating presentation will explore customer expectations and how quality service keeps them coming back.
Overcoming Stinkin' Thinkin' – Motivation
Things going wrong? Having a bad day? Believe it or not, there are occasions when we are the source of our own problems. This session motivates you to examine your own self-talk and see how easy it is to turn your life, your work, and your relationships into positive, fulfilling experiences.
Handling Change— Stand Still And You Are Finished – Change
Change occurs around us at an ever increasing pace. The impact is positive or negative, never neutral. Examine the great contradiction of change; it is inevitable, but many people fight it. Learn how to make change work for you.
The Spirit Of The Geese – Leadership
Some people appear to be born leaders. Everyone can be a leader and yet some of us choose a different path. Get in the spirit and learn the secrets of the world's highly inspirational leaders.
Testimonials