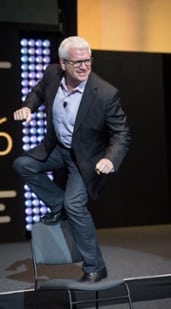 Synopsis
Speaker:      Vince Poscente
Topic Title:
Olympian, Motivation, Inspiration, Leadership, Teamwork, Goals, Achievement,
Change, Olympian, Sports
Professional Fees subject to change without notice
$ = under $10,000

$$ = between $10,000 – $15,000

$$$ = between $15,000-$25,000

$$$$ = $25,000 -50,000

$$$$$ = – $50,000+
Expenses:    As incurred

Travels from:   Dallas

Expenses for Travel, (air and ground) Accommodations, Meals, Traveling Companion, and Incidentals are not included in the above fees.
Discounted Fees:  Under rare and special circumstances speakers may discount their fees at their discretion. i.e., booking multiple events with the same client.

 Non profit organizations may also qualify for a discount.
Motivation, Inspiration, Leadership, Teamwork, Goals, Achievement,
Change, Olympian, Sports
Travels From: Dallas, TX
fee Range: $15,000 – $25,000
Biography
Vince Poscente is one of the most in-demand motivational keynote speakers today. His expertise on accelerating EXTRAORDINARY goals is based on tools to be more resilient and how to overcome obstacles. When you bounce back stronger than ever confidence and fun goes up.
Vince's client list includes world class organizations dedicated to being bigger and better. When employees and entrepreneurs handle set-backs, supersede obstacles and are more focused – record setting results happen faster than expected. Vince knows first-hand how innovation, persistence fearlessness play in your future success.
He speaks from experience. His foundation are with proven tools. Where does Vince Poscente's "Be Extraordinary" expertise come from?
• Recreational skier, Vince to Olympic Games in just four short years.
• Award winning sales and marketing executive with the world's largest real estate investment service.
• A Masters in Organizational Management and award winning business owner.
• One of only four people on the planet to be inducted into the USA and Canadian Speaker Halls of Fame.
• New York Times bestselling author of seven books. (Including The Age of Speed)
• Leader and participant on six Himalayan Expeditions
What are your teams' challenges? An uncertain economy? Negative attitudes? Competition? Lower productivity?
Vince is the #1 go-to guy for taking a team and teaching them how to sell more, lead better and produce more. Vince will help you move past obstacles and create the success you, and your team, want and deserve.
Vince Poscente has practical tools to change how your team handles crisis. Problems. Competition. And change. Without understanding resiliency and the absolute importance it plays on everything and everyone—your team will not have the skills they need to overcome the things that will inevitably stand in their way.
Olympian
1992 Olympic Winter Games finalist (Speed Skiing record holder – 135 mph)
New York Times Bestselling author of The Age of Speed – Learning to Thrive in our More-Faster-Now World
 "…thought provoking new book [Vince Poscente] advocates coming to terms – nay, savoring – the 'more-faster-now world'" Time Magazine
Topic
Full Speed Ahead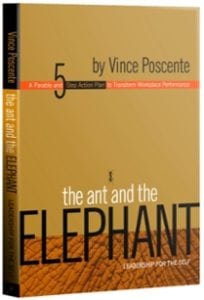 A motivational keynote speech based on the international phenomenon, The Ant and the Elephant (endorsed by LeBron James in Sport Illustrated) plus Vince's extraordinary story about reaching the Olympic Games in just four years and skiing at 135 mph (described as he stands on a chair)…
Sales people are a unique collection of high performing individuals, with considerable expectations, facing a cascade of opportunity. This is coupled with a world of personal accountability and life balance. New York Times bestselling author, Olympic competitor and award winning salesperson, Vince Poscente, delivers a wildly entertaining, thought provoking and substantive insight on how sales people can thrive in a competitive landscape. Vince went from recreational skier to the Olympic games in just four years. Skiing at 135 mph on skis, he shares a remarkable formula about:
Clarity of Purpose
The Process of Commitment
Consistent Effort in a Competitive Environment
Building Confidence
Routines for Controlling Peak Performance
Giving executives and their sales people a collective experience allows a conference fulcrum for better sales execution and higher profits. The Ant and the Elephant – Leadership for the Self has profoundly affected countless sales teams explore internal motivation and future potential.
Confidence on Demand
– Your level of confidence will determine your success. Every story in this keynote drives home the power of confidence when it's needed in the workplace.
Peak Performance Safety
– Safety becomes a cultural norm when behavioral change is boosted by principles of peak performance. This entertaining and substantive presentation is perfect for the meeting professional looking for a shot of energy and practical safety solutions.
Testimonials
From start to finish, you wowed us with your enthusiasm, challenging content, and your fun and interactive presentation style. You engaged the audience with stories and examples that hit home and outlined some changes that we as an industry and as individuals must implement to be ready for tomorrow's challenges. The audience absolutely LOVED your speech. I overheard conversations throughout the remainder of the conference about how amazing you were. Our evaluation forms included statements such as, "off the charts," "dynamic," "inspirational," "phenomenal," the BEST," "belly-aching laughter," "greatest speaker I've ever heard," and "enjoyed his energy and enthusiasm".
Amanda West, Co-Chair, SMPS Southern Regional Conference
I wish I could clone Vince. That way he could motivate my team to excellence every day!
Tommye Wealand, Vice President Sprint
The audience feedback we received concerning Vince's presentation was tremendous. They were both inspired and entertained, and will remember his message for a long time to come.
W. Philip Sieg Vice President Merrill Lynch
Vince Poscente has a down-to-earth story that reveals the immensity of human potential. He has a talent for educating, entertaining, and motivating all at once. His message packs a punch and the content rings true for anyone striving to succeed. I would highly recommend this message for anyone!
Steve Alonso President & Chief Executive Officer Banc One Financial Services, Inc.
In my capacity as President of MAACO, I have coordinated hundreds of motivational meetings and literally have heard hundreds of speakers. Vince's message highlighting how the positive power vision and focus can have on one's success truly reflects what I have seen in real life. The beauty of his message and his story impressed me more for its down to earth quality than any I have heard in many years. His approach was really a breath of fresh air.
Mark A. Martino President MAACO
Vince Poscente hit the mark with what our people needed to hear. We were particularly impressed with the "take-home" value of focusing on success. His message and tools to achieve clarity of vision and focus for success is very usable and easily remembered. The entire event was and will be talked about and reflected upon for years. His style and image depicts the kind of excellence that we strive for here at FedEx.
Bob Palmer, Vice President FedEx
Vince Poscente has the energy of Robin Williams, the clarity of Peter Jennings and the presentation content of Colin Powell. If you want a motivational, exciting and dynamic speaker, hire Vince.
BlueCross BlueShield
I truly enjoyed Vince Poscente's motivational speech at our convention. He certainly touched my heart and awoke my competitive fire.
Omar Roman Manager, Burger King
I really enjoyed every minute of Vince Poscente's speech. If there's only one thing I will take away it is that line, "Be willing to do what your competition is not willing to do!"
Christian Giroux Customer Business Development Manager Nestlé Canada Inc.
It's been 4 days since I have heard Vince's speech and already I am seeing and feeling the affect of his inspiration!!
Jenifer Kaban Student
I have been very fortunate to hear several top speakers at large company meetings… People like Gen. Norman Schwartzkopf, Apollo 13 Commander Jim Lovell, Gen. Colin Powell, Barbara Bush, President Gerald Ford just to name a few. Each of these outstanding individuals has strong platform skills and a strong message. However, none combined the enthusiasm, entertainment and simple guidelines to help succeed like Vince Poscente's presentation did. Vince has a unique perspective and way of presenting these concepts that motivated me to really step up my efforts to achieve my goals.
Paul V. George Pharmaceutical Sales Specialist 
Video